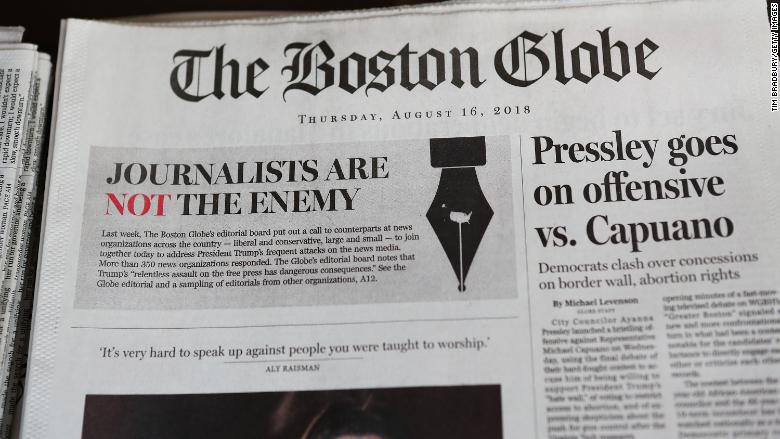 A California man allegedly made a series of threats to Boston Globe employees in which he echoed President Trump's anti-press language.
Robert D. Chain of Encino, California has been charged with one count of making threatening communications in interstate commerce, the US Attorney's Office for the District of Massachusetts said in a press release Thursday. Chain, 68, is due to appear in federal court in Los Angeles Thursday afternoon.
The US Attorney's Office said Chain will be transferred to Boston "at a later date."
Chain is accused of making several threatening phone calls to the Globe beginning almost immediately after the paper announced on August 10 that it was calling on newspapers across the country to publish editorials the following week standing up to Trump for referring to the press as "fake news" and "enemies of the people."
According to court documents, on August 16, the day the editorial campaign was published in newspapers around the country, Chain made a call to the Globe's newsroom in which he said, "You're the enemy of the people, and we're going to kill every f***ing one of you. Hey, why don't you call the F, why don't you call Mueller, maybe he can help you out buddy. ... I'm going to shoot you in the f***ing head later today, at 4 o'clock."
Related: Coast to coast, and in between, local news is standing up to Trump's press attacks
In another call allegedly made on August 22, Chain was asked why he was calling. According to court documents, he responded, "Because you are the enemy of the people, and I want you to go f*** yourself. As long as you keep attacking the President, the duly elected President of the United States, in the continuation of your treasonous and seditious acts, I will continue to threats, harass, and annoy the Boston Globe."
More than 300 newspapers joined the Globe's initiative, with editorials running from coast-to-coast. In courting the other papers, the Globe proposed running the editorials to sound the alarm "on the dangers of the administration's assault on the press."
Chain allegedly made at least 14 threatening phone calls to the Globe between August 10 and 22. He faces a charge that "provides for a sentence of no greater than five years, one year of supervised release, and a fine of $250,000," the US Attorney's Office said in its press release.
It could not be immediately determined who is serving as Chain's legal counsel.
"Everyone has a right to express their opinion, but threatening to kill people, takes it over the line and will not be tolerated," Harold H. Shaw, Special Agent in Charge of the Federal Bureau of Investigation, Boston Division, said in a statement. "Today's arrest of Robert Chain should serve a warning to others, that making threats is not a prank, it's a federal crime. All threats are taken seriously, as we never know if the subject behind the threat intends to follow through with their actions. Whether potentially hoax or not, each and every threat will be aggressively run to ground."