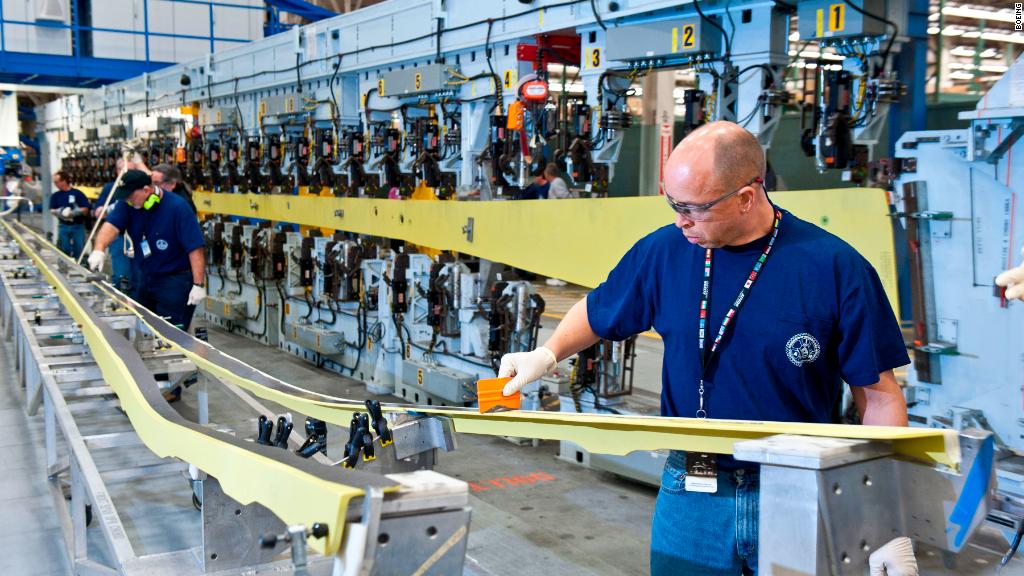 Americans living paycheck to paycheck are a boon for dollar stores even as the economy strengthens.
"While the economy is doing very well, our core customer continues to struggle because, normally, her expenses outstripped her wage growth," Dollar General chief executive Todd Vasos told analysts on a conference call Thursday.
He cited rising rent and health care costs as lingering problems for low-income shoppers.
Dollar General (DG) said sales at existing stores grew more than Wall Street had expected. Analysts predicted spending at Dollar General would slow as the economy gains steam and Americans traded up to big box retailers.
Unemployment is under 4%, paychecks are rising, retail spending is growing, and consumer confidence is high. The economy grew at its fastest pace in almost four years last quarter.
More cost-conscious shoppers are heading to Walmart (WMT) and Target (TGT), which rode the hot economy to their fastest sales growth in more than a decade.
But Dollar General customers keep coming back to the store — and they are adding a few extra items to their baskets.
"We have seen no sign of trade out or trade up from our core customers," Vasos said. "Even in a good economy, she still looking for value and convenience."
Sales at Dollar General stores open for at least a year increased 3.7% last quarter compared to a year ago.
Higher foot traffic and customers spending more on packaged foods, groceries, home essentials, clothes, and personal care products boosted revenue. Four-fifths of the stuff it sells costs less than $5.
Dollar Tree (DLTR), which sells everything for $1, also reported higher traffic. Same-stores there grew 3.7% last quarter compared to a year ago.
The company bought Family Dollar in 2015. Family Dollar sells most of its merchandise under $10 and is marketed as a "neighborhood discount store." It serves more urban and rural low-income customers than Dollar Tree's suburban, middle-income core shopper.
But Family Dollar sales missed analysts' expectations, sending Dollar Tree's stock tumbling. Shares had rallied around 30% over the past year prior to Thursday.
In July, both Dollar Tree and Dollar General marked their 15,000th store opening. Dollar General has added more than 1,100 stores in the past year.
Dollar store customers aren't benefiting from the booming economy
The uneven economic recovery has buoyed Dollar General, which caters to low-and-middle-income shoppers, mostly in rural and suburban America. The company has posted 28 straight years of same-store sales growth.
"Many of our customers have fixed or low incomes and generally have limited discretionary spending dollars," Dollar General said in its latest annual securities filing. "Our core customers are often among the first to be affected by negative or uncertain economic conditions, and are among the last to feel the effects of improving economic conditions particularly when, as in the recent past, trends are inconsistent."
The Goodlettsville, Tennessee, company used to be run by Georgia Sen. David Perdue. It has the biggest footprint in Texas, Georgia, Alabama, Florida, Tennessee, and North Carolina. Stores are 7,400 square feet on average, compared to 178,000-square foot Walmart supercenters.
Dollar General keeps costs down by selling only basic merchandise at no-frills stores and employing just a handful of workers to stock aisles.
The company looks to build stores in rural areas where a big box retailer or grocery store is not within 15 or 20 miles. That gives them close proximity to shoppers and compels more frequent store visits.
Dollar General says 75% of its locations are in towns with 20,000 or fewer people.
In recent years, Dollar General has invested in remodeling stores to help lift sales. It has added queue lines to drive last-minute impulse buys at hundreds of stores and redesigned health and beauty and snack and beverage sections.
"These new store openings combined with our successful remodels and relocations have allowed us to extend our runway for long-term growth," CEO Vasos told analysts.
Dollar General is also investing in adding more coolers to existing and new stores to expand its fresh foods selection. The company sees a huge opportunity in groceries.
"What we look for is areas that are currently underserved today," Vasos said at Dollar General's shareholder meeting in May. "In many rural and in suburban locations, that's very true. And even in some urban locations we found there are food deserts."