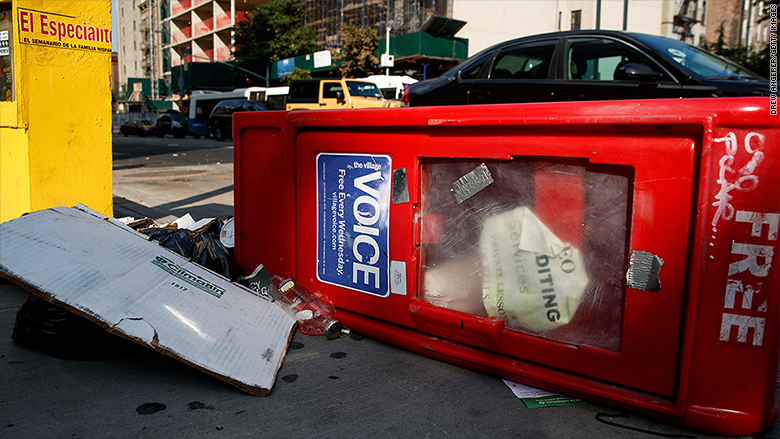 The Village Voice, the country's first alternative newsweekly which offered New Yorkers local news and classified ads for decades, will cease production and lay off approximately half its staff, the newspaper's owner announced Friday.
"This is a sad day for The Village Voice and for millions of readers. The Voice has been a key element of New York City journalism and is read around the world," owner Peter Barbey said in a statement. "As the first modern alternative newspaper, it literally defined a new genre of publishing."
"Although the Voice will not continue publishing, we are dedicated to ensuring that its legacy will endure to inspire more generations of readers and writers to give even more speed to those same goals," Barbey added. "We have begun working to ensure that the enormous print archive of The Village Voice is made digitally accessible.
The Village Voice was founded in 1955 and became a staple in local New York City journalism. It was awarded three Pulitzer Prizes and recognized with other journalism awards.
The paper leaves behind a long history of publishing the works of legends in the journalism and literary world, including one of its co-founders, Norman Mailer. The publication also served as the primary hub for the work of Wayne Barrett, the late New York City muckraker whose early reporting on Donald Trump took on new life during the 2016 election.
The Village Voice struggled in recent years. The climate for local newspapers has grown hostile as revenue from print advertisements dwindled. The Village Voice, which also relied on its classified ads section for revenue, faced increased competition.
In April 2017, the Village Voice halted its print production and went entirely online. The move was aimed at reinvigorating the more than half-century old publication.
But it wasn't enough. On Friday, readers and employees lamented the newspaper's ultimate fate.
Friend just turned in his news piece, was told by his editor there was good news: He's the journalist with the last news story to appear in the Voice," tweeted Valerie Vande Panne, a freelance journalist who has written for The Village Voice. "That's also, the editor said, the bad news."
CNNMoney's Tom Kludt contributed to this report.