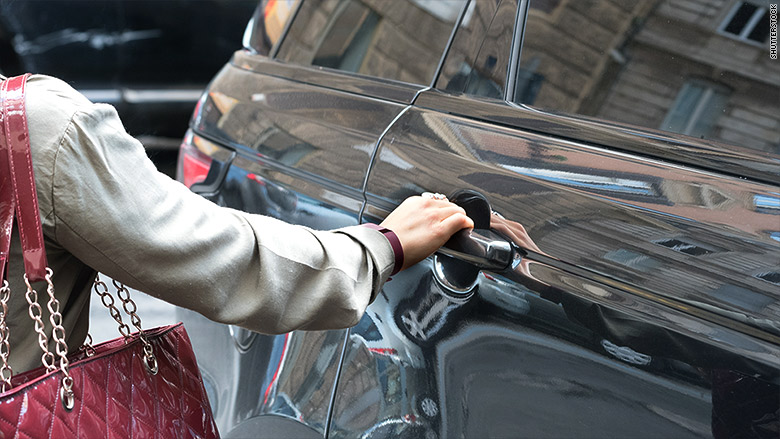 The rape and killing of a woman allegedly at the hands of one of its drivers prompted Chinese ride-sharing firm Didi Chuxing to realign its priorities this week. Going forward, the company said, it will make safety "the single most important performance indicator" of its business.
Uber and Lyft have similarly said safety is a top priority. The US-based ride-sharing companies also grapple with sexual violence: A CNN investigation in April found that at least 103 Uber and 18 Lyft drivers in the United States have been accused of sexually assaulting or abusing passengers in the past four years.
The CNN investigation prompted Uber, and then Lyft, to adopt several changes, including eliminating its forced arbitration requirement for sexual harassment reporting and pledging to release safety transparency reports.
Yet, as the rape and murder in Wenzhou, China shows, sexual violence is a global issue. And in the US, as in China, companies have a key role to play in addressing it.
Some experts suggest the problem could be better understood, and perhaps reduced, if ride-share firms release comprehensive data about such incidents to local oversight agencies. And they said companies must better outline the specific steps they're taking, and how much they're spending, to address the issue.
Passengers, too, have a few suggestions, including allowing women to choose female drivers.
The idea of getting into a stranger's unmarked car was unheard of even a decade ago. Today, ride-sharing platforms are tremendously popular: Uber, for example, provides 15 million rides worldwide each day. That transition "happened without a lot of oversight or regulation," said Saba Waheed, a research director at the UCLA Labor Center whose expertise includes labor and sharing economy businesses like Uber and Lyft.
As CNN reported this spring, Uber and Lyft led a massive lobbying effort resisting many government efforts to increase scrutiny of drivers through tougher background checks and other screening measures. Of 43 states that codified rideshare driver screening processes, all but Massachusetts give the companies sole responsibility for conducting background checks.
If states and cities are going to let ride-hailing companies conduct their own background checks, oversight agencies must require greater transparency into any measures those companies take to increase safety, said Arun Sundararajan, a professor at New York University's Stern School of Business and author of "The Sharing Economy: The End of Employment and the Rise of Crowd-Based Capitalism."
"There's the question of what should the government do and what should they delegate to platforms," he said.
China provided one answer to that question on Friday. The transportation ministry said it would conduct comprehensive inspections of all ride-sharing companies on September 5, Reuters reported.
Sundararajan said the question of who should hold the responsibility requires the ability to measure how well, or how poorly, these companies are doing when it comes to safety. And that means giving regulators and the public greater insight into complaints about drivers, background check clearance rates, and more.
"I think the real opportunity is in coming up with government oversight that pushes the platforms to creatively use technology to increase safety," he said. "It puts the onus on the platforms who are far better equipped than anyone else to use data and machine learning in ways that could make things safer."
Katie Wells, an urban studies foundation post-doc at Georgetown University who researches the social and economic effects of on-demand services, called sexual assault and rape on ridesharing platforms "a symptom of the larger issue" of violence against women. But companies like Uber and Lyft and Didi can do their part to address the problem by being more forthcoming about it, she believes.
"We have to get access to data and it has to be independently confirmed," she said.
The model that ride-hailing companies were built on -- a constant revolving door of drivers -- certainly makes things challenging. It means that companies are perpetually recruiting drivers and have an incentive to move quickly. "That only increases the risk," said Waheed.
Uber recently announced it has started monitoring drivers for criminal offenses in real-time. That came after an announcement in April that it would begin performing annual background checks of drivers, a move designed to catch any criminal allegations that might arise after a driver started with the company. Lyft has a similar policy on annual approvals.
"Our leadership has made it clear that safety is our top priority and we are putting it at the core of everything we do," an Uber spokesperson said. She specifically mentioned the company's move to strengthen background checks, and an initiative in Brazil designed to increase the safety of cash transactions common there. "Helping keep people safe is a huge responsibility and one we do not take lightly, so we've made significant investments in safety."
Ride-hailing companies have had notoriously contentious relationships with drivers, something experts said has an adverse effect on safety by creating high turnover and an ongoing need for more and more drivers. If drivers enjoy the job and feel respected by their employer, "you'll get to people who will stay in the work, who are now committed to the work," Waheed said.
Riders, too, are pushing for increased safety.
One idea gaining momentum is giving women the ability to choose female drivers. More than 13,000 people have in the past week signed a MoveOn.org petition calling on Lyft to add just such a feature to its platform. The petition followed an alleged attempted assault by a Lyft driver in Berkeley, California.
Making that work could be tricky, according to safety advocates like Cindy Southworth, executive vice president at National Network to End Domestic Violence and safety board member at Uber.
"Conceptually, the idea of being able to pick the gender of your driver is appealing," she said, likening it to her preference for female doctors when given the choice.
The logistics, however, are another story. Although rideshare companies can confirm the identities of their drivers, it's difficult confirming the identities of passengers, she said. So there's nothing to say a man couldn't use the feature to prey on female drivers.
She does like the idea of a "panic button," another suggestion riders have made. Earlier this year, Uber added a feature that allows passengers to call 911 through the app, a way of summoning help in an emergency.
Female passengers tend to place greater importance on security features, according to a report the International Finance Corporation and Accenture released in March. Uber contributed aggregated and anonymized data as well as financial contributions to the report.
The report also found that women often cite the shortage of female drivers and the risk of sexual harassment as reasons for avoiding ridesharing services entirely. So any features designed to protect passengers could help rideshare companies attract more riders. Improving safety is good for passengers, and good for business.