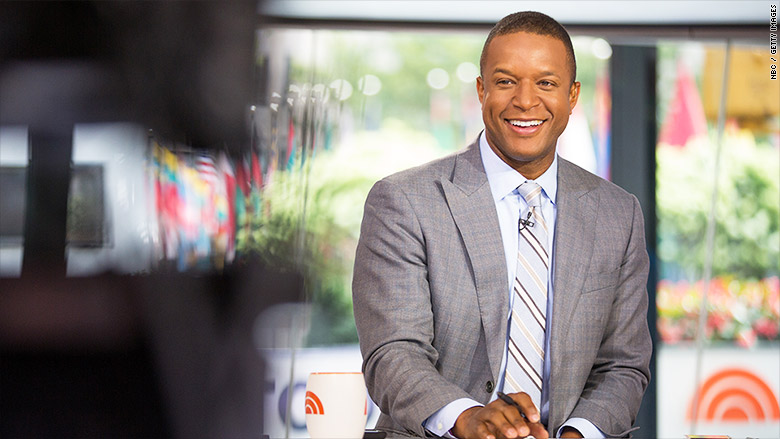 Craig Melvin's promotion on "Today" -- announced in subtle fashion on Tuesday morning -- is the latest sign that NBC is still treading carefully with its morning show nearly one year after Matt Lauer was fired.
Melvin is the new news anchor on the program, a role previously filled by people like Lauer, Ann Curry and Natalie Morales.
To the untrained eye, he pretty much looks like a co-host, right alongside Savannah Guthrie and Hoda Kotb. On Tuesday, while celebrating the "big promotion," Melvin's hometown newspaper in South Carolina called him a "weekday anchor" of the show.
But a source at NBC was careful to specify that while Melvin is officially joining the cast, he is not one of the co-hosts. That title belongs to Guthrie and Kotb.
Morning show insiders at NBC's rivals gossiped about Melvin's move on Tuesday. Multiple sources who spoke with CNN said they thought it was a smart move by NBC, but they were intrigued by the way it was done.
Melvin's promotion was mentioned at the end of Tuesday's "Today" show. It was so subtle, some viewers might have missed it. No one brought up his new title. They just explained that Melvin was transitioning off the Saturday "Today" show to join the weekday cast full-time.
"Craig stepped away from 'Weekend Today' so he can be with us every morning, and we're so happy to have him here," Guthrie said.
Later in the day, the network confirmed that his title is news anchor. The position, which dates back almost to the founding of the "Today" show in the 1950s, was quietly dropped in 2016 when Morales moved to the West Coast.
Now it's back. But it might be just a formality, since Melvin has already been appearing on the weekday "Today" show practically every day, reporting on stories and chatting with the rest of the cast.
In TV news circles, he is seen as a rising star. And his ascension to the weekday edition of "Today" had been expected for months.
So why did Tuesday's announcement seem so fraught with sensitivity? Why didn't NBC tout his promotion?
In part, it's about the hangover from the Lauer scandal. And it's about the art of morning TV war, in which shows are constantly seeking an advantage over competitors.
From the moment Lauer was fired for alleged sexual harassment last November, the morning TV business was abuzz about who would replace him.
Kotb sat in his seat immediately, and in January she formally became his successor, giving the "Today" show a female pair of anchors for the first time.
Then the buzz was about the gender dynamics. How would viewers react? Would the show stay No. 1 while departing from the usual male-female format? Morning shows were founded on the idea of a man in charge, and later the conventional wisdom shifted to an idealized husband and wife format. Any deviation from that norm of a model family was considered risky.
But "Today" has excelled with female co-hosts. The chattering classes that asserted the show needed a man might have been proven wrong. "Today" has been No. 1 in the key 25- to 54-year-old demographic for the past three years.
However, its arch-rival, ABC's "GMA," still has bragging rights as the No. 1 show among total viewers.
And some executives at NBC News have believed that "Today" needed more of an ensemble feel -- which meant having more supporting players next to Guthrie and Kotb.
Melvin has basically been playing that role for months, and now it's been formalized. Carson Daly and Al Roker also appear on the show every morning.
"We're not lacking testosterone," an NBC source said Tuesday.
At the same time, there's definitely a sense of pride that the show is helmed by two women. Just last month, Guthrie and Kotb appeared on the cover of Parade magazine together. "We have each other's back," the cover said. Another headline read, "We're like sisters."
So there is apprehension about any suggestion that "Today" is moving away from that approach, which has been embraced by the audience.
But network officials are looking to broaden out the show and keep a strong bench of talent. Melvin is very well liked within NBC. And executives had to weigh the risk of losing him to a rival network if he wasn't promoted, one of the sources pointed out.
All the while, NBC's competitors look at "Today" and see the ghost of Lauer hovering somewhere nearby.
In retrospect, it's remarkable that a television news icon like Lauer, the cornerstone of the "Today" show for twenty years, could be fired out of the blue, with no serious repercussions for the show nine months later.
But hints of the Lauer scandal are still present here and there.
Take, for example, the blind quote in a Page Six item about Melvin last week.
"The network is really high on him right now: He's smart, charming, handsome and, perhaps most importantly, a family man," the source said, emphasizing the "family man" part.