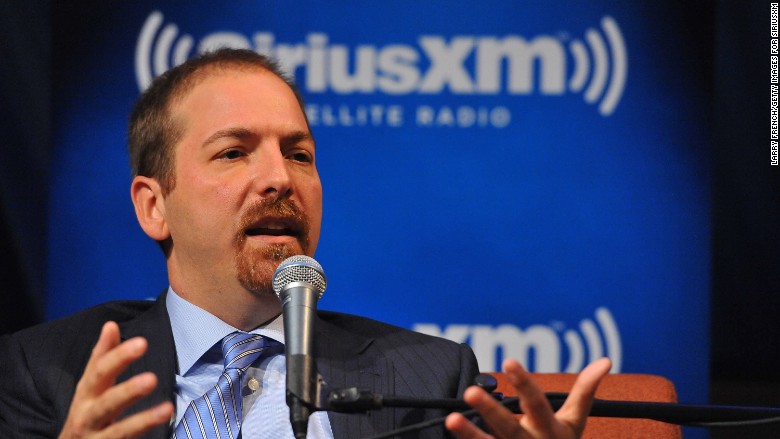 The day after Labor Day is one of my favorite days of the year, because of that "back to school" feel that's in the air... So here's a special preview... Including the rollout plan for Bob Woodward's book... And a scoop about the Washington Post's newest hire...
A version of this article first appeared in the Reliable Sources newsletter. You can sign up for free right here.
Chuck Todd is right.
In an unusual and pointed piece for The Atlantic -- which you all should read -- "Meet the Press" moderator Chuck Todd is urging all of us to recognize what anti-media manipulators are doing, and respond accordingly. He's saying the days of "don't engage" are over. And I believe he's right.
There's been, in Todd's words, a "nearly 50-year campaign to delegitimize the press," but "we did nothing, because we were trained to say nothing." By failing to "defend our work in real time from this onslaught," newsrooms "helped accelerate the campaign to delegitimize the American press corps," he argues.
Now, with President Trump fueling this growing fire, Todd says "the idea that our work will speak for itself is hopelessly naive." Read the rest here...
"FEAR" excerpts coming soon
When? I don't know exactly when. But Bob Woodward's dissection of the Trump presidency, "FEAR," comes out one week from Tuesday... on 9/11... and leaks are a certainty in the days to come.
"FEAR" is a Simon & Schuster title, and this is one of those times when there's some CBS corporate synergy taking place. Woodward's first interview will be with David Martin on "CBS Sunday Morning," according to two sources with knowledge of the rollout plan. And I expect Woodward's Washington Post will have a lengthy excerpt over the weekend.
>> Matt Drudge tweeted Monday: "Hurricane Woodward warning issued for DC..."
SCOTUS hearing time
The confirmation hearings for Brett Kavanaugh begin Tuesday morning... But we won't hear from Kavanaugh until the afternoon, since each senator will have ten minutes of opening remarks...
Media week ahead calendar
Tuesday: Mark Leibovich's "Big Game" hits bookshelves...
Tuesday: Abby Huntsman joins the table on "The View..."
Tuesday: GOOGLE turns 20 years old... The company filed for incorporation on 9/4/98...
Wednesday: Big Tech testimony day in DC... Details below...
Thursday: NY Fashion Week begins...
Thursday evening: The Falcons will try to beat the Eagles in the NFL season opener...
Big month ahead!
Some other key dates coming up in September:
Wednesday the 12th: Apple's next big product unveiling.
Monday the 17th: The Emmy Awards, yes, on a Monday.
Sunday the 23rd: CNN will start airing the final episodes of "Anthony Bourdain: Parts Unknown."
Monday the 24th: The final season of "The Big Bang Theory" debuts.
Tuesday the 25th: "This Is Us" is back.
Thursday the 27th: The Texas Tribune Festival kicks off in Austin.
Nike takes a side
"Nike is running straight into the political fray" by introducing Colin Kaepernick as "one of the faces of Nike's 30th anniversary commemoration of its iconic 'Just Do It' slogan," CNNMoney's Nathaniel Meyersohn writes.
Serena Williams, Odell Beckham Jr., and Shaquem Griffin are part of the campaign too... But it's Kaep who got all the attention on Monday... And unfortunately it's only a matter of time before POTUS weighs in.
Nike has sponsored Kaep since 2011, but now he has been signed to a "new multi-year deal," a source familiar with negotiations told CNN Sports. The source called it a "top of the market deal for an NFL player."
>> Having it both ways? A Nike rep noted to the WSJ that "Nike has a long-standing relationship with the NFL and works extensively with the league..."
>> Kaep's lawyer Mark Geragos to the NYT: "I give Nike credit for understanding that he's not just an athlete, he has become an icon..."
Sikka joins WaPo
Former "Morning Edition" executive producer / "Nightline" senior producer / PBS public editor Madhulika Sikka is joining the Washington Post as the exec producer of a new flagship podcast... Per the Post, "Sikka will hire a team and oversee the creation of a new flagship podcast set to launch later this year..."
Read more of Monday's Reliable Sources newsletter... And subscribe here to receive future editions in your inbox...
Jessica Stahl, WaPo's Director of Audio, tells me: "From producing mini-series podcasts to weekly shows listeners routinely turn to, we've excelled at audio storytelling, working with our journalists to create compelling content for listeners.This new flagship program will be a significant initiative for us, and we look forward to growing our team and highlighting the incredible work being produced across The Post."