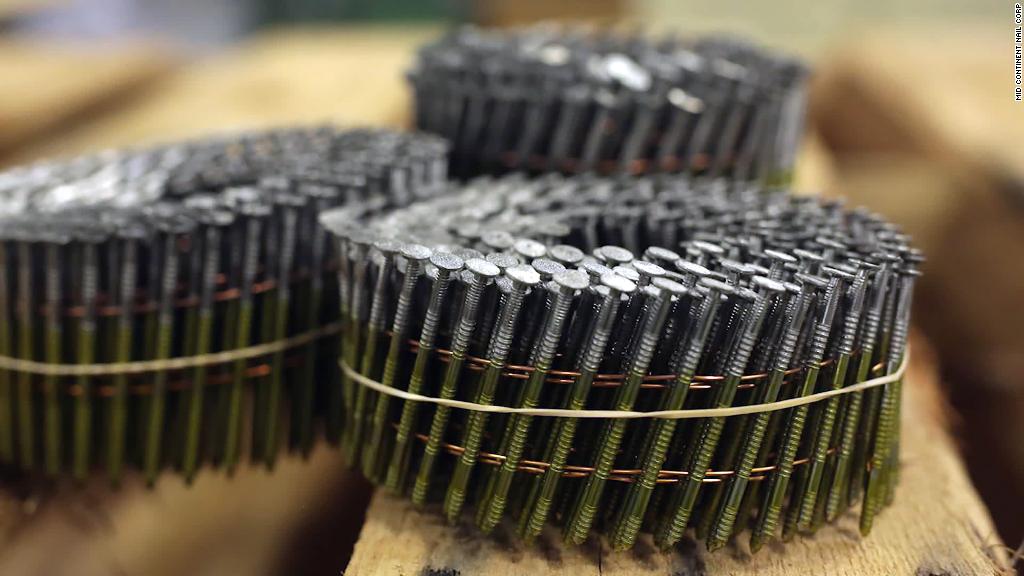 The largest nail manufacturer in the United States, Mid Continent Nail, continues to lay off workers as it fights against crippling steel tariffs.
The Missouri company may not be able to keep its doors open through the end of September.
"I can tell you that if we don't get immediate relief, we could be shut down in the next 20 to 30 days," said Chris Pratt, Mid Continent's general operations manager, on a call with reporters Tuesday.
The company said in June that it would have to close by Labor Day if it wasn't granted an exclusion from the tariffs. But a recent meeting with Commerce Secretary Wilbur Ross left them with hope that they would be granted the exclusion.
"Secretary Ross was very sympathetic to our situation, especially the 500 job losses it could cause," Pratt said.
Since the tariffs went into effect in June, Mid Continent has laid off 150 of its 500 employees.
Tariffs pushed up the cost of its raw materials and the company was forced to raise prices on its own customers. When it did, orders plummeted, Pratt said.
The Commerce Department could rule on Mid Continent's exclusion request as soon as Tuesday. But it has been inundated with more than 20,000 requests from companies that say they cannot purchase steel and aluminum goods they need from a domestic supplier. Most of the companies are still waiting on a ruling.
President Donald Trump imposed 25% tariffs on imported steel and aluminum earlier this year. The administration said it wants to protect those industries because they are vital to national security. Steelmakers have already benefited from the trade policy, adding jobs and enjoying higher profits.
In its exclusion request, Mid-Continent Nail said it has encountered "significant issues" finding a US company that could supply enough steel wire needed for them to continue production. Plus, finding another supplier requires a "lengthy process of qualification" that could take at least six months, it said.
But Nucor Corporation, the nation's largest steelmaker, objected to Mid Continent's exclusion request. Nucor said it "readily produces" the product as do other domestic steel producers. Mid-South Wire Company, which operates plants in Tennessee and Missouri, also said it could produce what Mid-Continent needs.
Pratt said that neither company on its own could supply enough raw material for Mid Continent.
Mid Continent said it could move production to Mexico, where its parent company Deacero, is based, and then export the finished nails back to the United States without tariffs. The tariffs only apply to the raw materials.
Mid Continent has had a presence it Missouri for more than 25 years. It has roughly doubled in size since it was bought by Deacero in 2012.
It was the second largest employer in the Poplar Bluff, Missouri, area before the layoffs, Pratt said.
"The loss of a company our size in a community this size ... it's going to be detrimental to this economy," he said.