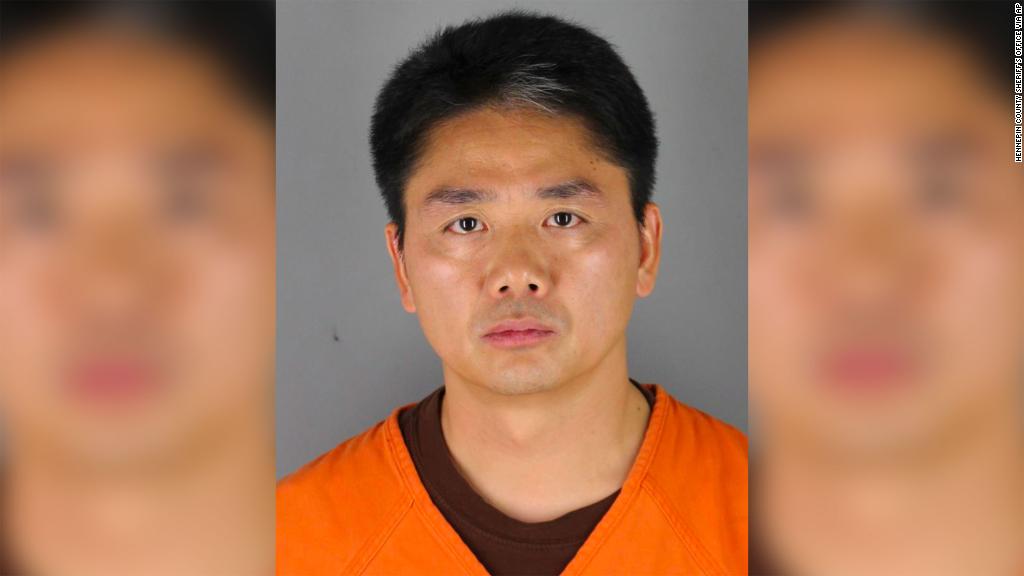 Chinese e-commerce company JD.com is often overshadowed by its bigger rival Alibaba. Now it's in the global spotlight for all the wrong reasons.
Richard Liu, the billionaire founder and CEO of JD.com (JD), made headlines around the world this week after he was arrested in the United States on suspicion of sexual misconduct.
The company says Liu, who has since returned to China, was falsely accused. But the attention isn't going away.
His name remains a top trending topic on Weibo, China's Twitter-like social media platform, where users are sharing the police mug shot of Liu dressed in orange prison garb and discussing the future of his $45 billion company.
"Company founders in China definitely enjoy a kind of celebrity status," said Benjamin Cavender, a Beijing-based analyst with China Market Research Group. "Consumers are more likely to be aware of Richard Liu's problems than they would be in most other markets."
JD.com is China's second-largest online shopping site after Jack Ma's Alibaba (BABA). Getting in early on the rise of e-commerce in China has helped make Liu, 45, one of China's richest tech tycoons with an estimated net worth of more than $7 billion.
In an effort to distinguish himself from the competition, Liu has said he wanted his company to sell authentic goods and be in full control of delivering them.
JD has built a sprawling logistics network, tapping into hundreds of stores and warehouses around the country. Using everything from bicycles to drones, the company boasts that 90% of goods bought on JD.com are delivered the same day or the next.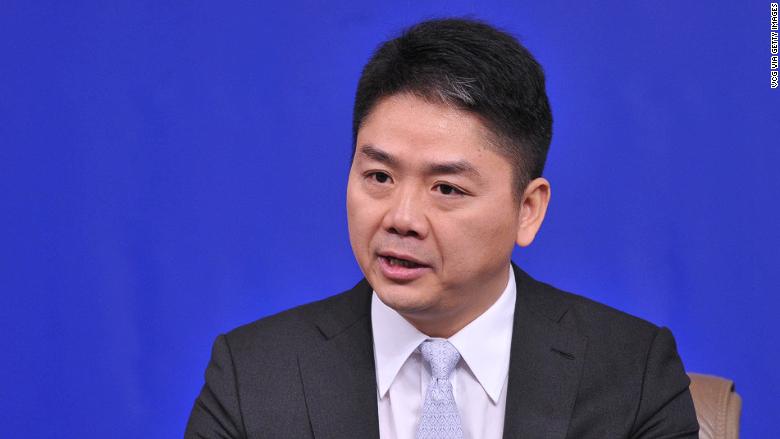 Selling BMWs and watches online
JD.com sells products ranging from high-end fashion to fresh groceries, targeting China's more affluent shoppers. Big name brands like Japanese retailer Muji, luxury watchmaker Chopard and car manufacturer BMW (BAMXF) have flagship stores on the site, which has more than 300 million active users.
The company's tag line — Authentic Products, Delivered Today — takes a dig at Alibaba and other rivals who have been plagued by complaints of not doing enough to pull fake goods from their platforms.
Like Alibaba, JD.com is trying to reach new customers overseas. The company has been spending heavily to expand operations to Southeast Asia and Europe.
JD's major investors include Chinese tech giant Tencent (TCEHY) and US retailer Walmart (WMT), whose Chinese business it bought in 2016. Google (GOOGL) invested $550 million in the company in June.
Liu owns about 16% of JD but controls 79.5% of its voting rights, meaning a scandal tied to him could have outsized repercussions for the company.
Dreaming of meat
The billionaire tycoon comes from humble beginnings.
He was born Liu Qiangdong in Suqian, a village around 250 miles northwest of Shanghai.
He grew up just as China was beginning a sweeping program of economic reforms. While the country would experience explosive growth in the coming decades, Liu's hometown and family remained poor for most of his younger years. During a speech at his childhood middle school last year, he told kids that he used to dream of eating meat, because he had pork just once or twice a year.
When he got into Renmin University, a top college in Beijing, Liu recalled his entire village pitching in to help send him off.
"They donated a total of 76 eggs and 500 yuan to send me off for the opportunity that changed my life," he said in a company blog post.
When he graduated from college, most of Liu's classmates wanted to go into government, or study abroad. Liu didn't want to be a bureaucrat and he couldn't afford to go overseas. He was also keenly aware of the fact that his family was too poor to afford medicine for his grandmother.
"I needed to make money to pay for her medical care," Liu said in January at the World Economic Forum in Davos.
So in 1998, he set up a business selling computer accessories in Zhongguancun, a tech hub in northwest Beijing.
SARS outbreak drove Liu online
By 2003, Liu's business had grown to a dozen brick-and-mortar stores.
But then the SARS outbreak hit China. Customers and workers were reluctant to be outdoors, where they might come in contact with the deadly respiratory virus. Liu closed his shops and told most of the employees to stay home while he huddled with managers to figure out how to move inventory.
"Then one day, one of our managers said: 'Why don't we sell our products from the internet?'" Liu said at a retail conference earlier this year. "So we needn't see our customers. [There] was no risk anymore, from both sides," he said.
Liu founded what would eventually become JD.com the following year at a time when e-commerce was just starting to take off in China as more and more people gained access to the internet.
-- Serenitie Wang and Jackie Wattles contributed to this report.