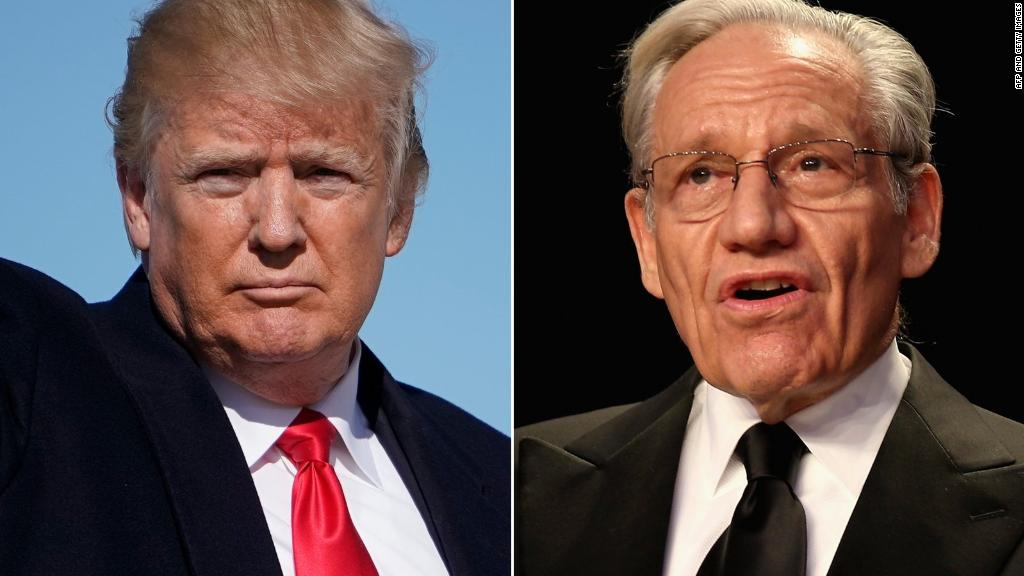 A version of this article first appeared in the Reliable Sources newsletter. You can sign up for free right here.
"CRAZYTOWN"
The noise machine is really cranking up to challenge Bob Woodward's book "Fear." But the book is about something fundamental, something that's hard for the pro-Trump media to fully counter. It's about whether Trump is fit for office. The book is full of reasons to doubt his fitness. And it details a White House that isn't just dysfunctional, but is downright broken. Here's the very latest...
-- "Fear" was #12 on Amazon BEFORE WaPo and CNN published excerpts around 11:15am Tuesday. By 5pm, the book was firmly #1, and it's not going to budge for days...
-- The publication date is still 9/11... Simon & Schuster is enjoying the pre-order spike...
-- So far there's been no known threat of legal action from Trumpworld, but I'm on the lookout because that's what happened with "Fire and Fury" and "Unhinged..."
-- All three books "tell basically the same story, it's just that Woodward has by far the most credibility of those three," Chris Hayes said on MSNBC. "It's basically an 'even worse than you thought' sort of theme..."
-- For the time being, Trump is trying a "fake news" defense, claiming (without a shred of evidence) that Woodward might have made up the stories in the book...
-- Will "he made it up!" really work against one of the most-respected, well-known reporters in the country? Maybe...
-- WaPo's Josh Dawsey tweeted: "Of 13 current and former White House officials I spoke to today, seven said they spoke to Bob Woodward for his book..."
"Furious" and "paranoid"
>> WaPo's Wednesday story says Trump is "furious" and "particularly paranoid" right now. And as CNN's Kaitlan Collins reported earlier, he's irritated that his aides turned down Woodward's requests to interview him.
If you haven't listened to Woodward's recording of his 8/14 phone call with Trump, listen to/read it here. And think about this: Trump evidently thought he could single-handedly turn "Fear" into a positive, "accurate" book by talking to Woodward.
From the call, a Trump quote for the ages: "Accurate is that nobody's ever done a better job than I'm doing as President. That I can tell you. So that's -- And that's the way a lot of people feel that know what's going on, and you'll see that over the years. But a lot of people feel that, Bob."
Bernstein calls the book "indisputable"
There was something special about listening to Carl Bernstein analyze Woodward's bombshells on CNN on Tuesday.
Bernstein's main point to Anderson Cooper: "Yes, there's been reporting on this, a good deal of it. But now we have a coherent, indisputable narrative that is absolutely chilling in the following way: The people closest to the president of the United States, in his W.H. and in his administration, are saying that they see their job as protecting the United States FROM the president of the United States. That he is a danger to the republic. That is the text of this book. Every meeting that Bob writes about, that is the subtext. And it's not just a sentence here or somebody calling somebody an idiot there, it is detail piled upon detail..."
>> Bernstein also vouched for Woodward's reporting talent as only Bernstein could do. "This is an irrefutable picture, because of Bob Woodward's methodology," he told Brooke Baldwin earlier in the day...
"Dozens of deep throats"
Robert Costa and Philip Rucker published the first excerpts in a WaPo story. CNN's Jeremy Herb, Jamie Gangel and Dan Merica followed with another eye-popping story just a few minutes later. Together, the two story formed the basis for a full day of news coverage, criticism, denials, etc.
Gangel made this point on "AC360:" Woodward had "dozens of sources," dozens of so-called deep throats. "He has hundreds of hours of taped interviews, almost every interview was taped... So people may be denying things now for their own reason. Maybe they're denying it because they do consider themselves 'the thin blue line,' and they feel that it's more important that they be in the job. But there are tapes."
Keep this in mind
From an emailer: "It's pretty shocking to me how many journalists are willing to draw firm conclusions about the book based on today's news coverage without actually reading the book..."
Top reactions to the excerpts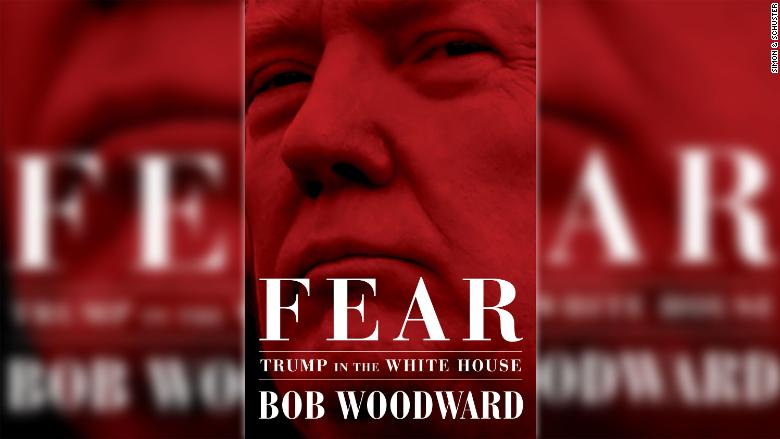 -- WaPo veteran Robert G. Kaiser: "Just a reminder: Woodward does not make mistakes. He doesn't invent stuff. In our 40 years together at the Post, I remember just one correction of a Woodward story -- Watergate aficionados know the story, an insignificant slip-up."
-- Sean Hannity: "A book filled with speculation, rumors, hearsay."
-- Ezra Klein tweeted that "there should be a word for the pain of being repeatedly confronted with what you already know is true. That's the experience of reporting on Trump, and reading these Trump books. What's going on in the White House is exactly what it looks like, and that's scary every single time."
-- Panelist Morgan Ortagus on Fox's "Special Report:" "At the Applebee's in Winter Haven, Florida, where I waitressed in high school and college, no one is talking about the Bob Woodward book tonight. No one."
-- Brit Hume on Twitter: "The denials from Kelly, Dowd, Mattis are pretty explicit and direct. Bob Woodward's sources are, as always, anonymous so we may never know who's right."
Been there, done that...
--> Ari Fleischer: "I've been on the receiving end of a Bob Woodward book. There were quotes in it I didn't like. But never once -- never -- did I think Woodward made it up. Anonymous sources have looser lips and may take liberties. But Woodward always plays is straight. Someone told it to him."
--> Paul Begala: "24 years ago, Woodward quoted me in his Clinton book saying all kinds of profane and rude things. Why? Maybe because he's a Republican. Or maybe because: I. Said. Them."
Woodward's only comment
He shared a five-word statement with reporters who asked him about the admin denials and other reactions to the book's revelations.
"I stand by my reporting."
Woodward has already taped his first TV interview about the book -- with David Martin for "CBS Sunday Morning" -- and right now Sunday seems like a long ways away. But authors like Woodward and the book publicists at S&S have been through this before...
>> On Tuesday's "CBS Evening News," Martin mentioned the interview. "I can tell you, from having interviewed Woodward, he is VERY confident of his information, much of which comes from diaries and notes..."
Lowry's take
Brian Lowry emails: Chuck Todd's Atlantic piece about the damage done to journalism over the last 50 years -- and the orchestrated campaign to achieve those ends -- was a must-read. But the one thing he didn't resolve, in my mind, was how journalists can defend themselves and their work without sounding, well, defensive. It was striking, too, in light of Todd's argument to see Woodward's one-line statement -- "I stand by my reporting" -- in response to the denials and criticism directed at his book. It was an almost-perfect demonstration of the old-school mentality, as opposed to the greater transparency -- and more full-throated defense -- that many, including Todd, are advocating...
It's about fitness.
Based on the WaPo and CNN excerpts alone, it's safe to say that "Fear" contains a wealth of new evidence that is making Trump's fitness a subject of discussion again. Furthermore, the book indicates that it already is being discussed by some of the highest-ranking officials in his administration.
Book after book, story after story, news cycle after news cycle all come back to the same uncomfortable question: Is he fit for office? You can expect to hear the Q asked a lot more in the coming weeks. Here's my column about it...
The White House's response was delayed...
The W.H. knew this book was in the works for months. It knew the pub date for weeks, just like the rest of us. Still, it took the press shop four full hours to release a statement dismissing the book as "nothing more than fabricated stories."
>> Maggie Haberman's reaction: "Took the WH four hours to come with the same statement it's used for the last two books."
Trump + The Daily Caller
Maybe the press shop was busy setting up this Oval Office interview with two reporters from The Daily Caller. In the interview, Trump claimed that Woodward might have made the stories up, contradicting his own previous praise of the author's reputation.
"It's just another bad book," Trump said. And he was right in one respect: "Fear" is not the first book to contain damning claims about the Trump W.H.
Read more of Tuesday's Reliable Sources newsletter... And subscribe here to receive future editions in your inbox...
Chris Ruddy brought this up on Chris Cuomo's show: "This book is not so much 'fake news' as it's OLD news," Ruddy said. "I mean, it's a redo of Michael Wolff's book. Very similar themes." But Cuomo pointed out that the commonalities between "Fire and Fury," "Unhinged" and "Fear" actually buttress the points of all three books...