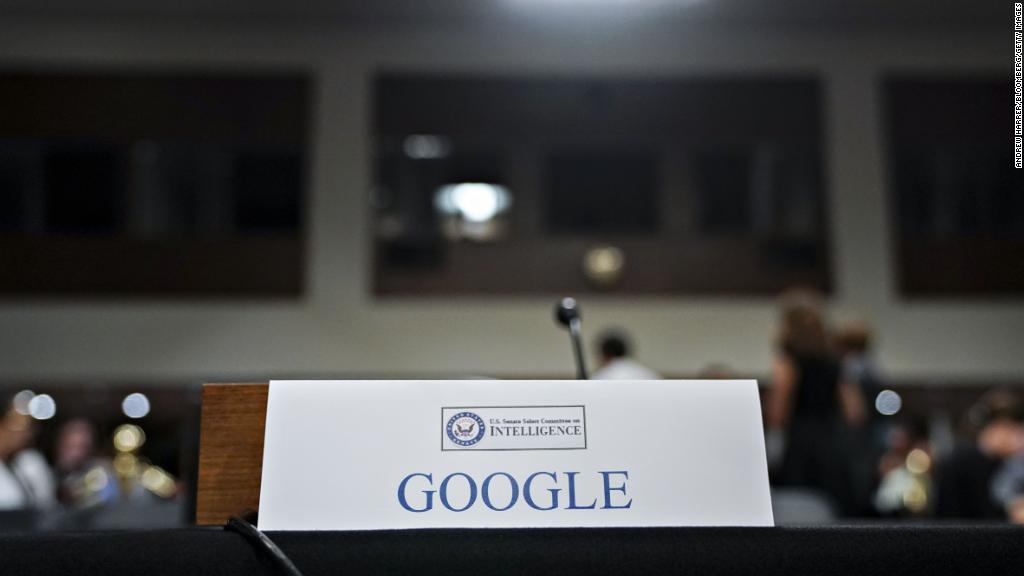 The Senate Intelligence Committee's hearing on foreign use of social media to influence US politics took place Wednesday morning with two of the big tech companies that senators wanted to hear from present -- and one empty chair.
Facebook COO Sheryl Sandberg and Twitter CEO Jack Dorsey were in the room and testifying. Google had offered to send Kent Walker, its senior vice president of global affairs, but the committee declined, saying it wanted someone more senior. Google did not offer anyone. So next to Sandberg and Dorsey was an empty chair, with a placecard for Google.
Committee chairman Sen. Richard Burr said the committee would have "valued the opportunity to speak with them [Google] at the appropriate level of corporate representation."
"I'm deeply disappointed that Google -- one of the most influential digital platforms in the world -- chose not to send its own top corporate leadership to engage this committee," Sen. Mark Warner, the committee's top Democrat, said. He added that there are "structural vulnerabilities" in multiple Google products, including Google search, YouTube and Gmail, about which members of the committee want answers. "Google has an immense responsibility in this space," he said.
Google posted on its blog on Tuesday what it described as Walker's testimony to the committee. However, a committee spokesperson shot back, saying, "We appreciate Mr. Walker's commentary, but it is not testimony. We wish his enthusiasm for participating in the Committee's public hearing extended to his company's senior leadership, and that they were willing to answer the Committee's questions."
Related: Exclusive: Meet Facebook's top troll hunter
Although Google didn't show up, conspiracy theorist Alex Jones did, taking a seat in the public gallery. Earlier this summer, accounts associated with Jones and his company InfoWars were removed from Facebook and YouTube for violating the companies' rules. The decision to remove the provocateur was a telling moment in Silicon Valley's efforts to get a handle on the spread of false information on its platforms while also trying to keep their roles as free speech advocates.
Twitter continues to allow Jones to use its platform. He used Periscope, which is owned by Twitter, to livestream his visit to Capitol Hill.
Wednesday marked Silicon Valley's third high profile outing in Washington in less than 12 months. Dorsey and Sandberg used their appearance to outline the steps their companies have taken to tackle disinformation on their platforms and to make political advertising more transparent -- both part of an attempt to avoid a repeat of 2016, when a troll farm with links to the Russian government ran a disinformation campaign targeting Americans.
Both executives said their companies are now working more closely together to share information on foreign threats. But it took Twitter until earlier this week to remove from its platform an account that Facebook had flagged two weeks ago as being linked to Russian military intelligence. The account was posing as a Syrian activist group.
In her testimony, Sandberg underscored the importance of the companies receiving cooperation from intelligence agencies. "Our understanding of overall Russian activity in 2016 is limited because we do not have access to the information or investigative tools that the U.S. government and this Committee have," she said.
Sandberg said Facebook was working closely with the FBI's new election interference task force.
Both also touted how their companies' efforts to combat fake accounts. Between October 2017 and March 2018, Sandberg said, Facebook removed 1.27 billion fake accounts.
Dorsey said Twitter thwarts 530,000 "suspicious logins" every day.
Sen. Tom Cotton asked why Wikileaks and its leader Julian Assange are still allowed on Facebook and Twitter, citing comments made by Secretary of State Mike Pompeo, who described Wikileaks as a "non-state hostile intelligence service."
"I am not going to defend Wikileaks," Sandberg responded, but said Wikileaks did not break Facebook's terms of service.
Dorsey also said the group had not violated Twitter's policies, but added, "We are open as always to any law enforcement insight that would indicate a violation of our terms."
Senators appeared to largely avoid any major snafus in their questioning, unlike previous hearings on this subject, after which lawmakers were mocked for asking questions that seemed to reflect a lack of understanding about social media. The Senate Intelligence Committee has been investigating social media's role in political discourse for more than a year.
Likewise, Sandberg and Dorsey seemed well-prepared to handle the questions that came their way. Both were flanked by groups of advisers as they made their way in and out of the Dirksen Senate Office Building.
Dorsey was due to participate in a second hearing on Wednesday before the House Energy & Commerce Committee, where he is set to discuss the algorithms Twitter uses to serve content on users' Twitter feeds and "content monitoring." During that hearing, it's likely Dorsey will face questions about — and push back against — accusations of political bias against Republicans.
-- CNN's Manu Raju contributed reporting.