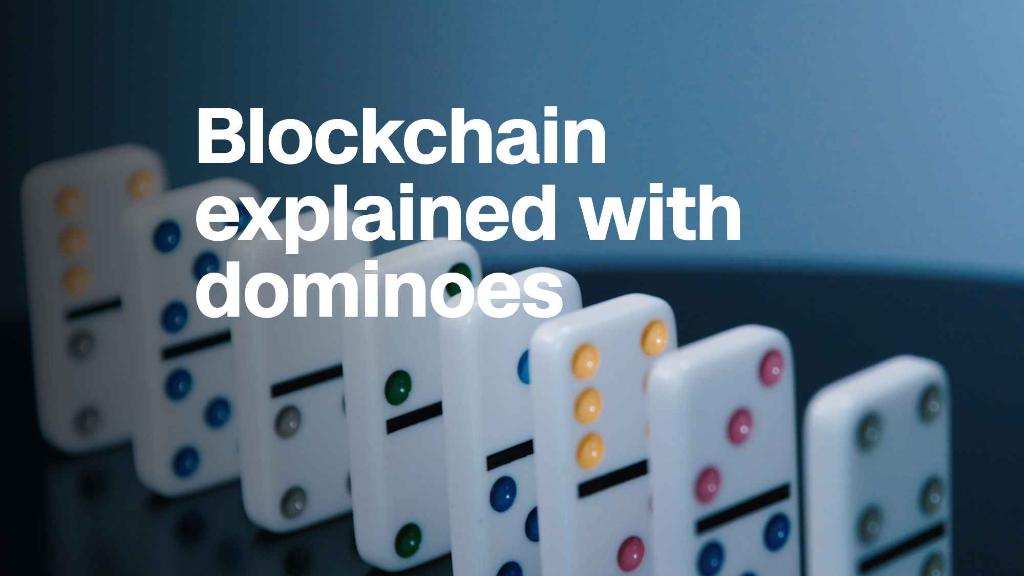 IBM is betting heavily on blockchain technology revolutionizing everything from shipping to banking.
Industry watchers say it's a risky move, given the relative novelty of the technology and the hype surrounding it, but say IBM is well positioned to make it pay off.
For the uninitiated, the blockchain is essentially a shared digital ledger. Once entered, transactions cannot be changed, creating an immutable record. The technology is most associated with cryptocurrency, but several companies, including Microsoft (MSFT), JPMorgan Chase (JPM), and American Express (AXP), are exploring its use in other areas.
IBM (IBM) has 1,500 employees working on more than 500 blockchain projects in industries like shipping, banking, healthcare and food safety. It also has forged partnerships with the likes of Columbia University to develop still more uses for the tech.
It's a bold move, but not out of character for a company that is often among the first to embrace new technology, said Josh Olson, an analyst at Edward Jones. Although IBM is an early leader in the space -- it started rolling out commercial applications, like its work with Walmart to improve food tracking, two years ago -- he said that doesn't ensure long-term success.
Related: The world's first professional fantasy football league uses blockchain technology
"Historically we've seen IBM invest in a technology early with some early promise, but then they've had difficulty commercializing good technologies or innovations at scale," Olson said.
Through its research, IBM identified three areas where blockchain could be valuable: Financial services, shipping and healthcare. So far, it is placing the greatest emphasis on the financial sector.
While IBM was open to using blockchain more broadly, it realized the technology wasn't a panacea. Blockchain is best used to turn paper-based tracking systems into digital ones, increase efficiency, and share data across industries.
LedgerConnect, for example, brings financial tech companies and banks together to share blockchain technology and improve their daily back-end operations.
TradeLens aims to improve shipping by minimizing paperwork and the documentation errors that often accompany it. More than 150 million transactions have already been logged on its blockchain. To date, more than 4,000 shipping containers are being tracked, with plans to add more.
IBM's Insurance Data Link allows insurance carriers to upload data directly onto a blockchain platform to show they're complying with state regulations, another way the technology can eliminate burdensome paperwork while boosting efficiency and security.
Humanity.co lets people use blockchain technology to keep track of how their personal data is accessed.
Research is one thing; the challenge lies in finding commercial applications. Olson cites IBM's pioneering work in artificial intelligence and the creation of the Watson supercomputer as an example of this. The technology underpinning Watson proved costly and difficult to adopt commercially, which allowed competitors to catch, and then pass, IBM.
Related: Malta wants to become 'Blockchain Island'
The company says it has learned from that mistake.
"Watson's [ambitions are] very complex and difficult," said Bridget van Kralingen, SVP of IBM's industry platforms group, noting how the supercomputer is working to find solutions to complicated issues, including a cure for cancer.
"I would argue blockchain is much easier because it's a process flow. ... We learned a big lesson in implementing new technology: Ease of use has become a very important part of adoption."
So has listening to the marketplace, and working with customers to determine what they need from the technology, said Marie Wieck, the general manager of IBM Blockchain.
"We didn't start with a big bang," Wieck said. "We found [blockchain] had real applicability but not just as an extension of our existing products. We had to create something new, so we started experimenting and doing some customer pilots, and we saw there was enough interest to move forward."
Responding to consumer demand and needs is important but it's also crucial to keep looking ahead, according to Catherine Tucker, a professor at MIT's Sloan School of Management.
"I think the biggest risk for IBM is a failure to innovate," Tucker said. "In their position it is very easy to be trapped by the needs of the customers they are currently serving rather than future needs."
Olson sees two challenges to success. First, it must find customers who understand the technology and can truly benefit from it. And it must create a standardized system that can scale across industries. He cited IBM's work with HyperLedger, a forum where companies from multiple industries can work together to develop blockchain technologies, as a step in the right direction.
Correction: An earlier version of this article misreported IBM's relationship with HyperLedger. IBM is a member of the project but does not run it.