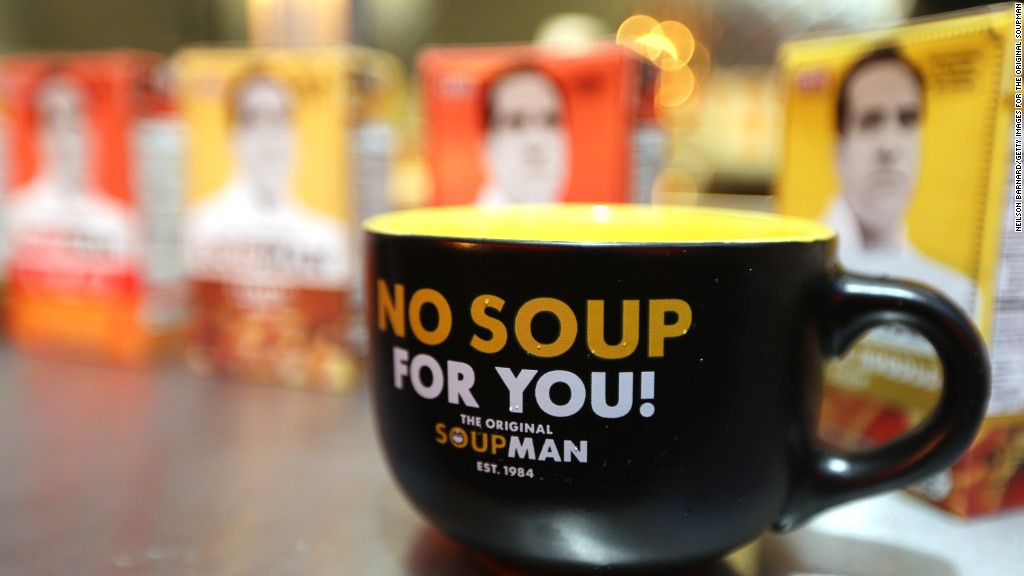 The fight over Campbell Soup's future is heating up.
In a scathing letter to the chairman of the company's board, activist investor Daniel Loeb blamed the board for Campbell's problems, accusing members of "mismanagement, waste, ill-conceived strategy, and inept execution."
Campbell is struggling with many of the same problems facing its competitors in the food industry: Prices have sunk as Amazon (AMZN), Walmart (WMT), Costco (COST) and Kroger (KR) have ramped up their battle for customers; consumer tastes are changing; aluminum tariffs have increased its costs.
But Campbell has exacerbated the situation with a series of bad bets. Interim CEO Keith McLoughlin recently said the company aggressively pursued the health "megatrend" without considering what differentiated Campbell from its many rivals. He said Campbell depended too much on mergers and acquisitions and lost focus on its own products and brands.
The company's stock has fallen nearly 17% this year.
Late last month, Campbell presented a solution to the problems. It is selling Campbell Fresh, which includes Bolthouse Farms juices and Campbell's own refrigerated soups, and its international business. After years of overextending, it will focus instead on bolstering its most popular brands.
The decisions were a result of a full operational review the company began in May, in the wake of poor sales and a reportedly rocky integration of snack company Snyder's-Lance, which Campbell completed in March.
Loeb thinks Campbell's plan falls far short.
"The disappointing outcome of Campbell's recent 'strategic review' process provides further evidence that this Board is unable or unwilling to take the bold action needed to address the current crisis," he wrote in the letter, which was sent on Friday.
"At this point, it would be simply reckless to leave the Board that caused this mess in charge of fixing it."
Loeb's hedge fund, Third Point LLC, owns 5.7% of the company. The fund had previously said that "the only justifiable outcome of the strategic review is for [Campbell] to be sold to a strategic buyer."
To revamp the board, Loeb suggested a combination of former executives, Third Point employees and others.
Bozoma Saint John, who left her post as chief brand officer at Uber in June, is on the list. She's now the chief marketing officer for the marketing firm Endeavor.
George Strawbridge, a descendant of Campbell's founder, is also a nominee. He was a member of the company's board of directors from 1988 to 2009, and has a 2.8% stake in the company.
Campbell confirmed that it has received the letter, and said it will review the nominees. McLoughlin added that the company is still pursuing its plan, and remains open to considering other options in the future.
Loeb claims in the letter that that right now, the board is "beholden" to members of the founder's family.
Mary Malone, Bennett Dorrance, and Archbold D. van Beuren are all descendants and together control 42% of the company.
Patricia Lenkov, president of Agility Executive Search, which helps companies recruit board members, noted that calling for a full replacement of the board is "unusual."
"Activists don't usually do that," she said. The familial relationships will make this battle especially hard, she added.
"I think in these situations, a compromise is more likely than the all-or-nothing scenario," she said.
Lenkov pointed out that some board members may be ready to step off, and that some of Loeb's nominees may be an easier sell than others.