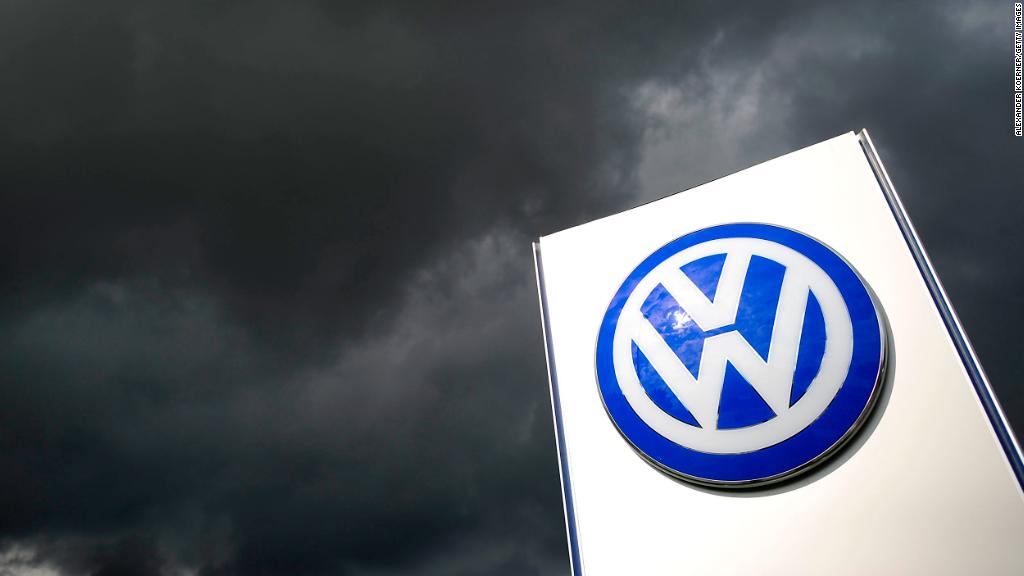 Germany's biggest companies are taking a stand against racism.
Volkswagen (VLKAF) on Friday joined Siemens in a forceful denunciation of hate and xenophobia following a series of violent protests in Germany.
Top executives from Europe's largest carmaker addressed employees at a plant in the eastern city of Chemnitz, where right-wing protesters have clashed with police and chanted racist slogans such as "Germany for the Germans."
"What happened outside the factory gates goes against all of Volkswagen's basic values," Gunnar Kilian, a board member for human resources, told workers. "Let us make sure there are no new walls. That must be our mission."
Volkswagen employs 1,800 workers at the Chemnitz engine plant, including people from countries such as Afghanistan, Cuba, Mexico, Nigeria, Ukraine, Hungary and Vietnam.
"There is no room for xenophobia, hate, exclusion and persecution on our company," said Bernd Osterloh, head of the company's works council, which represents employees.
In a statement, Volkswagen described diversity, respect and partnership as "unshakeable principles."
Germany has been rocked by a series of protests and counter-demonstrations after a German-Cuban man was allegedly killed late last month by an Iraqi and a Syrian in Chemnitz. Some protesters were photographed giving the outlawed Nazi salute.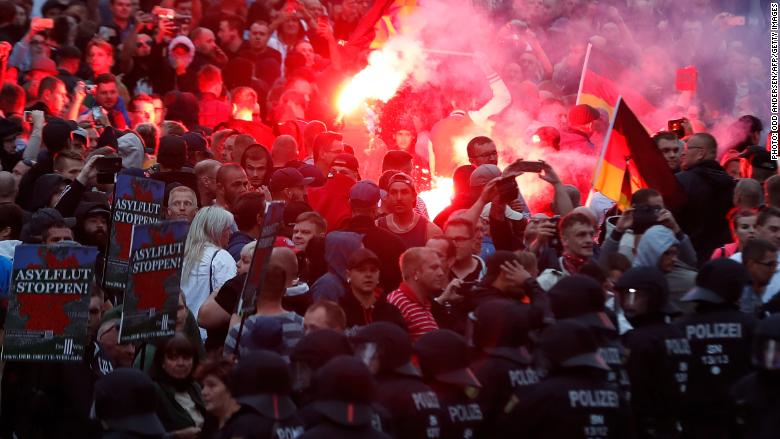 The scenes sparked an intervention by Siemens (SIEGY) earlier this week in a rare example of corporate activism by a major European company.
Siemens wrote an open letter to its 4,300 employees in the German state of Saxony, encouraging them to combat xenophobia and defend the country's reputation for tolerance.
Managers at the engineering firm said they rejected the aims of protesters, writing that fairness, tolerance, respect and dialogue are as important to its business as technical expertise.
Joe Kaeser, the chief executive of Siemens, denounced a German lawmaker earlier this year, saying that their nationalism would harm German prosperity.
"I'm there to represent the company and be accountable to the shareholders; on the other hand, if people turn their head away . . . Well, we had that time in Germany," Kaeser told the Financial Times in May. "Nobody spoke up. Then it was too late."
Volkswagen was formed in 1938 to realize Adolf Hitler's dream of building a people's car. Thousands of people were used as slave labor at its main Wolfsburg factory, building weapons and vehicles during the Nazi era.
The German Chamber of Commerce and Industry said earlier this week that the events in Chemnitz were "unacceptable from the point of view of the German economy."
Eric Schweitzer, president of the business lobby, said that xenophobia and nationalism damage the reputation of Germany.
"German companies are active around the world and therefore rely ... on being welcome in other countries of the world," he said in a statement.