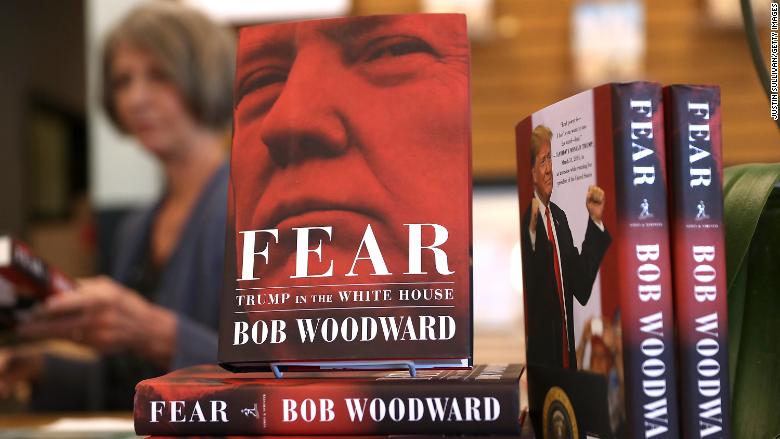 A version of this article first appeared in the Reliable Sources newsletter. You can sign up for free right here.
"I'll deny ever saying this."
Every politics and business reporter knows this to be true: Some people have a tendency to lie on the record and tell the truth off the record.
In some cases the word "lie" is too strong a word, but you know what I mean. They spin, they fib, they pretend everything's hunky-dory when it's not. Then comes the ask. "Can we talk on deep background?" "Don't quote me." "You didn't get this from me." "I'll deny ever saying this." That's when the truth comes out. At least something closer to the truth. The colleague they were just complimenting? Yes, he's got problems. The rumors of a C-suite shakeup? Yes, it's imminent. The shocking story about West Wing incompetence? Yes, of course it's true, and it's even worse than you know.
This is the complicated reality of the reporting process. And it is playing out in the reactions to Bob Woodward's book "Fear." I'm wondering: How can reporters do a better job explaining this reality to viewers and readers? How can we peel back this curtain without burning sources?
Here's the problem
I've been trying to say "confidential sources" instead of "anonymous." Because the sources are not anonymous to the reporters and editors who are doing the work. But no matter what word you use, reliance on unnamed sources is growing... While trust in media is shrinking.
On Tuesday's episode of The Daily podcast, Michael Schmidt asked Woodward if it's fair to say "we've seen anonymous sources used probably more than at any time in a previous administration." Woodward said "I think that's true." Why? "Well, because things are more hidden. Because it's the only way to get at the truth." Agreed. But telling the audience to "trust us" is not sufficient. Not even close.
W.H. pressuring former aides to push back on Woodward
"Fear," which officially came out on Tuesday, is exposing a broken White House. And the W.H. is responding by pressuring people to put out denials. That's what Gary Cohn and Rob Porter did on Tuesday... The two men issued half-hearted denials without refuting the specific details reported by Woodward... But here's the thing: A source close to the White House told CNN that the W.H. applied "a lot of pressure" on Cohn and Porter. The two men were told that the president was upset.
The W.H. is "pushing anyone who is remotely associated with the book to discredit the information," a separate source told CNN.
This reporting is key -- and I'm glad it is being conveyed to the audience -- because it shows what's really going on...
Who do you think he's talking about?
Woodward speaking on The Daily: After "Fear" started leaking last week, "one key person who's in office called me and said: 'Everyone knows what you've said here is true. It's 1,000% correct.' And then this person has said some public things that contradict that."
"It's like reporting on smoke"
Re: my point about people lying on the record and truth-telling off, Jonathan Swan replied and said, "They also lie on background. A lot." Sometimes they even "lie off the record, hoping you'll smuggle it into your copy some day."Maggie Haberman chimed in and said it best: "It's like reporting on smoke."
B&N says sales look "phenomenal"
On CNN's "New Day" Tuesday morning, I tried to convey what makes this book different from all the other Trump-related titles this year. Here's a data point: "Fear" sales "look phenomenal out of the gate," B&N senior director of merchandising Liz Harwell told me via email. "Even with a strong roster of bestselling political titles this year, Woodward's book is on pace to have the biggest first day sales of the bunch."
No. 4 book of the year on Amazon
This time yesterday, "Fear" was No. 6 on Amazon's best sellers of 2018 list. Since then, the book has jumped ahead of James Comey and Jordan Peterson. It is now No. 4. This means "Fear" has outsold all but three books so far this year, on Amazon, almost entirely thanks to pre-orders. Pretty incredible. So what are the three higher sellers? No. 3 is the motivational tome "Girl, Wash Your Face." No. 2 is the "Last Week Tonight" parody of the Pence bunny book. And No. 1 is... drumroll please... "Fire and Fury." Can Woodward top Michael Wolff?
Read more of Tuesday's Reliable Sources newsletter... And subscribe here to receive future editions in your inbox...
"Fear" scares up big ratings for Colbert, too
Frank Pallotta emails: Monday's "The Late Show with Stephen Colbert," which included a Woodward interview, nabbed a 3.0 overnight rating for the CBS broadcast. It was the highest-rated episode for the show in nearly five months. Colbert devoted most of the show to an interview with the famed reporter...
--> WEDNESDAY: Woodward will be on Fox with Dana Perino and on CNN with Anderson Cooper...
For the Record
-- CNN moves: Poppy Harlow's 9/10am ET co-host John Bermanmoved to "New Day" earlier this year. Now Harlow has a new co-host: Jim Sciutto. His first day will be on Monday...
-- Sciutto will remain chief national security correspondent. But Alex Marquardt will now be on the beat as well: He's moving to DC and covering national security as senior national correspondent...
-- Apple's event starts at 1pm ET... We'll have live coverage on CNNMoney... This is my first time attending an Apple product launch, so I'll share my thoughts in tomorrow's letter...
-- Missed this yesterday: Apple has struck deals for "two family-focused movies." Anousha Sakoui says it "suggests that Apple is seeking Oscar-worthy films..." (Bloomberg)
The Atlantic's new cover: "Is Democracy Dying?"
The Atlantic is rolling out this special issue on Wednesday and Thursday... The mag says "the editors have assembled some of the top voices on law, race, history, and the constitution, to look at the slow-motion crisis to democracy in America, and what can be done to right the ship." Among the contributors: Justice Stephen Breyer, Anne Applebaum, Ibram X. Kendi, Amy Chua, Yoni Appelbaum, and Jeffrey Rosen...