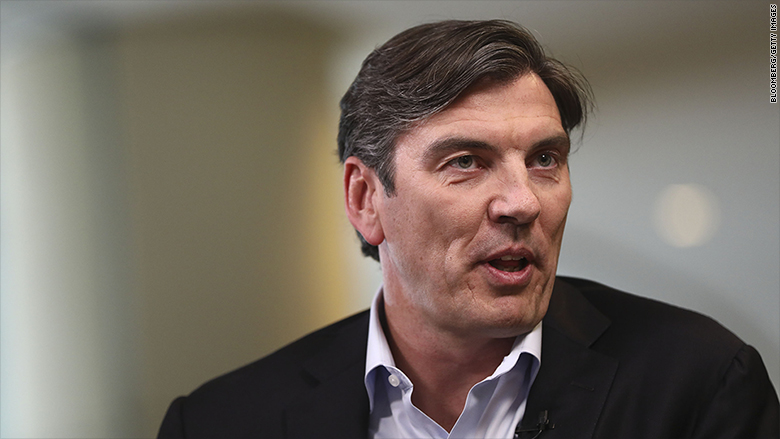 Tim Armstrong is out as CEO of Oath, Verizon's collection of digital media properties.
K. Guru Gowrappan, who has been president and chief operating officer of Oath since April, will take over as CEO on October 1. Armstrong will stay on as an adviser until the end of the year.
Oath's brands include AOL, Yahoo and HuffPost. The company was launched last year after Verizon (VZ) completed its purchase of Yahoo. Armstrong previously ran AOL, which was acquired by Verizon in 2015.
"We are exceedingly grateful to Tim for his contributions in founding Oath as a force in digital media and technology," said Lowell McAdam, Verizon's chairman. "With his continued guidance over the next few months, our enthusiasm for Oath's potential has never been greater."
The Wall Street Journal reported last week that Armstrong was in talks to leave. The Journal cited sources who described tension between Verizon and Oath as Oath tried to build a digital ad business to compete with Google (GOOG) and Facebook (FB).
So far, Oath hasn't made much of a dent. Wall Street analysts have long called the power wielded by Google and Facebook in the ad market a "digital duopoly."
Armstrong's departure is also the latest sign of upheaval at Verizon. This summer, Verizon replaced McAdam, then CEO, with Hans Vestberg, the telecom company's chief technology officer.
That move was widely seen as a sign that Verizon wanted to focus on wireless technology above all else. Vestberg was behind Verizon's 4G LTE rollout and its plans to build a 5G wireless broadband network.
Armstrong held senior positions at Google, including in advertising, before he took the AOL job in 2009.
Analysts at the time were optimistic about the hire, but Armstrong didn't escape controversy. During his tenure, the company acquired Patch, a neighborhood news site that Armstrong had co-founded two years earlier.
AOL struggled to monetize the website, at one point laying off many of its staffers. Armstrong also publicly fired the website's creative director on a conference call. AOL later sold Patch.
Related: Boss Files with Poppy Harlow - Oath CEO Tim Armstrong: Building Brands
Verizon bought AOL for $4.4 billion not long after that, adding the media company's online video services, advertising business and news sites to its portfolio. AOL controlled sites including HuffPo, TechCrunch and Engadget. The purchase was considered a turning point for the beleaguered AOL.
Last year, Armstrong helped spearhead Verizon's purchase of Yahoo for $4.8 billion, uniting the media assets under Oath.
Gowrappan, Armstrong's successor, held a senior role at the Chinese conglomerate Alibaba Group before joining Oath earlier this year. Verizon said in a news release that he would lead the "next phase of Oath's global growth strategy."