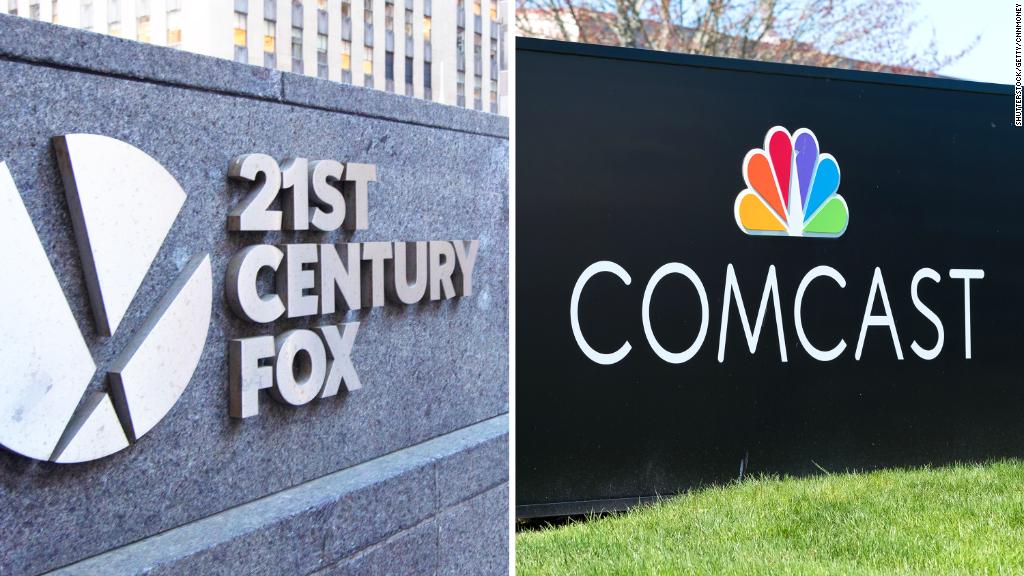 The future of Sky has been up in the air for nearly two years. It could soon be decided in a quick-fire auction.
The European broadcaster has been the subject of an extended takeover fight between Comcast (CMCSA) and 21st Century Fox (FOX) — backed by Disney (DIS), which is in the process of acquiring most of Rupert Murdoch's entertainment assets.
The episode could soon come to a dramatic close.
If neither suitor gives up before September 22, UK regulators could take the rare step of setting up an auction that will determine which US media heavyweight ends up controlling the coveted broadcaster.
Sky and its 23 million subscribers are attractive assets to US media companies that want to expand their operations to Europe and bolster their defenses against an onslaught from Netflix (NFLX) and Amazon (AMZN).
Comcast is the current higher bidder for Sky, having offered £14.75 ($19.30) per share in July. That compares to Fox's offer of £14 ($18.30) per share for the 61% of Sky it doesn't already own.
Sky investors are expecting a higher price to materialize: Shares in Sky were trading at £15.77 ($20.62) in London on Friday, a 46% premium over the £10.75 ($14.05) per share that Fox initially offered back in December 2016.
Investors are holding out for more
By Wednesday, less than 1% of shareholders had accepted the offer from Comcast, despite it having the backing of the Sky board.
The UK Panel on Takeovers and Mergers could now intervene to settle the matter with an auction, a mechanism that has been used only a handful of times in recent decades.
In such a case, the regulator would seek agreement from the parties — Comcast, Fox and Sky — on a framework for the auction, including whether it would be private or public, the number of bidding rounds and whether the companies can offer shares in addition to cash.
The companies have already been discussing the process, Bloomberg reported this week.
If an agreement cannot be reached, the regulator would conduct a five-day auction where each potential buyer is limited to one bid per day. The offers would be made public.
At the end of the week, shareholders would have two final bids to choose between.
Comcast and 21st Century Fox declined to comment.
The auction would bring to an end a dramatic period for the media industry which saw Comcast and Disney go head to head for control of 21st Century Fox, a battle that at times appeared to be personal for Comcast CEO Brian Roberts and Disney CEO Bob Iger.
Disney and Iger were able to purchase most of Fox's assets, but the fight for Sky offers one final test.
Top original shows and premium sports content have made Sky a leader in pay TV in the United Kingdom and other markets including Germany and Italy. It also sells broadband and mobile phone services.