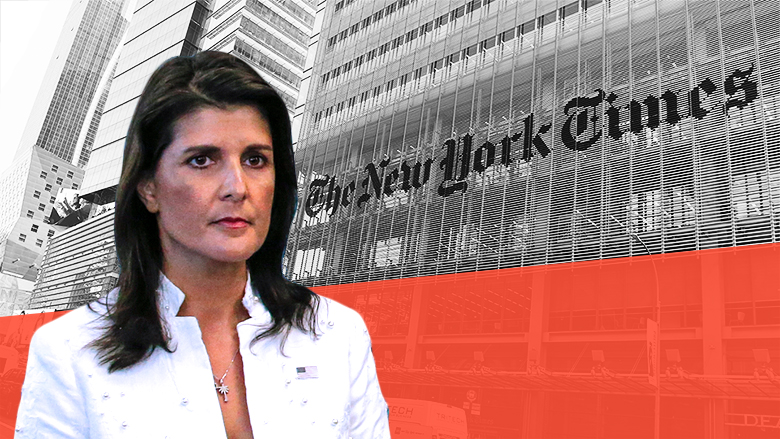 The New York Times on Friday said that a controversial story about curtains purchased for the new residence of the ambassador to the United Nations improperly focused on Nikki Haley. The newspaper recast the story to "reflect those concerns."
The initial story written by reporter Gardiner Harris carried the headline, "Nikki Haley's View of New York Is Priceless. Her Curtains? $52,701."
But the original story included a comment from a spokesperson for Haley who said plans to purchase the curtains were made during the end of the Obama administration and that Haley had no say in the purchase.
The story drew significant backlash on social media, prompting editors to review it. Following review, The Times concluded that the story had "created an unfair impression about who was responsible for the purchase in question."
An editor's note placed at the top of the revised story stated that "the decision on leasing the ambassador's residence and purchasing the curtains was made during the Obama administration, according to current and former officials."
"The article should not have focused on Ms. Haley, nor should a picture of her have been used," the editor's note concluded. "The article and headline have now been edited to reflect those concerns, and the picture has been removed."
The updated story reads much differently than the initial version. It's headline was changed to say, "State Department Spent $52,701 on Curtains for Residence of U.N. Envoy." A reference to Haley was also edited out of the article's first sentence, and the picture of her was removed from the story, among other changes.
Spokespeople for the State Department and Haley did not immediately return requests for comment.
This is the second story this particular Times reporter has written this year that later carried a lengthy editor's note. A story in May about Mark Dubowitz, the chief executive of the Foundation for Defense of Democracies, had a long correction appended to it.