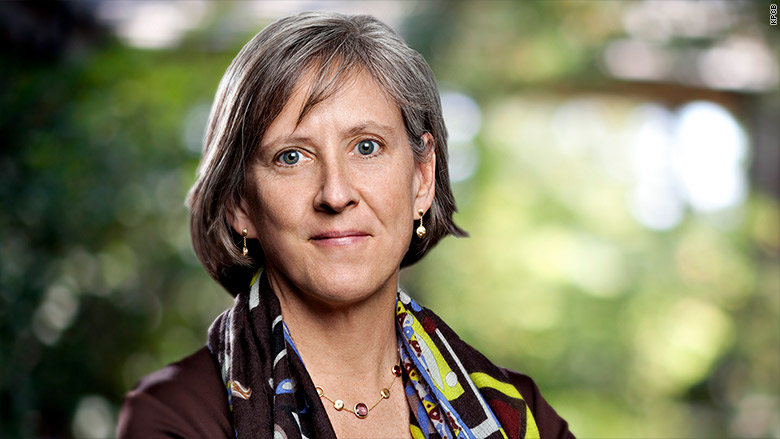 High-profile investor and analyst Mary Meeker is starting her own investment fund.
Meeker, considered one of Silicon Valley's most powerful female investors, announced on Friday she is leaving venture capital firm Kleiner Perkins -- one of the oldest investment firms in the region. She served as partner for eight years.
Meeker has a reputation for backing well-known companies, such as Facebook (FB), Airbnb, Spotify, Slack, Twitter (TWTR) and Instacart. She's also well-known for her annual "Internet Trends" report that looks at the state of the industry.
Meeker did not immediately respond to request for comment. Kleiner Perkins confirmed her departure to CNNMoney.
"We believe specialization and focus is increasingly key," Meeker told the Wall Street Journal. "This is not a mass-production business. We want to stay small and lean and we want to be really focused."
Three other Kleiner Perkins employees are also departing to join Meeker at her new venture, leaving no female general partners. Meanwhile, Beth Seidenberg, the firm's leading biotech investment partner, stepped down from her day-to-day role at the firm in May.
In a statement, Kleiner Perkins said the change is part of an environmental shift in venture capital, and it will continue to focus on early-stage investments.
"The environment for venture has evolved — with larger checks being written for seed and A rounds and more support from partners required to build companies — demanding a high degree of specialization and extreme focus to excel," the company said. "The changes in both areas have led to less overlap between venture and growth and creating two separate firms with different people and operations now makes sense."
In 2015, Meeker defended the firm against gender discrimination when she took the witness stand during former colleague Ellen Pao's trial against Kleiner Perkins.
Meeker said at the time she didn't believe the firm was biased against women but did not work with Pao directly. Pao ultimately lost her case but became a key figure in the fight for diversity and inclusion in the tech industry.