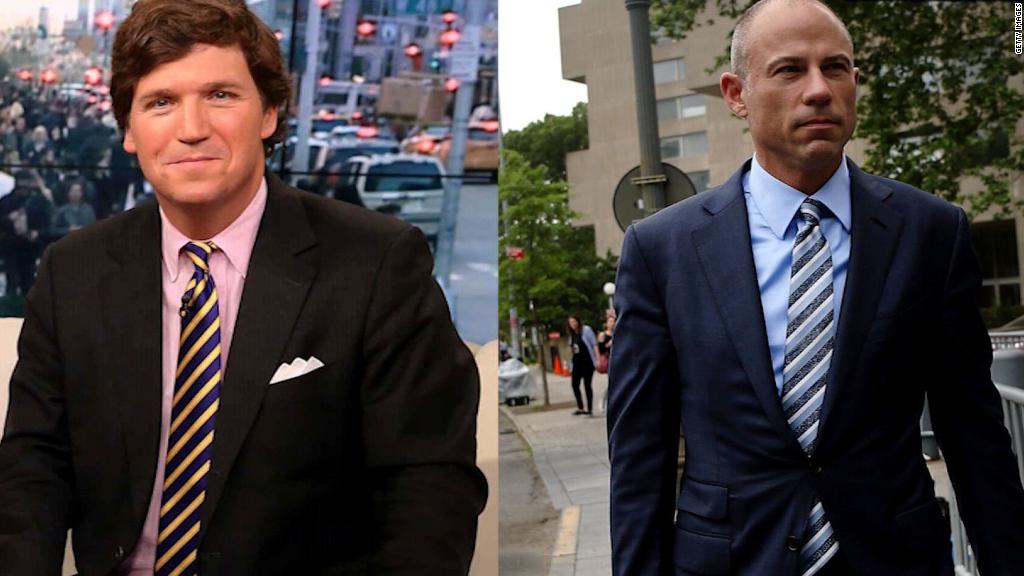 Many Democrats, even presidential hopefuls, avoid appearing on Fox News.
Michael Avenatti, the attorney for adult film star Stormy Daniels who is mulling a possible bid for president, did the opposite.
He appeared on the network in a raucous interview with Tucker Carlson on Thursday.
Why did he decide to go straight into the "lion's den" of Fox News?
Brian Stelter, host of CNN's "Reliable Sources," asked Avenatti, who has made the rounds on cable news outlets like MSNBC and CNN over the past few months, about the strategy behind appearing on the conservative network and Carlson's show.
"If you're going to be a fighter, and you're going to fight for the future of this country and lead the Democratic Party, then you can't be ducking fights," Avenatti said. "Frankly, sometimes you have to go into the belly oft he beast, as they say, and take on some of these individuals even if they're entirely unprofessional, like Tucker Carlson."
Carlson has repeatedly referred to Avenatti as "creepy porn lawyer." On Thursday, Carlson pledged to be respectful during the interview. But the insult appeared on screen in text: "Tucker takes on creepy porn lawyer," one chyron read.
Avenatti said he was not aware of the text while he was on the program, but found out later.
"I thought that was completely unprofessional," he said.
Fox News did not immediately respond to a request for comment about the text used to describe Avenatti.
Stelter also asked Avenatti how serious he is about a potential bid for the Democratic nomination in 2020.
"I'm very serious, Brian," he said. "People are encouraging me to do it."
He thinks his media savvy will help.
"We live in a different media age, a different realm if you will. And whoever is going to aspire to the presidency is going to need to understand what that realm entails and how to navigate it," Avenatti said.
"And Donald Trump, you can say a lot of negative things about him, and I do, and I think he's completely unprepared for the office and he lacks the fabric to lead this nation, but if there's one thing that he understands, it's branding and how to navigate the media," he said.