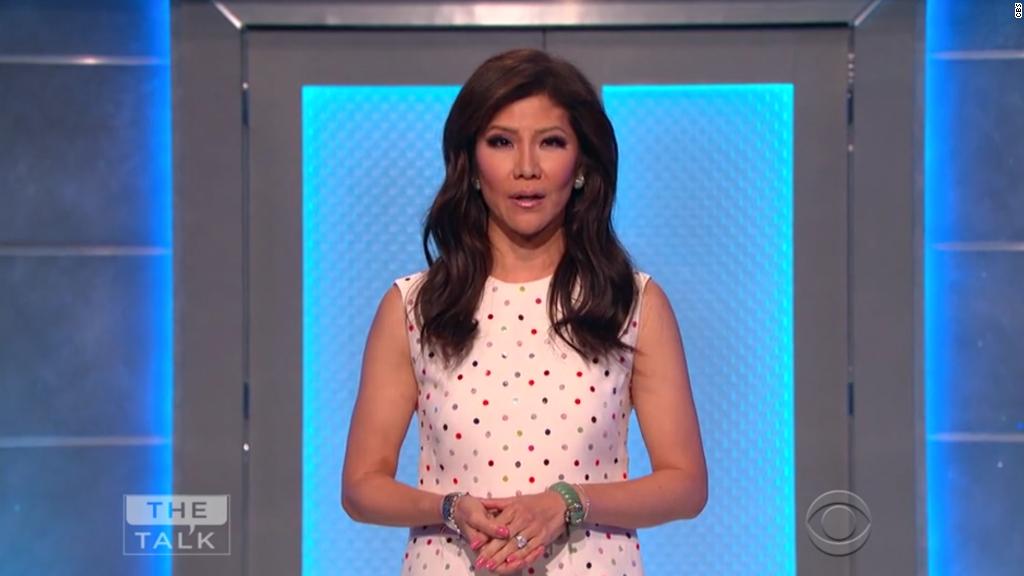 A little more than a week after her husband Les Moonves stepped down as chief executive of CBS amid sexual misconduct allegations, Julie Chen signed off from a show she's co-hosted on the network for nearly a decade.
In a video message that aired on Tuesday's edition of "The Talk," which is on CBS, Chen told viewers that she is leaving the show for familial reasons.
"Right now, I need to spend more time at home with my husband and young son," Chen said.
Moonves stepped down as chief executive of CBS last week amid sexual misconduct allegations that were brought to light in a pair of exposés published by the New Yorker.
Sources told CNN on Monday that Chen would be leaving the show, with one of the sources saying that she "has decided that her main focus needs to be clearing her husband's name from accusations made 25-30 years ago and tending to her son."
Sources told CNN that Chen will continue to host "Big Brother," the long-running CBS reality show. But her status on "The Talk" has been in doubt ever since Moonves' departure. Before Tuesday, Chen had not appeared on the current season of "The Talk" since it premiered last week.
"The Talk," hosted by all women, first premiered on CBS in 2010 as the network's answer to "The View," the popular female-focused daytime talk show on ABC. Chen has been with the program since it debuted.
In her farewell message, Chen thanked viewers and personnel who worked behind the scenes on the show, at one point fighting back tears. She also paid tribute to each of her co-hosts individually.
"I know this show, and the sisterhood it stands for, will live on for many, many, many more years to come," Chen said. "You ladies got this, and I cannot be more proud to call you my friends."
At the conclusion of the taped message, the camera returned to the set of "The Talk," where co-host Sheryl Underwood was in tears. Sara Gilbert, a co-host and the creator of the show, expressed gratitude to Chen before the conclusion of the broadcast.
"I created this show as a place for friends to come together, and I know I speak for all the hosts when I say we thank you for eight years of dear friendship and for all that you did to contribute to the success of this show," Gilbert said. "We love you, Julie.
Chen did not refer to Moonves by name in her video message on Tuesday, nor did she make reference to the allegations that ended his 20-year tenure atop the network.
But she has publicly offered support for her husband since the allegations first surfaced in a story published by The New Yorker in July.
Following the publication of that story, written by Pulitzer Prize-winning investigative reporter Ronan Farrow, Chen issued a statement in which she called Moonves "a good man and a loving father, devoted husband and inspiring corporate leader."
Another story from Farrow arrived on September 9 with more allegations of sexual misconduct against Moonves; later that day, CBS confirmed that he was stepping down.
Moonves had denied the allegations. Following his exit, Moonves hit back at his accusers, saying that "untrue allegations from decades ago are now being made against me that are not consistent with who I am."
Last week, in the wake of her husband's ouster, Chen offered another show of solidarity, closing an episode of "Big Brother" by referring to herself in a way she hadn't in the past.
"I'm Julie Chen Moonves," she told viewers.
--CNN's Brian Stelter contributed reporting.