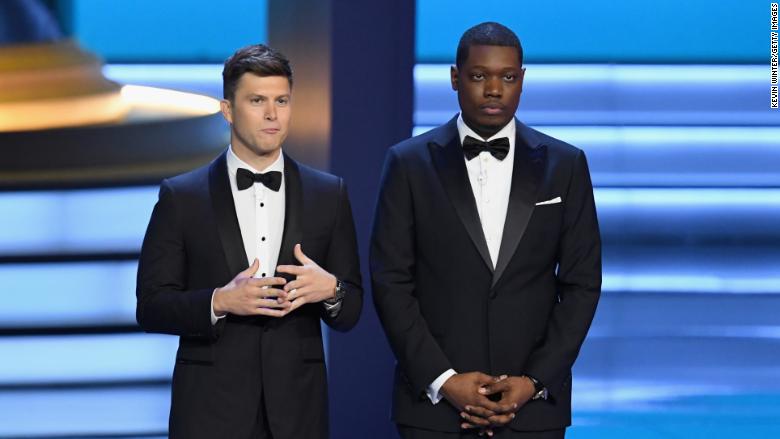 A version of this article first appeared in the Reliable Sources newsletter. You can sign up for free right here.
A tie at the Emmys!
The on-stage proposal was by far the best part of Monday's Emmy Awards. If you missed it, Chloe Melas has you covered. As for the rest of the evening...
>> HBO and Netflix TIED for the first time...
>> Amazon's "The Marvelous Mrs. Maisel" dominated the comedy categories...
>> "Last Week Tonight" won for a third straight year...
>> My wife Jamie, who's asleep, will be happy to read this: Matthew Rhys of "The Americans" won best lead actor in a drama...
>> There were some pointed comments about Hollywood's #MeToo problems...
>> Here is Lisa Respers France's full story about the night...
>> And here's Brian Lowry's analysis...
"Game of Thrones" wins best drama
Want to understand the state of the TV biz in 2018? Look no further than this: HBO won 17 statues at the Creative Arts ceremony a week ago, while Netflix won 16. And on Monday night the two outlets remained neck and neck all night long. Netflix picked up 7 more statues while HBO gained 6, resulting in a tie, with 23 wins each.
The context: HBO has been #1 at the Emmys for the past 16 years, winning more awards than any other network, so now there's an asterisk next to its 17-year record streak...
Plepler's reaction
"There's an extraordinary amount of great work being done across the industry," HBO CEO Richard Plepler told me by phone just now. "We're especially proud of our winners, but a tip of the hat to the team at Amazon for 'Mrs. Maisel,' a tip of the hat to FX for their great work with 'The Americans,' a tip of the hat to Netflix for all their great work." Plepler said he is proud that HBO is "leading the way..."
Quick occasional reminder that HBO and CNN are both owned by WarnerMedia... If I were in L.A. tonight, I'd try to hit both HBO and Netflix's celebrations, but alas I'm in NYC...
>> Two big wins for HBO's "Barry:" Henry Winkler and Bill Hader both won acting awards...
>> Claire Foy won the lead actress prize for Netflix's "The Crown..."
>> Here's the scoreboard just for Monday's show: Netflix 7, HBO 6, FX 5, Amazon 5...
>> Rich Greenfield tweeted: "Maybe #emmys should air on HBO, FX, Netflix or Amazon vs broadcast TV..."
What was missing
"There was plenty of talk about diversity in Hollywood on Monday night," but the talk "did not translate into wins for performers of color," Lisa Respers France and Sandra Gonzalez write...
Red carpet statements
-- Some stars on the red carpet wore Times Up buttons that said "I Believe Christine Blasey Ford" and "I Still Believe Anita Hill..."
-- Jenifer Lewis wore Nike "to applaud them for supporting Colin Kaepernick and his protest against racial injustice and police brutality..."
-- Rachel Brosnahan made this remark while accepting her award: "Vote. Show up. And bring a friend to the polls..."
-- Colin Jost poked fun at POTUS: "The Obamas now even have their own production deal at Netflix. And my dream is that the only thing they produce is their own version of 'The Apprentice.' And it gets way higher ratings."
About the opening #...
The broadcast began with an acknowledgement of the reckoning that's still just starting to take hold. Jost's co-host Michael Che's first crack was about sex crimes: "It is an honor to be here sharing this night with the many, many talented and creative people in Hollywood who haven't been caught yet." Here's my full story...
Lowry's take on the telecast
Brian Lowry emails: There was simply way too much "SNL," past and present, in the Lorne Michaels-produced telecast. And while some of it worked, certain bits fell woefully flat -- none worse than the Maya Rudolph-Fred Armisen bits, which felt like a bad sketch from "SNL's" last 15 minutes...
Standing ovation for Betty White
Chloe Melas emails: Betty White proved once again she's a national treasure. The actress, 96, was honored for her more than 80 years in TV. Read on...
And about that proposal...
More from Chloe Melas: And the Emmy for best moment of the night goes to ... director Glenn Weiss! He took the stage to accept the Emmy Award for his work calling the shots at The Academy Awards and used the moment to propose to his girlfriend, Jan Svendsen.
Read more of Monday's Reliable Sources newsletter... And subscribe here to receive future editions in your inbox...
"Jan, you are the sunshine in my life," he said. "And mom was right, don't ever let go of your sunshine. You wonder why I don't like to call you my girlfriend? Because I want to call you my wife." The crowd erupted into cheers and Svendsen looked stunned. She made her way on to the stage, where Weiss got on one knee and gave her his mother's ring. The best was Leslie Jones' reaction -- check it all out here...