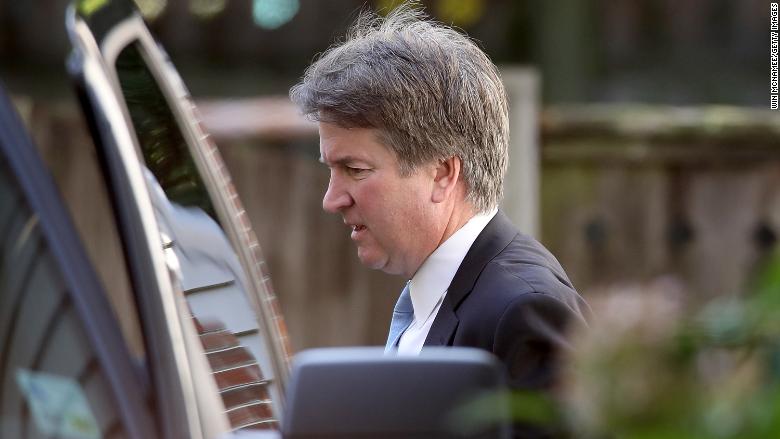 A version of this article first appeared in the Reliable Sources newsletter. You can sign up for free right here.
WaPo and NYT's dueling Russia reporting
WaPo is about to publish a book by Greg Miller titled "The Apprentice: Trump, Russia and the Subversion of American Democracy." The first excerpt came out on the web Wednesday morning, and it'll be in the print paper this weekend.
But Miller has competition: The NYT has a very similar feature in Thursday's paper. It's an entire special section, actually, titled "The Plot To Subvert An Election." It promises to reveal the Russia story "so far," and it's written by Scott Shane and Mark Mazzetti.
What's great about both the book and the special section: By zooming way out, it's easier to see the scope of Russia's attack and President Trump's peculiar reaction to it all. The Post's book comes out October 2...
A Friday deadline...
CNN.com's headline right now: "Deadline set for Kavanaugh accuser." Chuck Grassley has set 10 a.m. Friday "as the deadline for Christine Blasey Ford's legal team to respond to his request for her to speak to the committee regarding her sexual assault allegations against Supreme Court nominee Brett Kavanaugh." Here's CNN's latest...
Toobin's reality check
Jeffrey Toobin on "AC360:" "If she refuses to testify on Monday, Kavanaugh is getting confirmed... If she DOES testify, then I think all the cards are thrown up in the air. He may well be confirmed anyway. But I think everybody should be clear about what the stakes are, of her decision to come forward or not before the committee. It's up or down."
So many smears...
The NYT's Kevin Roose wrote about the "torrent of misinformation" targeting Ford. He says some viral rumors about Ford have been debunked, "but false claims have continued to spread." Here's his story about some of the lies. To borrow a famous phrase, the tech platforms are still putting on their shoes.
Coming Thursday: The THR 100 list in the time of #MeToo
Oliver Darcy emails: The annual THR 100 is due out on Thursday morning. This year's list reflects the upheaval Hollywood has seen in the past year, as companies merge/consolidate and as the #MeToo movement continues to topple some of the industry's most powerful men. Ronan Farrow will make his debut on the list, and LeBron James is on the cover. I'll have more details in a story for CNN.com at 7 a.m., and the list will be published on THR's website later in the morning...
NYRB editor suddenly departs
Tom Kludt emails: Even when faced with a deafening public uproar last week, New York Review of Books editor Ian Buruma defended his magazine's decision to publish a Jian Ghomeshi essay that sought to "inject nuance" in the #MeToo debate.
The piece was published online last Friday; on Wednesday, we learned that Buruma is no longer at the magazine. Whether he was fired or forced to resign is unknown, but it's virtually impossible not to connect his exit to Ghomeshi's essay, and his subsequent interview with Slate's Isaac Chotiner. Details here...
>> Erik Wemple's take: "First-person pieces, it turns out, often require more editing, more supervision than conventionally reported pieces. Don't hand over your publication's keys to your essayist. That's what Medium is for..."
FOR THE RECORD
-- Wednesday's "Big Brother" intro: "Good evening, I'm Julie Chen Moonves. Welcome to Big Brother..." (Us)
-- Here's Kara Swisher's column inspired by Marc Benioff's takeover of Time mag... (NYT)
-- Peter Kafka hears that Ian Osborne, "a British consultant and investor," is working with a group of other investors to buy Fortune mag... Alan Murray says "Meredith is in talks with multiple bidders for Fortune and that he doesn't think a deal will go through until the end of the year..." (Recode)
-- CNN's Chris Cuomo is adding a two-hour radio show to his portfolio... Noon til 2 p.m. on SiriusXM... (AP)
BuzzFeed cuts podcast team
Oliver Darcy emails: BuzzFeed News VP Shani Hilton announced on Wednesday in an internal memo that the company is cutting its in-house podcast production team, resulting in the layoffs of several staffers. "We've decided to move to a production model that is more like our TV projects -- that is, treating shows as individual projects, with teams brought on as needed," Hilton wrote. WSJ's Ben Mullin had the scoop here...
"I don't think I've ever seen the news team this collectively sad and upset"
More from Darcy: The response internally from employees has not been the best. Hilton's memo sparked a reply-all email chain in which BuzzFeeders are expressing their disappointment. "What a huge loss this is for BuzzFeed. I am devastated, disappointed, despondent," wrote one person. Another person wrote, "I don't think I've ever seen the news team this collectively sad and upset, which speaks so clearly to how everyone feels." I'm told that BuzzFeed News EIC Ben Smith will address the matter internally on Thursday...
The state of the podcast biz is...?
I keep hearing media execs express doubts about the sustainability of the podcast ecosystem. Numerous media companies are looking at pods and wondering, in essence, where's the $$$?
Read more of Wednesday's Reliable Sources newsletter... And subscribe here to receive future editions in your inbox...
But Hot Pod founder Nicholas Quah, a must-read on this subject, noted on Twitter that Panoply just doubled down on podcast tech, Jacob Weisberg just announced a new audio content venture, iHeartMedia just bought a pod maker, and Endeavor just started an audio division. So we'll see... Or rather, we'll hear...
"Serial" returns on Thursday
Julia Waldow emails: The first two episodes of season three of "Serial" drop Thursday. The next saga focuses on the criminal justice system in Cleveland...
>> Related: "Serial helped spark an explosion of true crime stories. Will its new season be heard above the noise?" (WashPost)