Halle Tecco, 31, is the co-founder and managing director of Rock Health. She and co-founder Dr. Nate Gross launched the firm in 2010 as an accelerator while Tecco was a student at Harvard Business School. Today, Rock Health is a seed venture capital firm, funding innovative health-tech startups like Stride Health and Doctor on Demand. In her spare time, Tecco can be found giving guests lectures at universities, investing in startups as an angel, or watching Shark Tank.
What do you actually do all day in your job?
According to Gmail Meter, I received 2,585 work emails last month. So I'd say a lot of my day is spent in my inbox.
1
How many hours do you sleep?
I'm an awesome sleeper, and get 8-9 hours regularly.
2
What do you eat for breakfast?
Oatmeal and iced green tea.
3
If you could be pitched to by one person, who would it be?
Michelle Obama. I wouldn't be surprised if she had a wellness company in her cards after the White House. I'd ask lots of probing questions about her business, but we'd both know that the check was already written.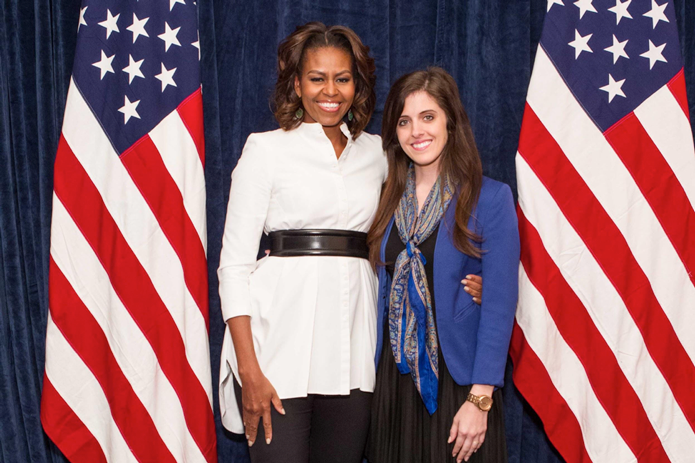 Photo credit White House
4
What's on your home screen?
Stitcher, Sunrise, Uber, Misfit, Quora, Operator, Amazon, Headspace, Starbucks, Facebook, Twitter, Trulia.
5
How often do you exercise?
Can we switch out this question?
6
What app can't you live without?
Stitcher -- I've listened to 2,100+ hours of podcasts since I downloaded this app a few years ago.
7
What's your favorite city?
Charleston, SC. It's a charming coastal city in the midst of a cultural renaissance. The city has managed to grow and evolve while keeping its creative charm.

Photo credit Fuzzco (used with permission)
8
What's the most important company we've never heard of?
Honor's mission really hit home for me. It's helping seniors stay in their homes as long as possible and is addressing an issue that's top of mind for so many people: "How will we take care of our aging parents?"
9
Are there any social platforms you refuse to participate in?
I'm generally up for trying new social platforms (that does not mean I always understand their value).
10
What are you reading right now?
I'm two weeks behind on the New Yorker and trying to catch up!
11
Do you think there's a tech bubble?
Perhaps. I'm no expert, but I think a ~20% correction is more likely than a theatrical crash.
12
Best piece of advice you've been given?
Sheryl Sandberg's advice, "Don't leave before you leave," really resonates with me. She recognized that young women would often prematurely lean back: "The time to scale back is when a break is needed or when a child arrives -- not before, and certainly not years in advance. The months and years leading up to having children are not the time to lean back, but the critical time to lean in."
13
What keeps you up at night?
Thinking about the massive opportunities in healthcare. Our healthcare system is broken: We have the most expensive system in the world, yet our health outcomes and quality are no better, and often worse, than most other developed nations.
We all know that modern technology has the power to lower costs and make healthcare better for everyone -- yet this is one of the last industries to undergo a technology-driven transformation. It's a messy, complex system and I spend a lot of time wrapping my mind around this opportunity.
14
If you could tell your 18-year-old self one thing, what would it be?
Freeze. Your. Eggs.
15