Take a look at the 'new' Chrysler
Chrysler's union with Fiat is complete. Here's a look at the new company and some of the products, like the redesigned Jeep Grand Cherokee, that it'll offer.
Photos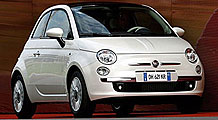 NEW YORK (CNNMoney.com) -- Chrysler took its first steps with Italy's Fiat, signing a deal and unveiling the new leadership in charge of bringing the company out of bankruptcy and into the future.
While Fiat isn't putting any money into Chrysler, what Fiat does offer is technology, engineering and vehicles that Chrysler can use. That's about $10 billion that Chrysler says it doesn't have to spend on that stuff.
For its part, Fiat gets to sell some of its more mainstream products in the U.S. market.
Leadership change: Bob Nardelli, Chrysler LLC's current chief executive and chairman, will not be part of the new Chrysler Group. C. Robert Kidder, a former CEO of battery maker Duracell who was also once a consultant to Ford Motor Co. will replace him in the role of chairman of the board.
Fiat CEO Sergio Marchionne now assumes the Chief Executive role at the new company with Jim Press, formerly one of Chrysler's two presidents, as his Deputy CEO. Before joining Chrysler LLC, Press led Toyota's operations in the U.S.
Tom LaSorda, who been Chrysler's other president under Nardelli, had already announced his resignation.
Beneath Marchionne and Press, the Chrysler Group will have a new corporate structure in which each brand -- Chrysler, Dodge and Jeep -- will have its own lead officer.
Each brand officer will also be responsible for a broader function across all three brands.
For instance, Peter Fong, who has been named president CEO of the Chrysler Brand, will also be responsible for the carmaker's sales organization for all three brands.
Michael Manley, now president and CEO of the Jeep Brand, will also be responsible for all of Chrysler Group's product development. Michael Accavitti has been named president and CEO of the Dodge Brand, but he will also be responsible for all of Chrysler Group's marketing efforts.
Cars: Chrysler has been too heavily reliant on sales of trucks, SUVs and large cars. Hopes are that Fiat can help Chrysler become more competitive in mid-size and smaller cars.
It will be some time before that help arrives, however. According to Chrysler's viability plan, submitted to the government in February, Fiat will provide Chrysler with a sub-compact car and a compact car in late 2010. Those vehicles might be sold as Chrysler, Dodge or Jeep products rather than under the Fiat name.
A new Fiat-based mid-sized sedan, something that could replace today's Chrysler Sebring and Dodge Avenger is expected in late 2011, according to that plan.
The first all-new product to come from Chrysler following its bankruptcy will be a redesigned Jeep Grand Cherokee SUV due to be introduced in the spring of next year. A new Chrysler 300 full-size sedan is expected around the same time, but those vehicles will be entirely Chrysler's own work.
Technology: Besides sharing some of their cars and SUVs, Fiat and Chrysler will assist one another with specific technologies and vehicle components that can be incorporated into their products.
For its part, Chrysler is working on a line of new V6 engines that should provide more power and better fuel economy for mid-sized cars and SUVs.
Fiat could provide Chrysler with better four-cylinder engines, a new, more efficient automatic transmission, new diesel engines and more efficient engine valve technologies.
Quality: One thing Chrysler really needs to improve is its product quality. It's not clear how much Fiat can really help there.
In a recent Vehicle Owner Satisfaction Survey conducted by J.D. Power and Assoc. among car owners in Britain, where both Chrysler and Fiat cars are now sold, Fiat ranked last among all brands. That was just a little worse than Chrysler, which ranked second to last.
Chrysler has recently been working on several fronts to fix its own quality under the leadership of Chief Customer Officer Doug Betts. Betts' job is not just to reduce the frequency with which things break in Chrysler, Dodge and Jeep cars but also to make the cars look, feel and sound better and nicer.
In general, Betts said in an interview with CNNMoney.com, Fiat will have a few things to learn in adjusting to the American market.
Brands: There's no sign that any of Chrysler's three brands - Chrysler, Dodge and Jeep - would exit the scene following a union with Fiat. Fiat, on other hand, could bring a couple of brands Americans haven't seen here in decades.
Fiat has long to wanted to re-introduce Americans to its Alfa-Romeo luxury brand. Fiat already sells its ultra-luxury Maserati and Ferrari brands here. Alfa-Romeo is a more mainstream luxury brand that could compete against the likes of BMW and Cadillac.
Fiat may also bring over some of its own Fiat brand cars to compete for non-luxury small car customers. One candidate would be the ultra-small Fiat 500, a retro-styled subcompact modeled on a classic Fiat from the 1960s.