Americans could see some fresh Italian faces as Chrylser's deal with Fiat takes shape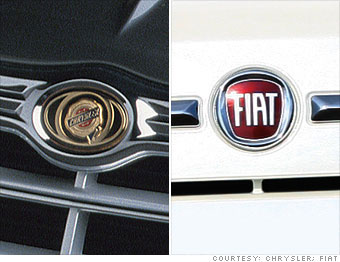 Chrysler's future is now tied up with that of Italy's Fiat as the two carmakers move forward with their plan to form a new company.
Chrysler has been scrambling to meet the U.S. government's mandate that, in part, requires it to sell more low emission vehicles.The Treasury Dept. has given Chrysler's new partner, Fiat, incentives to help Chrysler do that quickly with products that will manufactured in U.S. factories.
According to a product plan submitted to the Treasury Dept. in February, Chrysler planned to have Fiat products here as soon as next year. It remains to be seen if the two companies can make this happen that quickly.
Take a look at some of the cars Fiat can offer American buyers.
NEXT: Fiat 500
Last updated April 30 2009: 1:08 PM ET
Email
|
Print
|

Digg this story
|

RSS