Supreme Court clears way for Chrysler
One day after intervention, the high Court decides not to hear case from Indiana pension funds.
Photos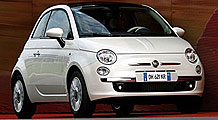 NEW YORK (CNNMoney.com) -- The U.S. Supreme Court on Tuesday cleared the way for the sale of Chrysler to a consortium led by Italian automaker Fiat.
On Monday, the Court had delayed the sale pending review of the merits of a case brought by the Indiana state pension funds, which argued that they and other lenders deserved better treatment by the bankruptcy court.
Chrysler's asset sale was approved by a bankruptcy judge on May 31, just hours before the bankruptcy filing of General Motors (GMGMQ).
The bankruptcy judge overseeing the Chrysler case had given approval for the company's most valuable assets, such as plants, dealerships and contracts, to become part of a new company in which Fiat would hold a significant stake.
Chrysler said in a prepared statement that the transaction is now expected to close "very shortly."
"Chrysler LLC thanks the Courts for their expeditious work throughout this process," the company said.
Indiana Treasurer Richard Mourdock had appealed the ruling of a federal bankruptcy court. Mourdock made his appeal on behalf of three pension funds -- for Indiana teachers and state police, as well as a "Major Moves" construction fund. The funds hold about $42 million, or less than 1%, of Chrysler's $6.9 billion debt.

"I am disappointed to have learned that the U.S. Supreme Court has lifted the stay in the Chrysler bankruptcy case," Mourdock said in a statement released late Tuesday. "I have fought for Indiana's retired teachers, retired state policemen, and Hoosier taxpayers. I have no regret for having done so and for having carried this case to the door step of the nation's highest court."
If the Chrysler deal goes through, Chrysler would sell its best assets -- including its best-performing factories and dealerships -- to a newly formed entity called the Chrysler Group.
The Chrysler Group would be controlled primarily by a United Auto Workers union trust, which will own a majority stake of 55%. Fiat will own 20% initially. Minority stakes would go to governments: 8% for the United States and 2% for Canada. Fiat's stake will increase to 35% if it reaches certain goals.
Chrysler would leave behind the assets that it doesn't want, including eight factories and franchise agreements with 789 dealerships, placing thousands of jobs in jeopardy.
To keep the company afloat, Chrysler received $4 billion from the Treasury Department in December and $4 billion more this year. But after many of the company's creditors rejected a debt-for-equity swap to help the company restructure, the Obama administration forced the automaker to seek Chapter 11 bankruptcy protection.
"We are delighted that the Chrysler-Fiat alliance can now go forward, allowing Chrysler to re-emerge as a competitive and viable automaker," the White House said in a statement issued after the Supreme Court order.
Close call
If the Supreme Court had agreed to take the case, it would have jeopardized the sale to Fiat and risked Chrysler's ability to restart operations. Chrysler shut most of its operations a few days after its bankruptcy filing and has said that its factories would remain closed until it completed a deal with Fiat.
Filings from the company suggest that Chrysler's distribution centers are already close to running out of parts needed by dealerships to perform regular maintenance on Chrysler, Dodge and Jeep vehicles.
In addition, it is estimated that Chrysler is losing $100 million for each additional day it has to spend in bankruptcy.
The U.S. Treasury has ruled that Chrysler is no longer viable as a standalone company and that it needs a partner to receive additional federal dollars it needs to continue to operate.
Former Chrysler President Tom LaSorda testified in bankruptcy court last month that the company sought combinations with all of the major global automakers and that Fiat was the only one interested in pursuing a deal.
The merits of the case
The backdrop for the case by the Indiana pension funds is this: When a company goes bankrupt and must be liquidated, the secured creditors must be paid off completely before any of the unsecured creditors can recover a dime. ("Tough legal questions")
The Indiana funds claim that the government-sponsored sale effectively gives unsecured creditors -- the UAW -- a recovery before secured creditors -- the pension funds -- have been fully paid, violating the fundamental rules of bankruptcy and amounting to an unconstitutional taking of their property.
Since there are $6.9 billion in bonds outstanding, the resulting payoffs to secured bondholders will be about 29 cents on the dollar. In fact, the Indiana funds are getting close to 72 cents on their dollar, according to Chrysler's opposition papers, in that they purchased their face-value $42 million worth of bonds at a distressed price of just $17 million, and stand to recover $12.2 million of that under the planned sale. An attorney for the Indiana funds did not immediately return an e-mail seeking comment.
Edward Morrison, a bankruptcy law professor at Columbia Law School, said in an e-mail to Fortune that the New Chrysler appears to be paying a reasonable price for the Old Chrysler's assets.
"This would have been a very different case if there were proof that the sale price is artificially low [and, therefore] . . . that the government is diverting wealth from the senior bondholders to the workers. But there's not enough proof here. No other bidders showed up at the auction," wrote Morrison.
In fact, according to bankruptcy judge Arthur J. Gonzalez, who oversaw the Chrysler bankruptcy and held a three-day hearing on the sale in late May, the value of Chrysler's assets in liquidation would have only come to about $800 million, rather than the $2 billion in going-concern value that they're fetching in the sale. Accordingly, secured creditors, including the Indiana pension plans, are doing better in the sale than they could have done otherwise.
-- Additional reporting by Roger Parloff, Fortune senior editor

Features

These Fortune 100 employers have at least 350 openings each. What are they looking for in a new hire? More

It would be the world's second-biggest economy. See how big companies' sales stack up against GDP over the past decade. More