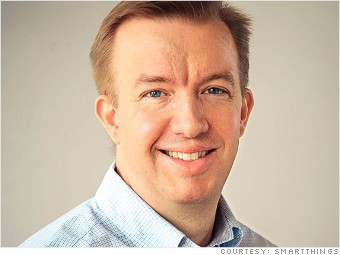 When Alex Hawkinson posted his wireless hub and sensors on crowdfunding platform Kickstarter, he struck a chord. He quickly sold more than $1.2 million worth of the devices that let users connect items in their home to their smartphones.
The SmartThings Internet-connected hub, and array of wireless sensors and plugs allow people to control everything from their air conditioning to their doorlocks with their smartphones . Using the SmartThings app with those connected sensors, people can shut of their lights and monitor whether a window or door is open or closed.
The idea stemmed from a power outage at Hawkinson's vacation home. The outage caused the basement pipes to explode, and the founder didn't find out until he visited the house a month later.
He wished he'd had a notification service -- something as basic as an SMS alert. A lightbulb went off, and Hawkinson decided to create his own.