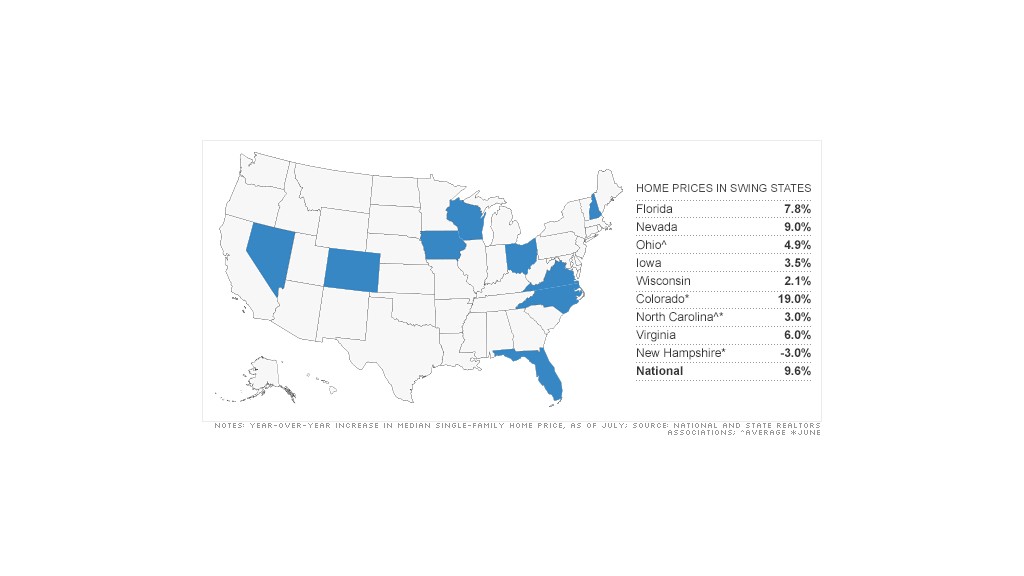 At long last, the housing market is improving in Nevada, Florida and other important swing states that were some of the hardest hit during the downturn.
But that probably won't win President Obama a lot of points at the election polls, according to some experts.
On the national front, home prices and home sales are up, while foreclosures are down. The swing states are also seeing some positive results.
In Nevada, there were just over 14,000 foreclosure filings in the second quarter, less than half the amount the year before, according to RealtyTrac. Foreclosure sales are on the decline after a state law last year cracked down on loan servicers' practices, while short sales are on the rise. Short sales are better for neighborhoods because the homes are often maintained better and command higher prices.
The median price of a single family home in the Las Vegas area, by far the largest market in the state, has climbed 9% over the past year, according to the Greater Las Vegas Association of Realtors.
And in Florida, foreclosures are creeping up again as banks recover from their paperwork fiasco, which forced them to greatly slow the number of delinquent homeowners they brought to court. But it's still down by about a third from 2010 figures.
The typical single family home is selling for 7.8% more than it did a year ago, according to Florida Realtors. Median sales prices are the highest they've been since 2009.
Home prices are up thanks to a rebound in employment and in the stock market, said John Tuccillo, chief economist for the Realtors group. Investors, particularly from abroad, are once again realizing the Sunshine State is a good place to buy, he said.
In Ohio, prices rose 4.9%, according to the Ohio Association of Realtors. Foreclosures, however, are on the upswing.
Related: Are you better off than you were 4 years ago?
But rising home prices don't mean there aren't any dark clouds hovering over the swing states. The good news about housing doesn't seem to be trickling down to voters, who still view their states as being stuck in a real estate slump with little improvement.
"The housing market is starting to recover in most areas of the country, but most consumers don't realize it," said John Burns, head of John Burns Real Estate Consulting. "The word hasn't gotten out that home prices are appreciating again."
One main concern that's dampening homeowners' enthusiasm is the number of homes that are underwater, or worth less than the mortgage. Nearly 31% of homeowners nationwide are in this predicament, a disproportionate number of them younger than 40, according to Zillow.
That problem is amplified in some of the swing states.
In the metro Las Vegas area, more than two-thirds of borrowers are underwater. More than half of Orlando borrowers owe more than their homes are worth, while in the Miami-Fort-Lauderdale market nearly 44% do. In Cleveland and Columbus, one-third are underwater.
Also, many would-be buyers are finding it tough to get approved for mortgages, while homeowners seeking to refinance to lower interest rates are also being stymied by bank bureaucracy.
"We're significantly better off than we were two years ago, but there are still enough problems remaining for people to be concerned about their housing situation," Tuccillo said.
Related: Obama's economy: A snapshot
Will it be enough to sway swing state voters?
For the most part, the presidential candidates are largely ignoring the housing market.
While Obama launched a series of efforts to try to fix housing since he first took office in 2009, they were mostly viewed as ineffective. Not many new ideas have been included in his 2012 campaign either.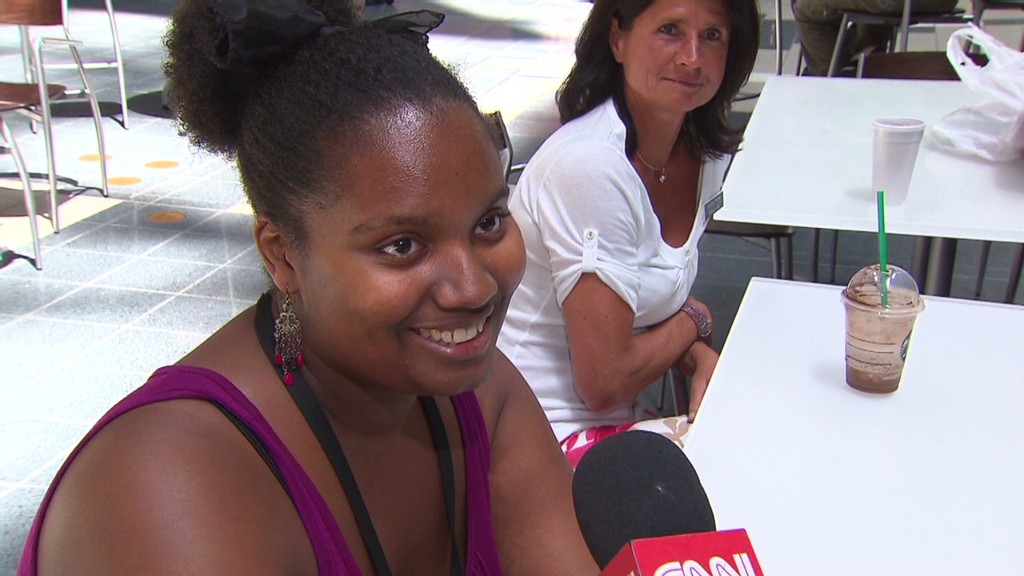 His challenger, Mitt Romney, does not list any housing fixes in his main economic proposal.
On Tuesday evening, he released a housing plan that entailed selling the 200,000 vacant, foreclosed homes that the government owns and facilitating foreclosure alternatives for those who can't afford their mortgages. The plan did not offer any details.
Ultimately, many voters will tie the recovery of the housing market to the recovery of the job market, Burns said. So they will pick the candidate they think can best boost the economy.