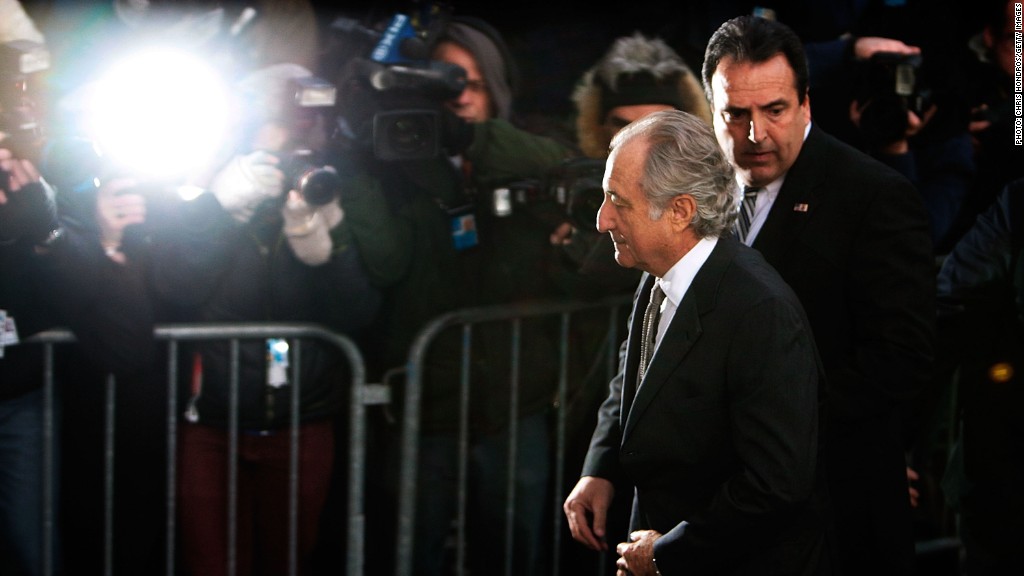 Federal prosecutors filed additional charges Monday against five former employees of Bernie Madoff, saying that his massive scheme to defraud investors started in the 1970s, much earlier than previously alleged.
Prosecutors said that the five long-time Madoff employees -- Daniel Bonventre, Annette Bongiorno, Joann Crupi, Jerome O'Hara and George Perez -- were all involved in operational aspects of Madoff's scheme. Previously indicted on other charges, they now face a total of 33 counts on charges ranging from bank fraud to tax offenses.
The new charges come after Madoff's brother Peter, who worked at the firm with him, recently pleaded guilty to charges of conspiracy and falsifying investment records and could face 10 years in prison as part of the plea deal.
Bonventre, who served as director of operations, allegedly concealed the fraud through manipulation of the firm's general ledger, financial statements and stock records. Prosecutors say Bonventre also created false records related to Madoff's individual tax returns with the intent of fooling auditors.
O'Hara and Perez worked as computer programmers starting in the early 1990s. Prosecutors say they helped cook the books by writing algorithms to change account names, the number of shares and transaction numbers.
The new indictment charges Bonventre with 22 counts, while Bongiorno now faces 10 counts and Crupi stands accused of 13 counts. O'Hara and Perez were charged with eight counts each. The defendants will be arraigned Tuesday in New York federal court.
A lawyer representing Bonventre said his client who faces charges of conspiracy to defraud the U.S., securities fraud, falsifying records, false filing with the Securities and Exchange Commission and subscribing to a false income tax return, "is absolutely not guilty."
"There is a reason why we rejected the government's repeated invitations to cooperate with the investigation, and why he is exercising his right to a jury trial rather than try to work out a guilty plea with the government that would minimize his exposure," said attorney Andrew Frisch.
Lawyer Larry Krantz said that his client Perez, who faces charges of conspiracy to commit securities fraud and falsifying records, "intends to enter a plea of not guilty and to defend the charges vigorously."
A lawyer for O'Hara said his client would also enter a plea of not guilty. Lawyers for the other defendants did not immediately return messages from CNNMoney.
The original indictment in the case, filed in Nov. 2010, indicated that the Madoff fraud started in 1992. The new indictment filed Monday dates the conspiracy back decades earlier, to at least the early 1970s.
Related: Judge releases billions in Madoff money
"This largest-ever Ponzi scheme was not the work of one person," FBI Acting Assistant Director-in-Charge Mary Galligan said in a written statement.
"Each of the defendants in his or her way allegedly played a key role in designing, building or maintaining the house of cards. The habitual doctoring of books and records, the fictitious trades, the phantom accounts, were the core of the charade," Galligan said.
For decades, Madoff ran a Manhattan-based investment firm that served as a front for his Ponzi scheme. His victims believed he was investing their money, but he was actually using it to fund a lavish lifestyle for himself and his wife Ruth.
Related: Madoff ruined thousands, including his son
They lived in a Manhattan penthouse and had extravagant homes in Montauk, N.Y.; Palm Beach, Fla.; and the French coast. Their possessions included diamond-studded jewelry, a satin Mets jacket emblazoned with "Madoff" and a yacht named "The Bull."
Madoff's scheme finally came crashing down with his arrest on Dec. 11, 2008. He pleaded guilty three months later and was sentenced to 150 years in prison.
Madoff resides at the Butner Federal Correctional Complex in North Carolina. His scheduled release date is in 2139.
CNNMoney reporter Aaron Smith contributed to this report.