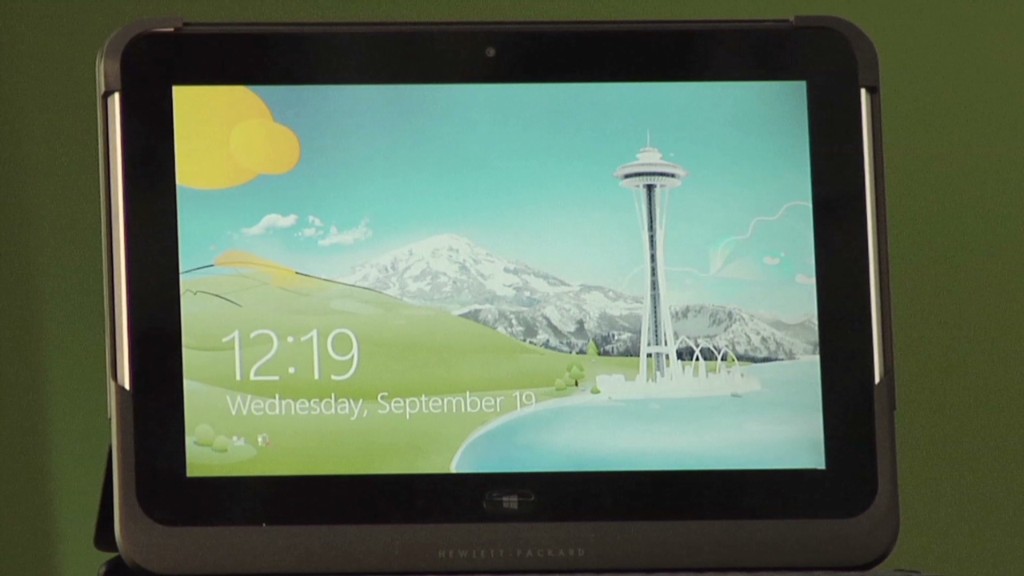 Hewlett-Packard CEO Meg Whitman has spent her first year on the job attempting a turnaround, but it's clearly not happening anytime soon. The company on Wednesday released a grim outlook for its 2013 fiscal year.
HP (HPQ) is trying to overcome severe weakness in the hardware business, as PC demand continues to slump and buyers shift to newer devices. HP called the current climate "a challenging environment" -- and it's one that will dent financial results.
HP expects to earn $3.40 to $3.60 per share for the fiscal year that ends in October 2013. That's much lower than the analyst consensus estimate from Thomson Reuters, which had forecast earnings of $4.18 a share.
Shares of HP fell more than 7% Wednesday on the news. The stock is now down more than 40% in 2012, making HP by far the year's worst performer in the Dow Jones Industrial Average (INDU).
Whitman inherited a long list of problems when she took the CEO role at HP in September 2011. Predecessor Léo Apotheker lasted only 11 months in a tenure marked by disaster, including the ill-fated TouchPad tablet -- pulled after only 49 days on the market -- and public waffling over whether to spin off HP's PC business.
But HP's problems began before Apotheker, who was the company's third CEO in less than seven years. Like its top rival Dell (DELL), HP has struggled to stay relevant in a mobile world that's being led by Apple (AAPL) and other phone/tablet makers. HP bought Palm in 2010, but essentially shut it down two years later.
It's a mistake HP doesn't plan to repeat. Asked in an interview earlier this week whether HP would consider buying Research in Motion (RIMM), Whitman gave a one-word answer: "No."
While it deals with its weakness in hardware, HP is trying to beef up its software and services business to compete more effectively against rivals like IBM (IBM) and Oracle (ORCL).
HP executives discussed those and other "strategic priorities" on Wednesday at its annual meeting with Wall Street analysts. The company has a lot to prove to investors and customers -- and Whitman has to hope they'll give her enough time, after HP gets through its dismal 2013, to turn it all around.