Investors head into the week still staring anxiously at the so-called "fiscal cliff," but they'll have a fresh batch of economic and corporate data competing for their attention.
Last week, all three major stock indexes fell over 2% on worries that political gridlock in Washington will drive the country off the fiscal cliff. Investors main fear is that the combination of tax hikes and spending cuts that would kick in if lawmakers fail to cut a deal could send the economy back into recession.
The Dow Jones Industrial Average and the S&P 500 recorded their worst weekly percentage drop since the week ending June 1.
Tim Ghriskey, chief investment officer at Solaris Asset Management, said the concern will likely hang around.
"I don't see how it doesn't continue to weigh on markets this week," he said. "This could weigh on the market for a while."
But fresh reports on the U.S. economy will provide investors with guidance on whether the economic recovery is gaining momentum.
On tap are several reports on the manufacturing sector, including producer prices, business inventories, industrial production and data from the Philadelphia Federal Reserve.
Manufacturing has been a weak spot globally this past year. But recently, it is displaying signs of a turnaround. In the U.S., manufacturing expanded in October for a second straight month, according to the Institute of Supply Management.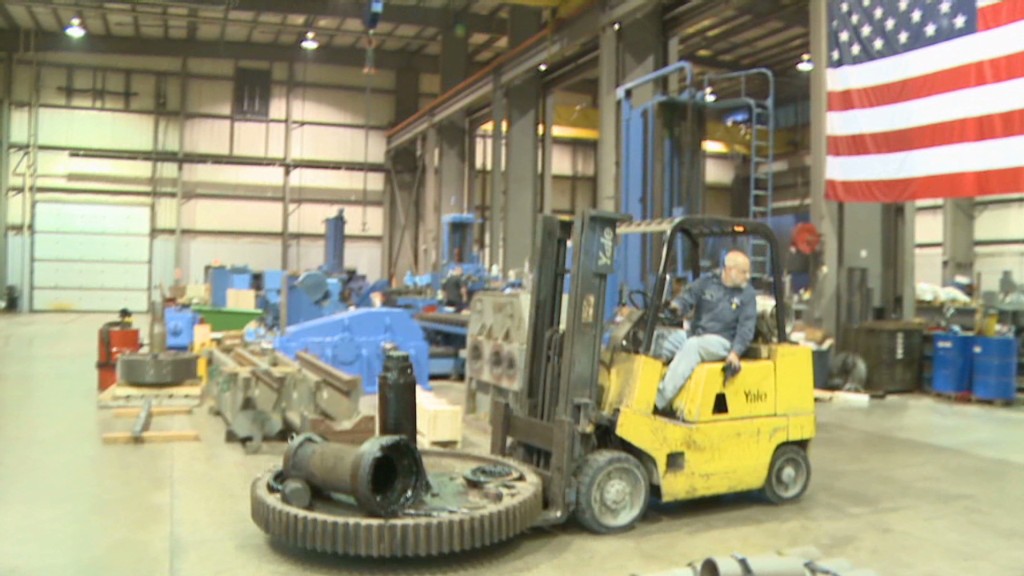 The pace of factory activity in China also picked up last month, marking the first time the sector had expanded in three months, according to data released Thursday by the National Bureau of Statistics.
But Europe isn't feeling the same boost. A reading on eurozone manufacturing activity in October showed the sector remained in decline for a 15th month, the research group Markit reported.
Also in play this week is a report on consumer prices due out Thursday. A key measure of the country's inflation rate, the Consumer Price Index rose 0.6% last month, causing the Social Security Administration to announce that recipients will receive a 1.7% cost-of-living increase in 2013.
Retail sales are also set for release this week. Investors will be eying sales more closely this month, as the reading could be an early indicator of how this year's holiday spending will pan out.
"Retail sales have been very strong and a big indicator of the economy, so this will continue to be closely watched," Ghriskey said.
Several retailers are set to report their quarterly earnings this week, including Target (TGT), Wal-Mart (WMT), TJ Maxx (TJX),Sears (SHLD) andHome Depot (HD).
Related: Wall Street reform law won't go away
In Washington, the Federal Reserve will be releasing minutes from last month's Federal Open Market Committee's meeting on Wednesday. While no big news is expected, investors will parse through the minutes for signs of how long the Fed plans stick to its monthly plans of buying $40 billion in mortgage-backed securities to stimulate the economy.
Last week, the Dow Jones industrial average, the Nasdaq and the S&P 500 lost between 2.1% and 2.6%.
James O'Toole contributed to this report.