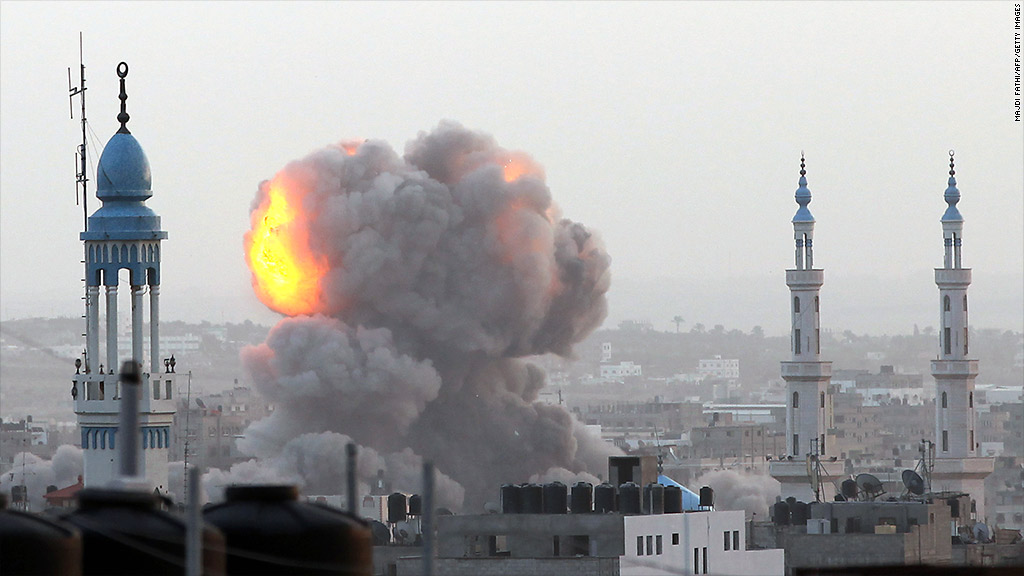 Oil prices rose further Monday as violence between Israelis and Palestinians ignited fears that that the conflict could spread throughout the region.
In New York, oil prices rose roughly $2 to $89 a barrel a day after an Israeli airstrike killed 10 people in one home in the Gaza Strip. Crude prices are up roughly 4% since the fighting erupted early last week.
Analysts, who see the oil market as oversupplied, said the general tension in the region was the only thing pushing prices higher.
"It's largely the Middle East violence upholding prices," said Reagan Blackmon, an oil analyst at the investment bank Canaccord Genuity in Houston.
Neither Israel nor the Gaza Strip is a big producer of oil. But traders fear the Israeli-Palestinian conflict could spread to the broader Middle East, which accounts for nearly a third of the world's total oil production and 40% of its oil exports.
Related: U.S. to become biggest oil producer
The violence has reversed the overall direction of crude prices in the last month, which had been falling on the back of lackluster economic news.
In October, the International Monetary Fund lowered its projected world growth rate for 2013. More recently, Europe slipped back into a recession, while Japan's economy contracted at an alarmingly swift pace.
This all comes as worldwide oil production, especially in the United States, has been rising.
Oil prices had fallen from about $92 a barrel to $84 a barrel from the beginning of October until the recent conflict.
Going forward, analysts expect that overall trend to return -- when and if a relative peace returns to the Middle East.
"Given the likelihood that this will not result in a wider conflict, I think we struggle to move higher from here," said Addison Armstrong, director of market research at Tradition Energy, an energy brokerage based in Stamford, Conn. "Were it not for this, we'd be back in the low $80s."