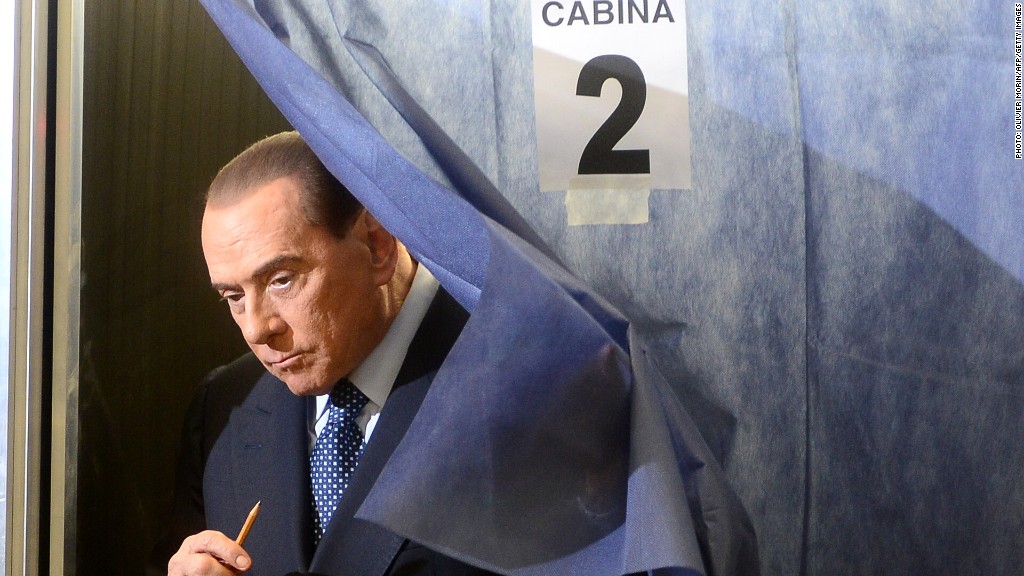 Investors took fright at the prospect of political deadlock in Italy after elections which could leave pro-austerity parties unable to form a stable government.
Early exit polls suggesting a clear win for reformist parties had sparked a rally in Italian stocks and bonds, and boosted the euro, but those gains were quickly wiped out as later projections suggested they may not win control of the Senate.
Partial results showed the center-left Democratic Party led by Pier Luigi Bersani on course to win the lower house of parliament but former Prime Minister Silvio Berlusconi and his allies were not far behind in the Senate race, which is decided on a regional basis rather than a nationwide vote.
Berlusconi was forced to resign in late 2011 for failing to tackle Italy's debt crisis. The country's borrowing costs had soared to unsustainable levels and markets feared the eurozone's 3rd biggest economy was heading for insolvency.
Related: CNN coverage of the Italian election
He made way for a government of technocrats led by former European Commissioner Mario Monti, who raised taxes and the retirement age and cut spending. Berlusconi withdrew his support for Monti's unelected government in December 2012, triggering the election that began Sunday.
Markets had hoped Italian voters would give Bersani a clear mandate to pursue the reforms started by Monti, possibly including the economics professor's party in a coalition. Overall, European markets retreated from earlier highs in the late afternoon as news of the Italian election began to paint a muddled political picture.
Italy's index of leading shares rallied over 3.6% at one stage, while yields on 10-year government bonds -- a benchmark for Italy's borrowing costs -- fell to 4.2%, narrowing the premium investors require to hold Italian debt rather than safer German paper. But by late in the day the share index was up just 0.7% and bond yields had increased to 4.4%.
Bersani was broadly supportive of Monti's reform agenda, which helped restore investors' confidence last year. Yields on Italian debt were over 6% last summer.
Related: What's at stake in Europe's elections
The scale of the challenge awaiting the next government should not be underestimated, and Bersani's coalition could face opposition from within its own ranks to more radical structural reforms, even if it prevails in the Senate.
Many Italians are angry at the price they're paying for economic failure, as reflected in a surge in support for comedian-turned-politician Beppe Grillo during the campaign. Grillo attacked the sacrifices Italians were being asked to make to remain in the euro.
Italy's economy has stagnated for years, and suffered the biggest contraction of any G7 nation in 2012 -- it shrank by 2.2%. Last week, the European Commission said it would contract by a further 1.0% this year, double the rate it had previously forecast.
At the same time, Italy has to service debts of two trillion euros, the eurozone's second biggest debt mountain -- relative to the size of the economy - after Greece. That costs some 5% of gross domestic product -- or about 100 billion euros --- each year and as the economy shrinks, the government has to retain an ever greater share of national income to pay for it.
Unemployment will rise to 11.6% in 2013, according to the European Commission, and then 12% next year.