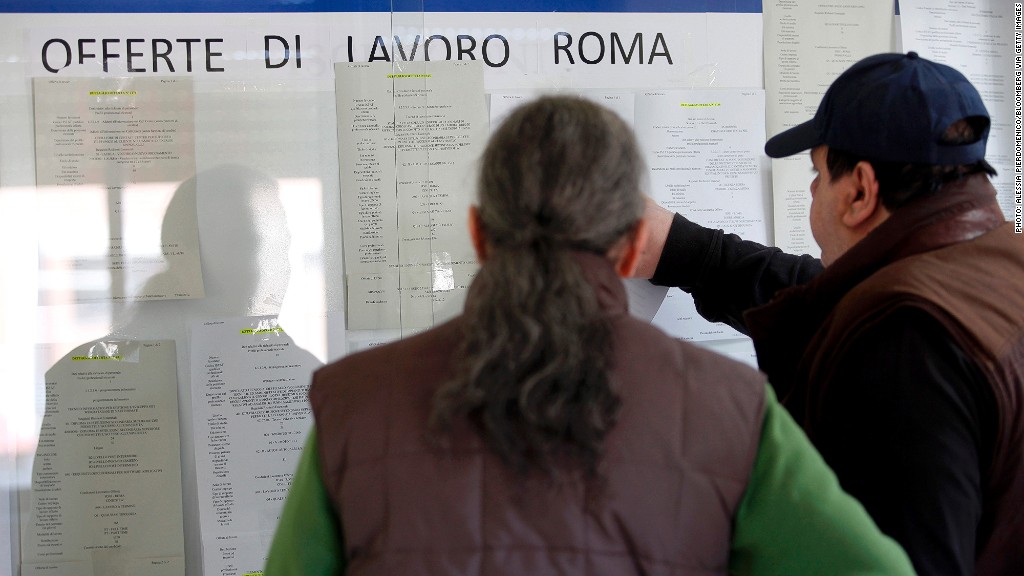 For Europe's unemployed millions, 2013 has started where last year left off.
Official European Union figures published Friday showed unemployment in the eurozone hit a record high of 11.9% in January as the recession grinds on, and young people are paying a particularly heavy price.
Some 19 million people are out of work in the eurozone, 3.6 million of them under the age of 25, meaning nearly one in every four young people are without a job.
Compared with the same month a year earlier, the jobless total in the eurozone has increased by 1.9 million, with the depressed economies of southern Europe suffering the most.
Greece has an unemployment rate of 27%, while Spain is at 26.2% and Portugal is at 17.6%.
Italy is experiencing its highest level of unemployment in 21 years, and youth unemployment rose rapidly over the past 12 months to nearly 39%.
Italian voters backed the anti-austerity movement of Beppe Grillo in far greater numbers than expected earlier this week, depriving mainstream parties of a parliamentary majority and raising questions about the country's commitment to economic reform.
Related: Italy avoids panic at bond auction
The eurozone's third-largest economy is also its second most indebted after Greece. It is expected to contract further in 2013, making it harder for the next government to bring the €2 trillion debt mountain down to more sustainable levels. Annual debt servicing costs are currently about 5% of gross domestic product.
With the wider eurozone economy forecast to shrink again this year, and governments locked into further deficit-reduction programs, analysts warn that more pain is yet to come.
"Rising unemployment and public spending cuts will continue suppressing domestic demand, which along with export weakness will contribute to further economic contraction and more job losses throughout the year," noted the London-based Center for Economics and Business Research.