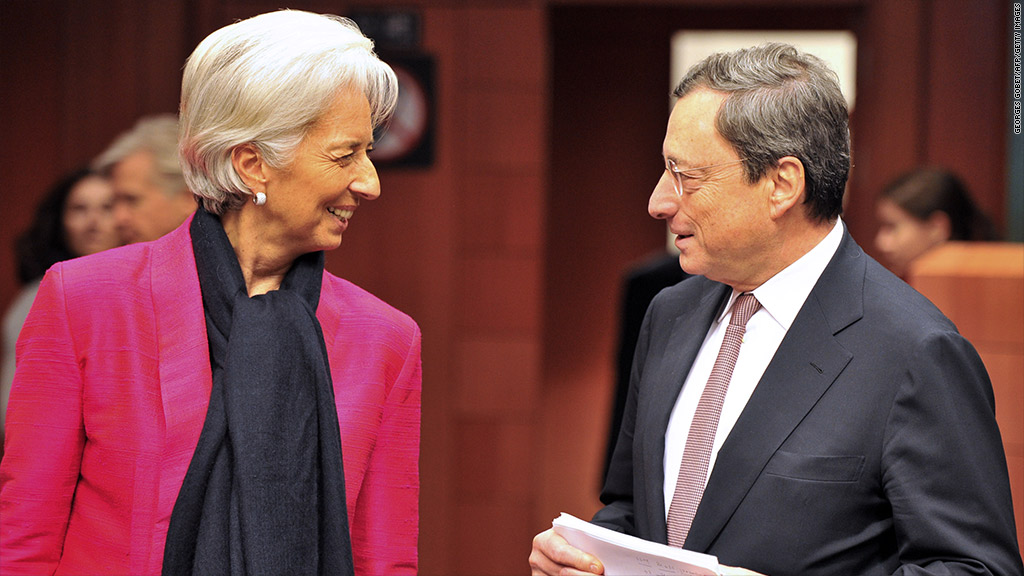 The European Central Bank has room to cut interest rates further to support demand in the eurozone, the head of the International Monetary Fund said Friday.
Speaking in Dublin just a day after the ECB decided against cutting interest rates, IMF managing director Christine Lagarde said European policymakers had to ensure the recent improvement in market sentiment toward the eurozone also translated into more jobs and higher incomes.
With households, banks, companies and governments still weighed down by high levels of debt, policy should support demand across the eurozone so that export-dependent economies such as Ireland could grow again.
"What does this mean in practice? It means that monetary policy should remain accommodative, and we believe that there is still some limited room for the ECB to cut rates further," Lagarde said, according to the text of her speech published on the IMF website.
Only a small minority of economists had expected the ECB to cut rates to a record low Thursday. They argued that last month's inconclusive Italian election and the weak outlook for the region could sway the bank, which has held rates at 0.75% since last July.
The ECB downgraded its own forecasts for the eurozone economy, saying it would shrink by 0.5% this year rather than 0.3%. That compares with contraction of 0.6% in 2012.
ECB President Mario Draghi said a rate cut had been discussed, but the prevailing consensus was that the risks to price stability were balanced, and therefore there was no need to move.
He emphasized, however, that the ECB would maintain its "accommodative" policy for as long as necessary, and was considering new ways to help improve lending to smaller companies, who were being starved of funds by banks still hobbled by bad loans.
Lagarde said inflation may need to rise in "countries that can afford it" -- a thinly veiled reference to Germany -- to complement the painful reforms by southern European states to restore competitiveness.
Austerity programs should also be applied in a flexible way. Debt remained too high and had to come down, but EU leaders should aim for a "measured and steady pace" rather than trying to compensate for weak growth with higher taxes or further spending cuts, she said.