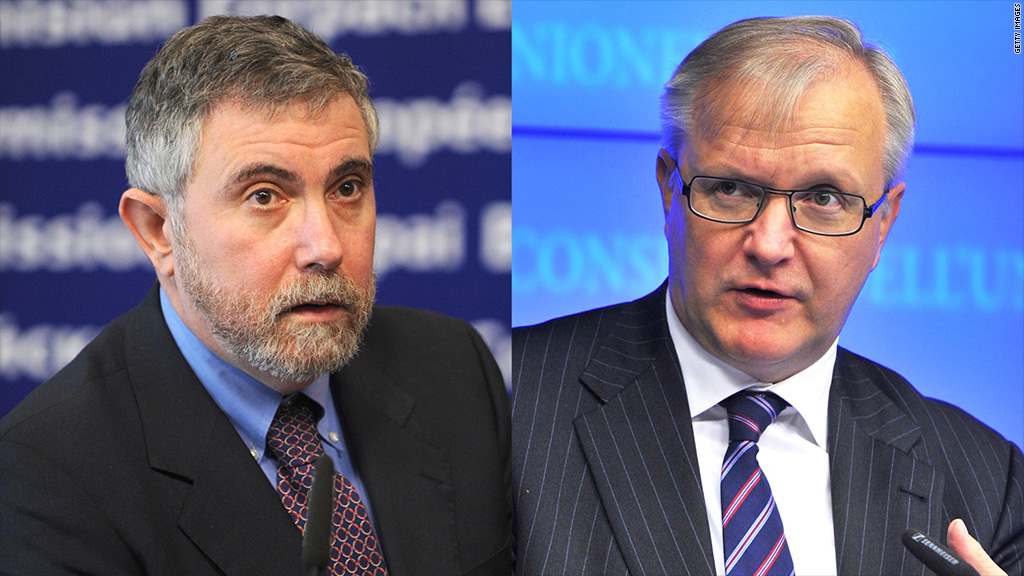 A trans-Atlantic spat between Europe's fiscal enforcer Olli Rehn and feted U.S. economist Paul Krugman is beginning to turn ugly, inflamed by recent dire forecasts for eurozone growth and unemployment.
Krugman, the Nobel-prize winning economist and Princeton academic, last month used his New York Times blog to accuse the EU's top economic official of pursuing a "Rehn of Terror" for blind adherence to a policy of austerity in the face of evidence that it isn't working.
Rehn was also guilty of "cockroach ideas" -- those that keep coming back no matter how hard you try to flush them away.
"I think of cockroach ideas as misconceptions held because the people holding them are just unaware of basic facts," Krugman wrote.
An assortment of EU spokesmen, officials and even one of Rehn's fellow European commissioners have taken to Twitter to launch a counterattack. But the strongest response yet came Tuesday in an interview of Rehn by Helsingin Sanomat, the leading newspaper in his home country of Finland.
Related: Europe's recession deepens - ECB
"Krugman put words in my mouth that would be termed in the Finnish Parliament a modified truth," Rehn was quoted by Reuters as saying, using a euphemism for lying. "What I don't understand is where on earth the stimulus money could have come from."
Rehn has the task of overseeing EU fiscal rules that are strained by the demands of northern European states, such as Germany and Finland, for budget discipline, and the rising social and political tension stemming from depression and mass unemployment in the south.
The EU gave Spain, Portugal and Greece extra time to hit budget targets last year and may relax the timetable further this spring, as the economy continues to contract.
Related: ECB must cut rates or risk crisis again - Roubini
But in a recent speech in London, Rehn warned against oversimplifying the debate. With eurozone public debt averaging 90% of gross domestic product, and some states shut out of markets, there were no easy answers, despite a sharp fall in deficits in the last two years.
"There is no silver bullet; if there were, believe me we would have fired it," he said.
The U.K. hasn't escaped Krugman's attention. In another blog post about a hypothetical country he called "Osbornia", the economist warned against the self-defeating policy of making ever deeper cuts to hit an official debt-to-GDP target.
"And, of course, this destructive behavior is especially likely if said country authorities are firm believers in the notion that austerity does not depress output," he said. "Sound like anyone you know?"
Related: U.K. vows to stick with austerity
U.K. finance minister George Osborne presents his 2013 budget next week. He is under pressure from his own party to cut spending further to make room for tax cuts, and from critics to borrow more to invest in growth-generating infrastructure projects.
John Longworth, head of the British Chambers of Commerce, said recently the U.K. economy may need a "defibrillator" in 6 months time if growth remains elusive.
And earlier this week, 43 bishops, including the new Archbishop of Canterbury, published an open letter protesting the government's plan to cap annual rises in welfare benefits at 1%, regardless of the rate of inflation.
"The change will hit the poorest hardest," the bishops wrote. "About 60% of the savings from the uprating cap will come from the poorest third of households. Only 3% will come from the wealthiest third."