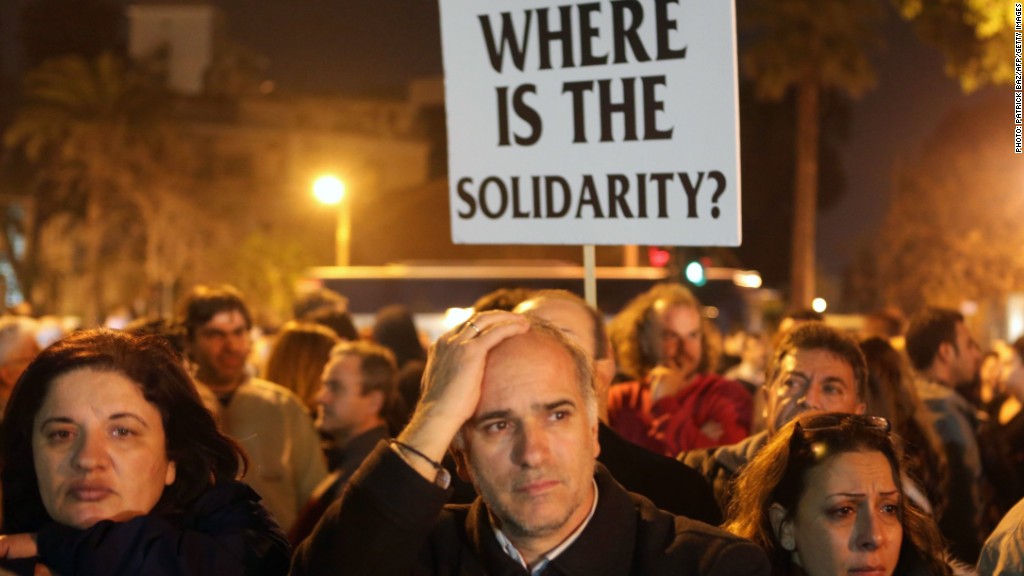 It looks like a Russian rescue of Cyprus is off the table, at least for now.
Talks between Russian officials and the government of Cyprus broke up early Friday, with no agreement on a cash infusion that could have helped the tiny island nation to secure an EU bailout.
Russian investors were ultimately not interested in the plans proposed by the Cypriot finance minister during a trip to Moscow, Russia's finance minister said Friday, according to state run news agency RIA Novosti.
One proposal was for Russian investors to develop the country's natural gas reserves. But the Russians will stand aside while Cyprus tries to find a way to recapitalize its insolvent banks with help from the so-called troika of European Central Bank, European Commission and International Monetary Fund.
Another way Russia could contribute is by relaxing the terms of an existing €2.5 billion loan to Cyprus.
"We're waiting for a decision by the troika, based on which we will react and make a decision on our participation in the debt restructuring," Russian Finance Minister Anton Siluanov said.
Related: Why Russia is irate about the Cyprus bank tax
Cyprus is racing against the clock to secure a €10 billion bailout from the European Union to avoid financial collapse.
The island nation's banks are being kept afloat by emergency funding from the ECB, but that will end on Tuesday without a deal.
The fear is a full-on run on Cyprus' banks -- a development that could ultimately threaten the country's membership in the eurozone.
Officials have been scrambling to find ways to raise €5.8 billion since the country's parliament threw out an unprecedented plan to tax bank deposits earlier this week. Without the money, Cyprus can't access the rescue offered by the EU, and two of its biggest banks are likely to fail.
The Cyprus parliament is set Friday to vote on the latest plan to restructure the country's banks, a critical step towards securing an EU bailout. A government spokesman implored the parliament to pass the plan.
"The next few hours will determine the future of this country," the spokesman said.
--CNN's Alla Eshchenko in Moscow contributed to this report.