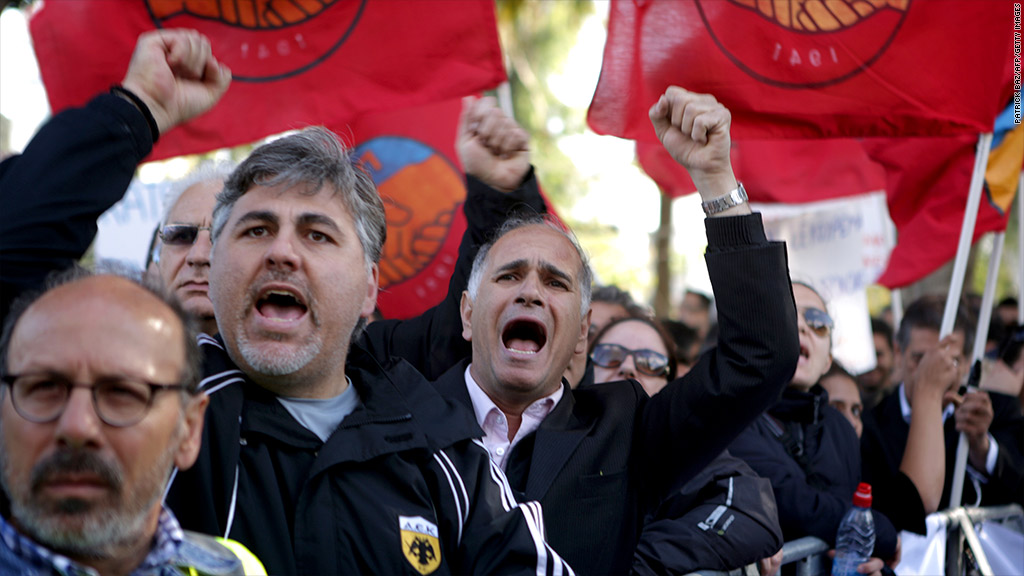 The European Union and International Monetary Fund will not give Cyprus extra cash to help plug gaping holes in its finances over the next three years, officials said Friday.
Cyprus needs to find 6 billion euros more than originally forecast to meet its share of a 23-billion-euro rescue deal to recapitalize the country's banks, redeem its debts and meet other commitments.
Faced with collapse and possible exit from the euro, the Mediterranean island nation signed up last month for 10 billion euros from the EU and IMF. In return, it committed to make its own contribution by shrinking the bloated banking sector, increasing corporate and capital gains taxes, and selling off state assets.
"The program is going to be 10 billion (euros) as agreed," said Dutch finance minister and eurogroup president Jeroen Dijsselbloem.
Eurozone finance ministers backed the Cyprus rescue at a meeting Friday. The backing clears the way for national parliaments to begin approving the bailout, a process that could be wrapped up by the end of next week, according to the EU's top economic official, Olli Rehn.
But the scale of the challenge facing Cyprus is daunting, and some economists believe a second bailout is inevitable because the country will be unable to raise such large sums at a time when the economy is contracting rapidly.
European stock markets sank Friday, unsettled by weak U.S. retail sales data, but also on concerns that the Cyprus rescue package may unravel.
The total cost of the bailout will exceed the size of Cyprus' economy, which was brought down by losses at its biggest banks on investments in Greek debt and loans to local businesses.
Rehn said the increase in Cyprus' contribution in part reflected the inclusion of buffers to absorb the impact of an even deeper slump in the economy. But he acknowledged it was impossible to say exactly how big the loss of output would be.
"There is plenty of uncertainty about the exact trajectory of economic growth in Cyprus - it will depend on many things," he told reporters.
Related: Soros: Germany headed for self-made recession
Last month's deal forced Cyprus to close one of its biggest banks and raid deposits of more than 100,000 euros at another to raise the bulk of its contribution to the bailout.
It kept banks shut for nearly two weeks while it negotiated with the EU to prevent a massive flight of cash from the country. In an unprecedented move for the eurozone, Cyprus imposed strict limits on withdrawals and transactions when the banks reopened at the end of March.
In a statement late Thursday, the finance ministry said it was easing some of those restrictions as it seeks to limit the damage to an economy deep in recession and expected to slump over the next two years.
All restrictions on transactions under 300,000 euros within Cyprus have been lifted, although a daily cash withdrawal limit of 300 euros remains.
The limit on payments abroad by companies without prior approval has been raised to 20,000 euros from 5,000. Travelers can now take 2,000 euros when they leave, up from 1,000.
Eurozone finance ministers agreed in principle to provide further respite to Ireland and Portugal by extending the maximum average maturities of bailout loans by seven years.