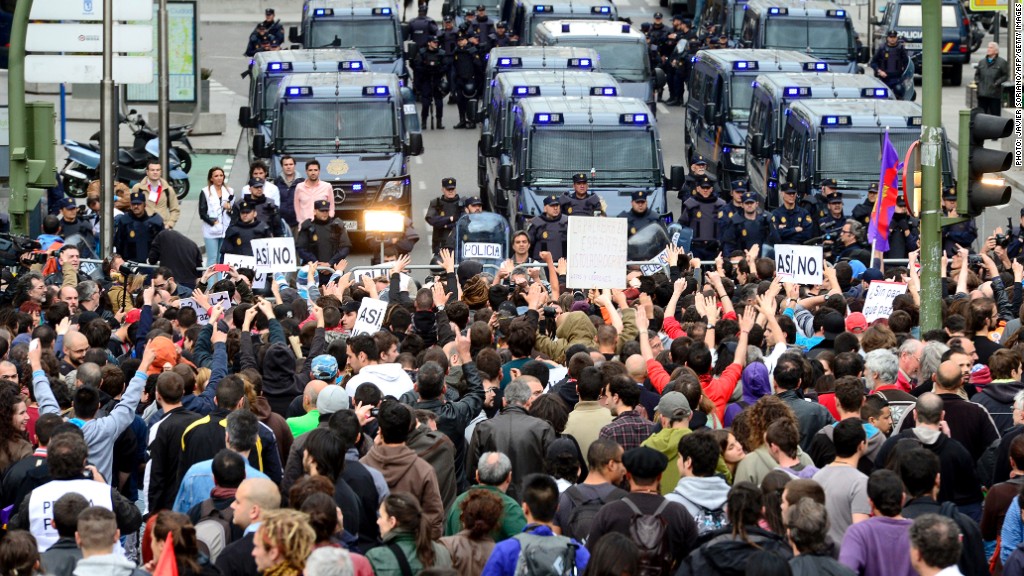 Recession-hit Spain needs two more years to meet budget targets agreed with the EU, the government said Friday, presenting a new challenge to the region's austerity drive.
Unveiling a program of structural reforms aimed at reviving the economy, the Spanish government said gross domestic product was likely to shrink by about 1.3% this year, after suffering a similar contraction in 2012, before returning to growth in 2014.
It also published new estimates of government borrowing, revising up sharply the budget deficit for 2013 to 6.3% of GDP from 4.5%. The deficit should fall to 5.5% next year but won't be brought under the 3% EU target until 2016, two years later than originally planned.
Spanish government debt would hit almost 100% of GDP in 2015.
The European Commission said earlier this month that Spain's high level of domestic and external debt continued to pose "serious risks for growth and financial stability", and the government's response would be assessed by EU officials at the end of May.
Related: Unemployment misery deepens in Spain, Greece
But EU budget hawks have been under pressure this week as criticism that rigid adherence to a policy of austerity is self-defeating has grown louder.
Spain's new timetable for debt reduction won immediate and unequivocal support from the International Monetary Fund, which has been warning for some months that some countries are trying to cut too fast in the face of weak or non-existent growth.
"I strongly support the Spanish government's objectives of restoring a sound fiscal position while securing a recovery and creating jobs," IMF managing director Christine Lagarde said in a statement.
"Today's announcement to pursue a more gradual consolidation path is a welcome step toward meeting these goals, building on major reforms and structural fiscal improvements last year."
EU officials have signaled this week that they may be prepared to give some countries more time to bring down borrowing, given the dire economic backdrop, but insist that the eurozone must not stray from its goal of sound finances.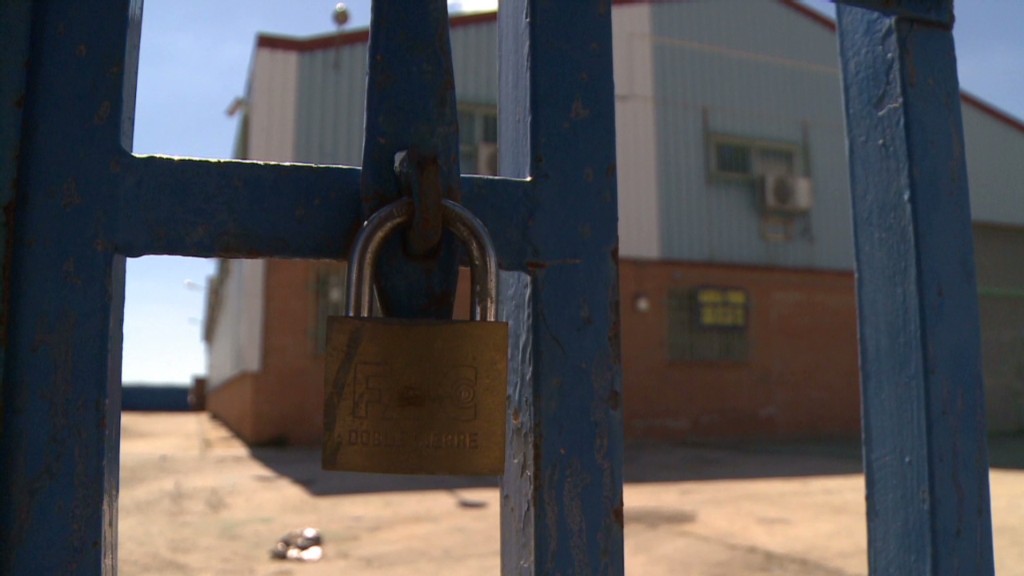 The government of Prime Minister Mariano Rajoy is still grappling with the fallout of a real estate and banking crisis that tipped Spain back into recession in 2011. An austerity drive since then has accelerated the decline.
It was forced to bail out several banks, with EU assistance, but has so far managed to avoid following Greece, Ireland, Portugal and Cyprus in requesting a full-blown sovereign rescue.
Spain has been helped by a sharp decline in borrowing costs after the European Central Bank's announcement last year that it would backstop weaker eurozone states, as well as the banking sector assistance.
GDP figures due next Tuesday are expected to confirm that the Spanish economy shrank by 0.5% in the first quarter. That would be the seventh straight quarter of contraction in the eurozone's fourth-biggest economy and underscore the difficulty heavily indebted European states face in bringing down debt while their economies are going backwards.
Unemployment has hit a eurozone record of 27.2%, and more than half of all young Spanish workers under 24 are without a job. The government said it expected the jobless crisis to begin to ease in 2014.