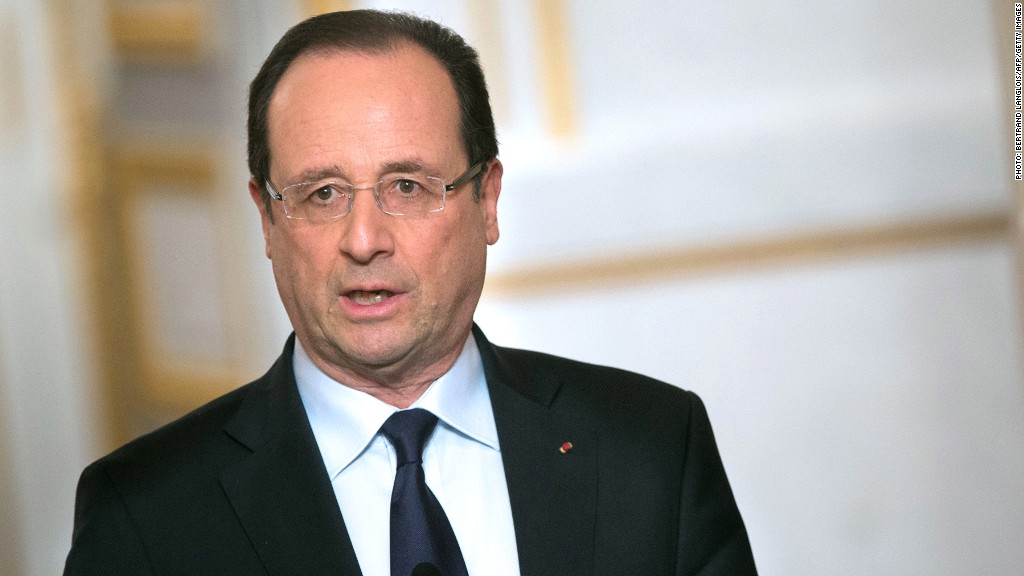 France has slipped back into recession and will need two more years to bring its budget deficit under control, the European Union said Friday, taking another step back from its austerity drive.
The European Commission published new forecasts showing that the eurozone economy would shrink by 0.4% in 2013, slightly worse than its previous estimate of 0.3%. The 17 countries in the eurozone contracted 0.6% in 2012.
France, the region's second largest economy, was back in recession in the first quarter of 2013, the commission said, and would contract by 0.1% over the year as a whole. The French government still expects the economy to grow slightly this year.
"The French government forecast is in our view overly optimistic," EU finance chief Ollie Rehn said at a news conference.
The European Central Bank cut interest rates for the first time in 10 months Thursday as hopes of a recovery later this year fade.
Unemployment continues to hit new record highs, inflation has fallen way below the central bank's target and recession is spreading to core countries including France and the Netherlands.
Recent survey data even point to troubling weakness in Germany, the only one of the eurozone's five biggest economies still expected to grow this year.
EU policymakers are pinning their hopes on a recovery in exports to lead to a return to modest growth in the second half of this year. But the prolonged recession has forced them to allow some countries to reduce debt more slowly to avoid making matters worse.
Spain, stuck in recession for 21 months and with unemployment at 27%, has been given two more years to bring its budget deficit to below 3% of gross domestic product.
Stagnation in France means it too will need similar leeway, Rehn said.
"Considering the economic situation, it may be reasonable to extend the deadline by two years and to correct the excessive deficit at the latest by 2015 in France," he said.
The extra time should be used to introduce new reforms to product and labor markets and the French pensions system, he added.
"That is key to unlocking the growth potential that France so badly needs," Rehn said.
France's budget deficit will rise to 4.2% of GDP next year from 3.9% in 2013 unless policies change, according to the European Commission. Germany is forecast to balance its budget next year, after running a small surplus in 2012.
Economists are becoming increasingly concerned at the growing divergence between France and Germany, historically the twin motors of the EU economy and political integration.
Related: Hard-up France sells presidential wine
French President Francois Hollande, who was elected a year ago after campaigning to put growth before austerity and introduce higher taxes on the rich, has seen his approval ratings fall sharply as unemployment continues to climb.
In recent months he has begun to reform labor markets and pensions, and announced plans to cut capital gains tax. But he is moving too slowly for some, and his government continues to send mixed messages.
Plans for a 75% tax on incomes above a million euros are being redrafted to apply to large companies rather than individuals, and this week the government used its stake in France Telecom to prevent the company selling video site Dailymotion to Yahoo.
France Telecom has lashed out at the intervention, saying it should have been left to the company's management to decide on the deal.