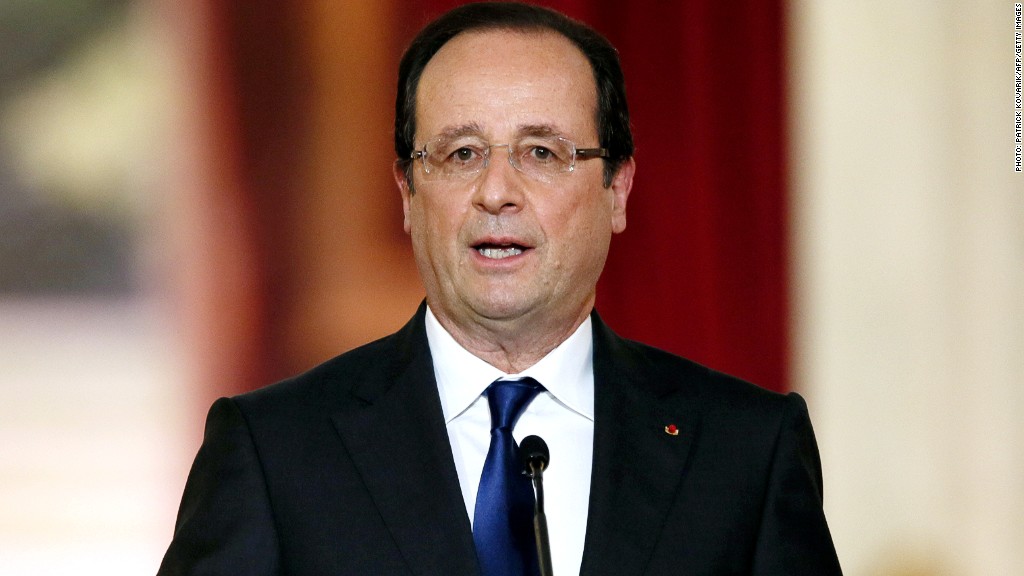 France wants to see the creation of a eurozone government within two years to help lift the region out of its economic slump, its president said Thursday.
Francois Hollande said he wanted the 17 countries sharing the euro currency to establish a government that would meet monthly, led by a full-time president.
"This economic government will debate the main political and economic decisions to be taken by the member states, harmonize tax policy, start the convergence of social policies from the top and launch a battle against tax fraud," he said at a news conference in Paris.
The French proposal, which Hollande said he would submit to his eurozone partners, also calls for much deeper fiscal integration between the eurozone nations, with a common budget and the authority to issue debt.
Hollande was elected a year ago after campaigning to put economic growth before austerity. His popularity has slumped since then, tracking a worsening outlook for the French economy.
Data released Wednesday showed French GDP shrank by 0.2% in the first three months of the year, putting the eurozone's second-biggest economy back in recession.
Eurozone states have committed to much closer coordination of budget policies in an attempt to chart a course out of their debt crisis, which has condemned the region to 18 months of economic decline and record unemployment.
They have also agreed to give the European Central Bank responsibility for supervising most of the eurozone's banking industry -- a role it is due to take up in 2014.
But the prospects for deeper integration look slim, at least in the near term.
Budget pacts have been strained by backsliding on deadlines for reducing borrowing, not least by France.
Eurozone states are divided over the next steps in creating a banking union -- a single authority for winding up failing banks and a common fund to bear the costs -- and Germany is unlikely to engage with any major new initiative before elections due in September.
Europe's biggest economy, which has contributed the most to bailing out Greece, Ireland, Portugal and Cyprus, is opposed to issuing eurozone debt.
The eurozone was also divided earlier this year on a plan to introduce a tax on financial transactions. Only 11 of 17 members backed the idea.