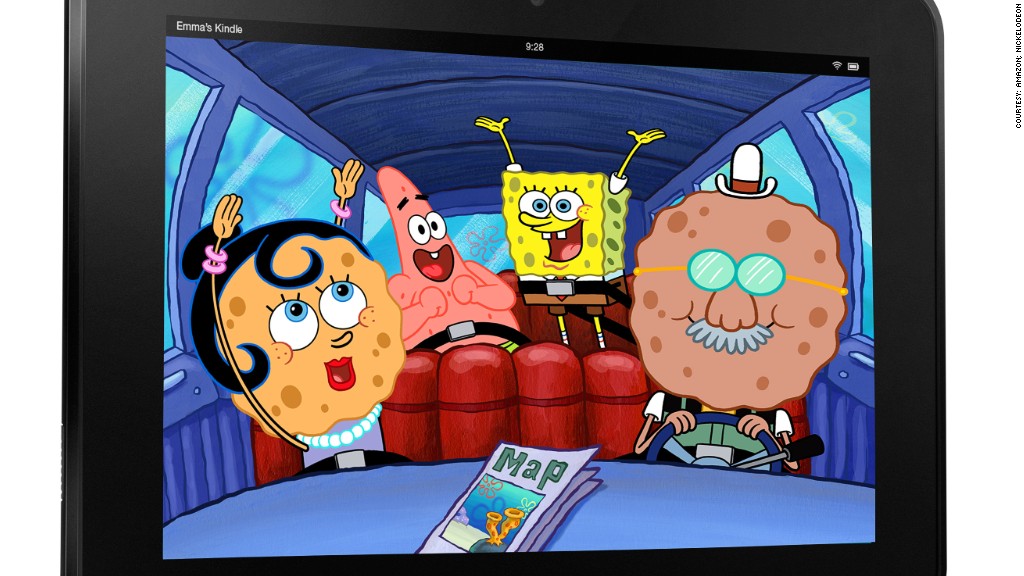 Netflix let its Viacom streaming deal expire last month, and Amazon took advantage immediately. The Kindle-maker's Prime service now has exclusive rights to kids' titles like "Dora the Explorer," plus adult fare from MTV and Comedy Central.
Amazon (AMZN) played up the kids' content in its announcement Tuesday, noting that the multi-year deal includes several titles from Viacom's (VIA) Nickelodeon and Nick Jr.: "Dora the Explorer," "SpongeBob SquarePants," "Blue's Clues" and "Fairly OddParents." The adult shows include MTV's "Awkward" and Comedy Central's "Tosh.0."
Amazon said children's shows are "one of the most watched TV genres" on its Prime Instant Video service, which costs $79 per year with included two-day shipping on certain retail products. Some of the Nick titles will also be available on Kindle FreeTime Unlimited, a $2.99-per-month service focused on kids' content.
Loss of that children's catalog is particularly painful for Netflix (NFLX), which warned in its last earnings report that the Viacom contract would lapse at the end of May.
Related story: Netflix slumps after 'Arrested Development' release
"As we continue to focus on exclusive and curated content, our willingness to pay for non-exclusive, bulk content deals declines," Netflix said in that April report. The company said it was "in discussions with [Viacom] about licensing particular shows, but have yet to conclude a deal."
Exclusivity has been a focus for Netflix -- and all streaming services -- as such deals are an easy way to stand out in a field choked with rivals such as Amazon, Redbox, which is owned by Coinstar (CSTR), and Hulu. But those deals are much more expensive than non-exclusive contracts, and Netflix in particular hasn't been able to cut favorable agreements with everyone.
Netflix's catalog took a massive hit last year after negotiations with Starz failed. And just last month, Netflix lost nearly 1,800 titles after contracts with MGM, Comcast's (CMCSA) Universal and Warner Bros. -- owned by CNNMoney parent company Time Warner (TWX) -- expired.
Such moves create a game of musical chairs in the streaming video industry, with content bouncing from one service to another. Yahoo (YHOO) stole "Saturday Night Live" content from Hulu with an exclusive deal inked in April, and Netflix exclusively added two Disney shows to its catalog in May.
Much to the joy of cable providers, the ebb and flow of any given service's offerings makes it tough for consumers to cut the cord and rely exclusively on streaming subscriptions.