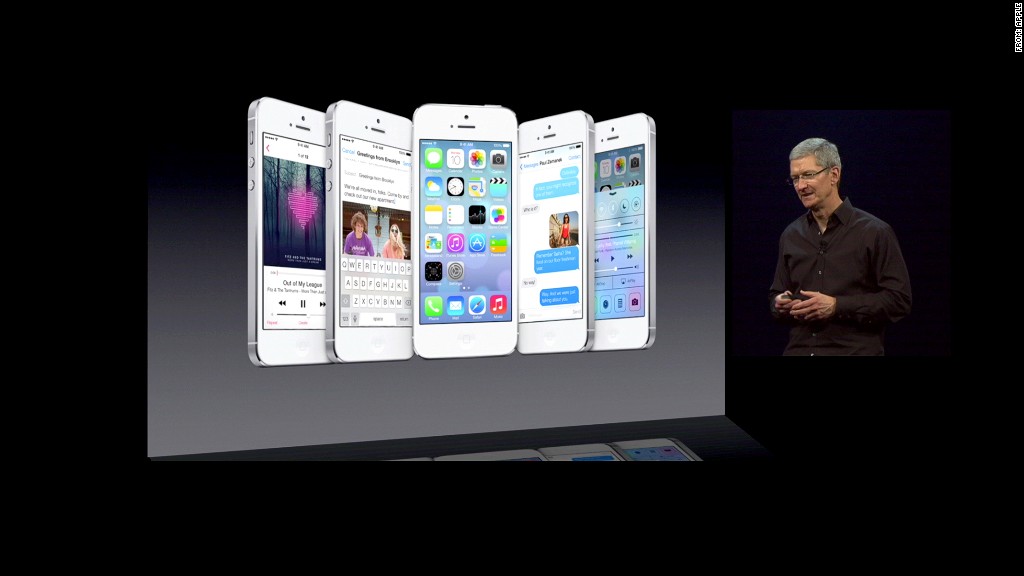 Apple CEO Tim Cook unveiled a completely redesigned iOS 7 operating system for the iPhone and iPad at his company's annual software developer conference on Monday, including a long-rumored iTunes Radio music service.
The iOS 7 refresh, unveiled at the company's annual Worldwide Developers Conference, includes a slew of major design changes, as well as multitasking support for all apps.
"It is the biggest change to iOS since the introduction of the iPhone," Cook said to a standing ovation from a crowd of Apple fans and developers.
iOS 7: The new iOS 7 is more colorful than the previous iteration, and the typeface was optimized for easier reading. A new swipe-left gesture lets users toggle seamlessly between programs, a double-tap of the home button displays cards of all the apps currently running, and a slick Control Center lets users adjust settings or play music.
The Safari browser received a big update, with a tab-swipe design that resembles iTunes' Cover Flow. The iOS 7 camera provides more photo options, such as panoramic setup or special filters. Now, photos can be organized into "moments" and "collections" organized by time and location. And a new feature called AirDrop provides one-tap access to share items with other iOS 7 users, including photos with friends.
Related story: 6 best new Apple products from WWDC 2013
The sleek iOS 7 is the brainchild of Apple design whiz Jony Ive, who recorded one of his trademark white-background videos to highlight iOS 7.
"We are defining an important new direction, and in many ways, a new beginning," Ive said in the video.
iTunes Radio: The other big announcement was Apple's long-rumored streaming music service. ITunes Radio is built into iTunes on iOS devices, Macs, PCs and Apple TV, and it tailors song suggestions based on user preferences. The service is free with ads, while subscribers to the $25-a-year iTunes Match program won't see ads.
Apple didn't say much else about its service, but a giant like Apple could shake up a field already choked with competitors like Spotify, Google (GOOG), Twitter, Mog and many more. Investors in the most obvious iTunes Radio rival, Pandora (P), didn't appear to be concerned, though: Pandora shares closed 2.5% higher after Apple's event.
Macintosh: Earlier in the keynote, Apple revealed an update to the Mac operating system. Craig Federighi, Apple's SVP of software engineering, showcased the new Mac OS X 10.9, dubbed "Mavericks." The moniker, inspired by a popular California surf spot, is a departure from Apple's previous cat-themed OS X releases.
The Mavericks update includes a tabbed "Finder" window, tags, improved multiple-display support, a new Maps app and a more social Safari browser. A new iCloud "keychain" service stores passwords, credit cards and Wi-Fi network login information across all Apple devices.
Apple also unveiled a new MacBook Air line, which comes loaded with Intel's (INTC) just-released "Haswell" processors and nearly double the battery life of their predecessors.
Marketing chief Phil Schiller also previewed the long-awaited new Mac Pro, taking a shot at Wall Street analysts who have criticized Apple lately.
"Can't innovate anymore, my ass," Schiller declared during the Mac Pro preview, drawing laughs from the audience. The Mac Pro will be assembled in America, though the company didn't say where the parts will be manufactured.
Apple (AAPL) was one of the worst performers in the S&P 500 (SPX) in the first quarter of the year. While shares have recovered a bit lately, they're still off 18% year-to-date.
Apple shares closed the day 1% lower, after trading up 1% during the event.