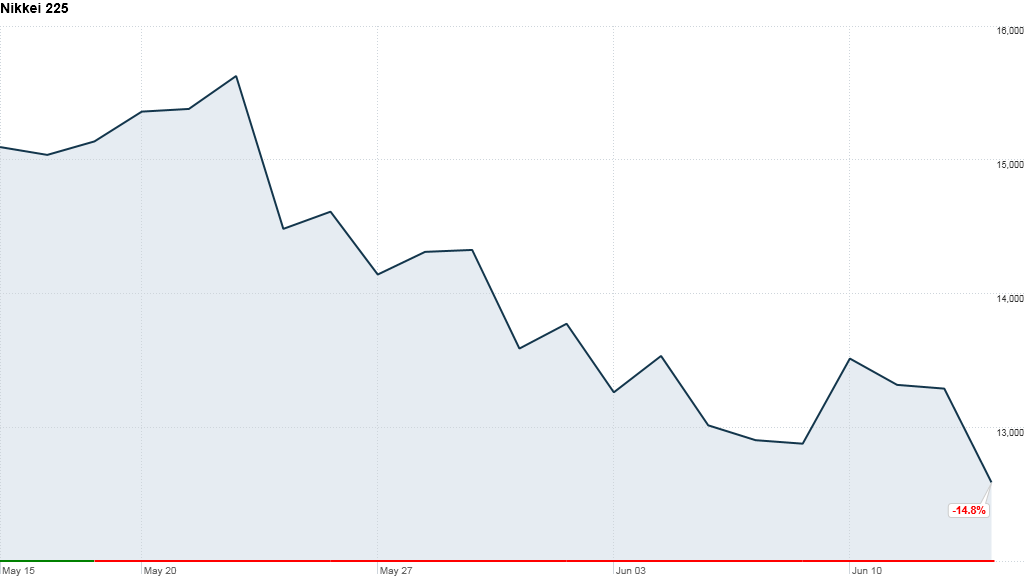 Japanese stocks plummeted on Thursday, shedding 6.4% in a move that pushed the index into bear territory.
Volatility has picked up in recent weeks amid increasing unease about when central banks will begin weaning investors off cheap money. Those fears intensified Thursday, rattling markets around Asia and resulting in a broad regional selloff.
The stomach-turning ups and down aren't limited to Japan. On Thursday, markets in Hong Kong and Shanghai followed the Nikkei's lead and were down around 3%.
The Dow -- which fell 120 points on Wednesday -- is on its worst losing streak this year.
The market's main fear gauge -- the CBOE Market Volatility Index, or VIX -- spiked almost 8% Wednesday and has shot up more than 35% in the last month. CNNMoney's Fear & Greed Index fell into Extreme Fear for the first time in a year. Just one month ago, the index was in Extreme Greed.
The market swings have been wildest in Japan, with the Nikkei (N225) now 20% off its recent peak and officially in bear market territory. At the same time, the yen has strengthened to 94 per dollar for the first time since early April.
Related story: Market swings call Abenomics into question
Prime Minister Shinzo Abe, who came back to power in December, has launched an aggressive campaign to boost Japan's economy following 15 years of deflation. The plan -- dubbed Abenomics -- includes coordinated government spending, central bank stimulus and structural economic reforms.
Investors responded to Abenomics by selling the yen and buying Japanese stocks. The weak yen helped boost shares of Japanese exporters, including Toyota (TM), Sony (SNE) and Kirin (KIRI). But those stocks and others have been punished this week as the yen regained ground.
Related story: Japan's economy continues turnaround
Abe's government will approve a series of reforms later this month to make labor markets more flexible, encourage immigration, bring nuclear power plants back online and draw more Japanese women into the workforce. He has also set a target of raising per capita national income by at least 3% annually.
Meanwhile, the Bank of Japan is walking a fine line as it attempts to achieve an inflation rate of 2% without driving up interest rates on government debt. The country's gross public debt, after years of budget deficits, is projected to hit 230% of the size of the country's economy by 2014.