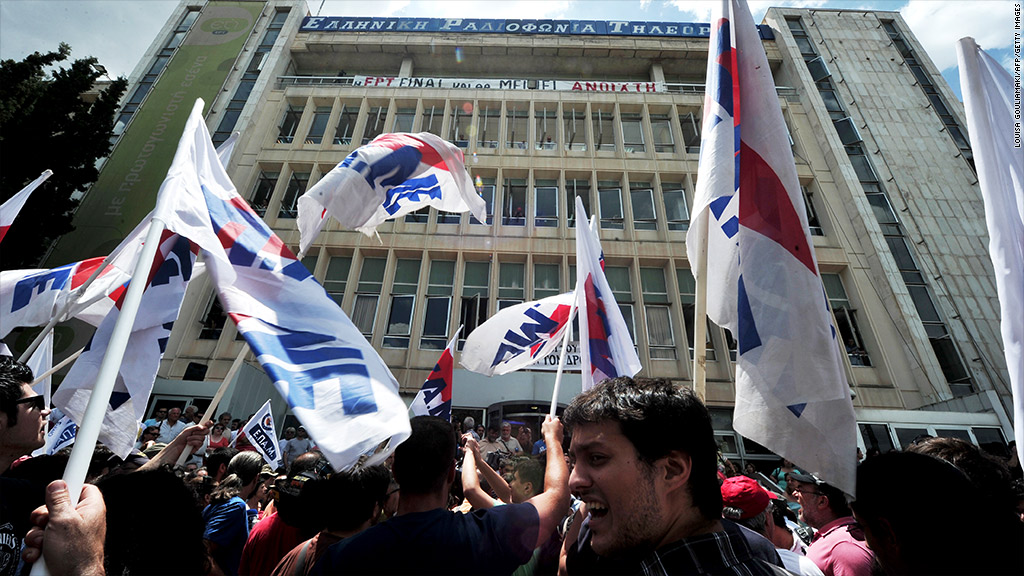 Greece's state broadcaster ERT was taken off the air overnight in a highly visible reminder of the country's continuing economic crisis.
In a statement carried by the TV channel before screens went black early Wednesday, the government cited chronic corruption and wasteful practices as reasons for the closure and said a slimmed-down broadcaster would take its place as soon as possible.
"At a time when the Greek people are enduring sacrifices, there is no room for delay, hesitation or tolerance for sacred cows," said government spokesman Simon Kedikoglou.
Many of the broadcaster's 2,700 employees are expected to lose their jobs in a country already grappling with record unemployment of 27%. Greek media reported that the budget for the new broadcaster would be slashed by two-thirds.
The government has committed to shed 15,000 public-sector jobs by the end of 2014 as one of the conditions of a second international rescue by Greece's eurozone partners and the International Monetary Fund.
Efforts to put the country's finances on sounder footing were dealt a blow earlier this week when the government failed to sell state gas firm DEPA.
The government plans to try again, but the process risks becoming a fire sale, which could complicate Greece's ability to raise the EU-mandated 2.6 billion euros from selling state assets this year.
Related: IMF bent rules on Greece
The European Commission wants Athens to restart the privatization process as soon as possible.
In a statement Wednesday, the Commission said the decision to close ERT was taken by the Greek government alone and should be seen in the context of its efforts to modernize the economy, including improving the efficiency of the public sector.
Greece is enduring its sixth consecutive year of recession but is forecast to return to growth in 2014. Investors eager to catch the beginning of a Greek recovery had driven stocks higher again this year after a strong run in 2012. Hedge funds are taking part in the recapitalization of the country's banks, and one niche investor has launched an offer for 10% of all Greek government debt issued last year.
Greek stocks and bonds sold off earlier this week as investors worried about the impact of the failed gas privatization on Greece's ability to uphold its side of the bailout. Greece has made huge strides in reducing its budget deficit, but debt levels are still rising and could hit 175% of gross domestic product this year.
The selling pressure intensified Wednesday after index compiler MSCI downgraded the Greek stock market to emerging market status, an unprecedented fate for a developed economy.
Shares fell about 3.5%, taking the losses for the week to more than 12% and wiping out all the year's gains. Yields on Greek 10-year government bonds have edged back above 10% for the first time since early May.
-- CNN's Elinda Labropoulou contributed to this article.