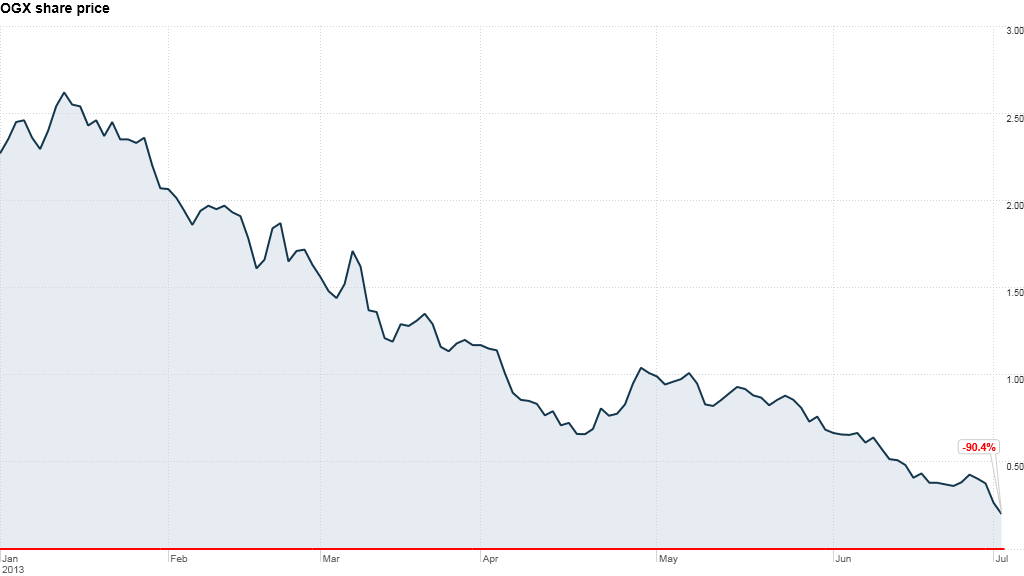 Five years ago it was Brazil's biggest initial public offering, today it's at risk of defaulting on its debt. Is billionaire Eike Batista's oil and gas group finally hitting the wall?
Shares of OGX (OGXPY) have lost 90% of their value so far this year, a slump that accelerated this week after the company suspended development at three oil fields in Brazil and warned that its only field currently in production could stop pumping next year.
Development work will continue at a fifth field, with first oil expected to flow in the fourth quarter of 2013, but the problems elsewhere have forced the company to abandon its production goals.
Batista floated OGX on the stock market in June 2008, raising $4.1 billion to help fund an ambitious plan to drill for oil off the Brazilian coast. It was supposed to be the largest private-sector exploratory campaign the country had seen.
But the dream turned into a nightmare for investors. A year ago OGX missed its production targets, prompting a stock market sell-off that has cut its market capitalization to just over $800 million.
Related: Brazilian stocks among world's worst performers
The slump at OGX and other companies in which Batista owns a significant stake, such as coal business CCX and offshore services company OSX, has slashed the industrialist's personal wealth. He's now worth roughly $4.5 billion from $34.5 billion in March 2012, according to Bloomberg.
News that Batista sold 2% of OGX shares in May -- cutting his stake to just below 59% -- further unsettled investors and prompted Fitch ratings agency to downgrade the company's debt to 'CCC' last month, implying default is a real possibility.
Fitch said the sale reflected uncertainty about Batista's ability to honor an option to buy OGX shares worth $1 billion by April next year if the company needs cash.
"Although this sale is mostly symbolic, it raises concern about Batista's commitment to the company," the agency said.
An OGX spokeswoman declined to comment on whether the company was looking to restructure its debt or seek protection from its creditors but confirmed that Batista's pledge remained "a viable funding option."
And OGX may well need more money. It had $1.15 billion in cash and $4 billion in debt at the end of March, according to the company, but that was before it agreed to pay $449 million compensation to OSX for canceling orders for two platforms and three drilling ships.
In another troubling development, three directors including former Brazilian finance minister Pedro Malan and former Supreme Court president Ellen Gracie Northfleet, resigned from the OGX board last month.
They have not yet been replaced, according to the OGX spokeswoman.