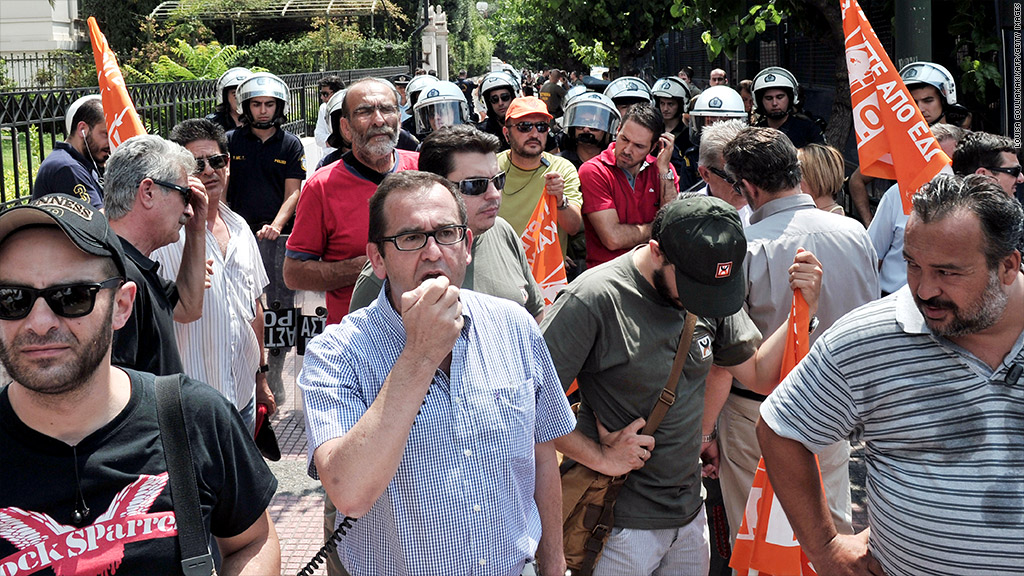 Greece secured its latest installment of rescue loans on Monday after satisfying international lenders and European finance officials that it could get its economic reforms back on track.
The European Commission, European Central Bank and International Monetary Fund -- known as the troika -- said that Greece had fallen behind in some areas and the outlook for the depressed economy was uncertain.
But, in a joint statement, the groups said they had reached agreement with the Greek government on the measures it needs to take to meet budget targets.
Following the successful outcome to the troika's review, eurozone finance ministers approved the release of nearly 5 billion euros, part of which Greece needs to redeem bonds due to mature next month.
Greece has been kept afloat since 2010 by funds drawn from a 240-billion euro EU-IMF bailout program. In return, the country has enacted deep cuts to government spending, raised taxes and introduced structural reforms in a bid to slash borrowing. Unemployment has rocketed to more than 27%.
With the economy now in its sixth year of recession, the government has found it increasingly difficult to keep its side of the bargain. A minor party in the coalition quit the government last month over its abrupt closure of state broadcaster ERT, raising fears that Greece could return to the political instability witnessed last year.
Related: Eurozone pulls back from the brink
Mounting opposition to austerity also briefly threatened to bring down the Portuguese government last week, reminding investors that the eurozone still has a long way to go to restore the financial health of its economies even if it begins to emerge from its longest recession later this year.
Analysts said the troika appeared reluctant to apply too much pressure to Greece before signing off on the latest cash injection. The fear is the ripple effect of a fresh political crisis in Greece, which could push peripheral eurozone bond yields higher again and threaten plans by Ireland to exit its own bailout program later this year.
The troika said Greece had committed to cut spending in health care and get a civil service reform program back on track by meeting targets for layoffs and transfers to retraining and redeployment plans. Greece had agreed to shed 15,000 public-sector jobs by the end of 2014.
There were also reports that the troika had accepted that privatization receipts would also be lower than expected. The government failed to sell state gas firm DEPA last month, making this year's target of 2.6 billion euros from the sale of state assets unachievable.