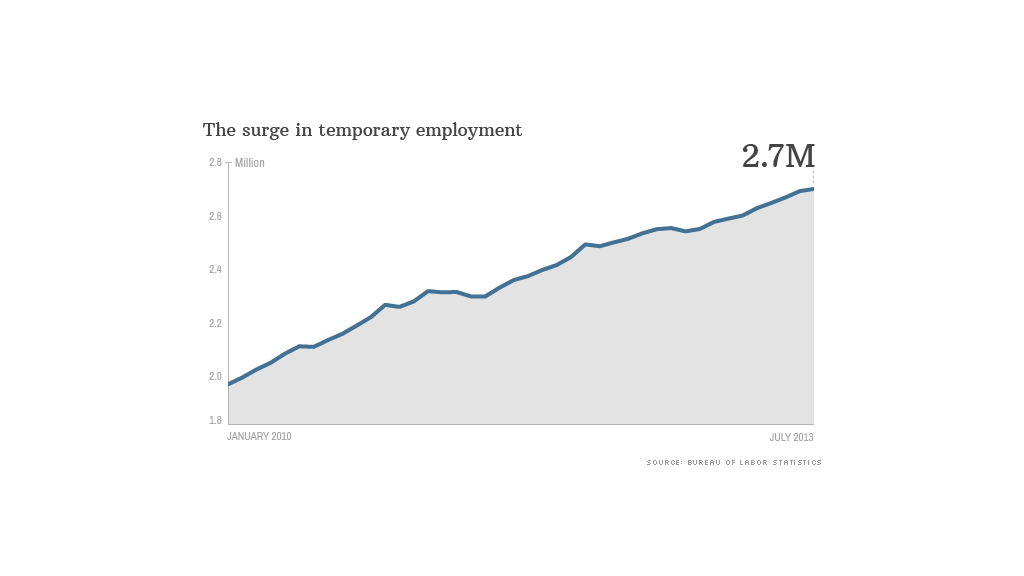 More people are landing jobs these days, but they are often part-time or temp work.
The number of Americans finding part-time jobs has surged this year, with more than three times as many getting only part-time work as opposed to full-time jobs, according to Labor Department data. That's the opposite of what happened last year, when full-time hires far outstripped part-time ones.
At the same time, the ranks of temps has exploded: A record 2.7 million people held these positions in July, up from 2.5 million a year ago.
While companies have been beefing up their temporary and part-time payrolls in recent years, the trend has accelerated in 2013, with an especially large jump in part-time hiring in June.
There has been much speculation -- and some anecdotal evidence -- that employers are trying to keep their headcount down so they aren't subject to Obamacare rules. But economic uncertainty and a lack of consumer demand are still the predominant reasons why employers are shying away from hiring full-time workers, experts said.
Are you working part-time but would rather be full-time? Share your story
Companies this year have had to deal with a payroll tax hike, sequestration, weak economic growth and continued partisan battles in Washington D.C. And then there's Obamacare, which will require employers with 50 or more full-time workers to provide health insurance or face penalties ... though that mandate has been delayed until 2015.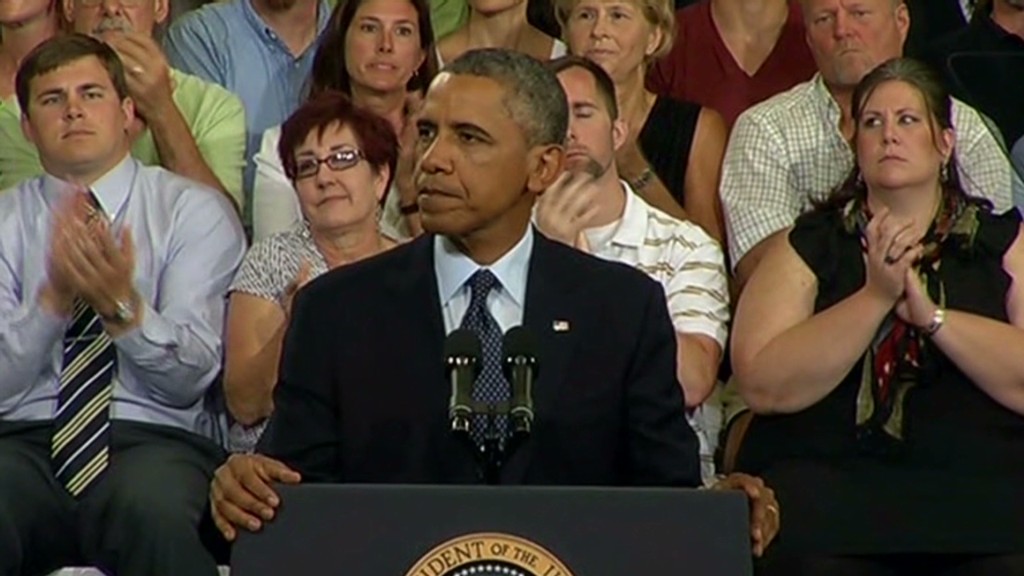 "Employers are even more reluctant than usual to commit to full-time employees," said Harry Holzer, public policy professor at Georgetown University. "They like the flexibility."
Some people want to work part-time or in a temp job because they enjoy the flexibility or are just looking to make some extra bucks. But for others, it's all they can find.
The share of people employed part-time because they can't get full-time jobs surged during the Great Recession. After stabilizing in the past few years, it has started to rise again in recent months. Now, 30.1% of part-time workers would rather work a full schedule. That's less than the peak of 33.8% hit in April 2010, but still far more than the average rate of 21% for the two decades before the recession.
Adding part-timers allows companies to get a little extra help, but keep wage costs down amid sluggish demand, said Sarah Watt, economist with Wells Fargo Securities.
Related: How Amazon's new jobs really stack up
The trend of hiring temporary workers, meanwhile, has broadened beyond the traditional fields of office workers and manufacturing, Watt said. Now, temp employees can be found in the engineering and information technology industries, for instance.
Take Millennium Technology Group, which sets up Internet services at conventions in hotels and resorts in Orlando, Fla.
Until two years ago, Millennium would shift full-time staff from other divisions to its conventions team when needed. But as its business expanded, the company realized it needed more workers but also wanted to keep costs down. So it turned to Kavaliro, a staffing agency, to provide temp workers. Millennium hired as many as 50 at a time to work a week at conventions.
"In our industry, I need to ramp up quickly and then demand fades quickly," said Tamara Flores, Millennium's IT director. Temps "allow us to be quite nimble."
At Kavaliro, clients are looking for software developers and engineers to work on temporary projects, said Mark Moore, the firm's president. Business owners are reluctant to hire full-time because they don't want to have lay off employees or reduce their hours if the workload slows in a few years. And, if they have close to 50 employees, they don't want to tip the scales and become subject to Obamacare.
Often, an increase in temporary or part-time workers signals an economic recovery, but experts aren't so sure this is the case today. If the trend continues, it will be yet another sign of a labor market that's unfriendly to most Americans, depriving them of both good earnings and job security, Holzer said. It may also slow the economic rebound since workers' wages will remain depressed or stagnant.
Bill Rodgers, chief economist at the Heldrich Center for Workforce Development at Rutgers University, said many people laid off during the Great Recession still can only find part-time or temporary positions. He is waiting to see whether full-time hiring will pick up substantially.
"We'll always have part-time workers, but the issue is will there be a permanence to it?" he said.