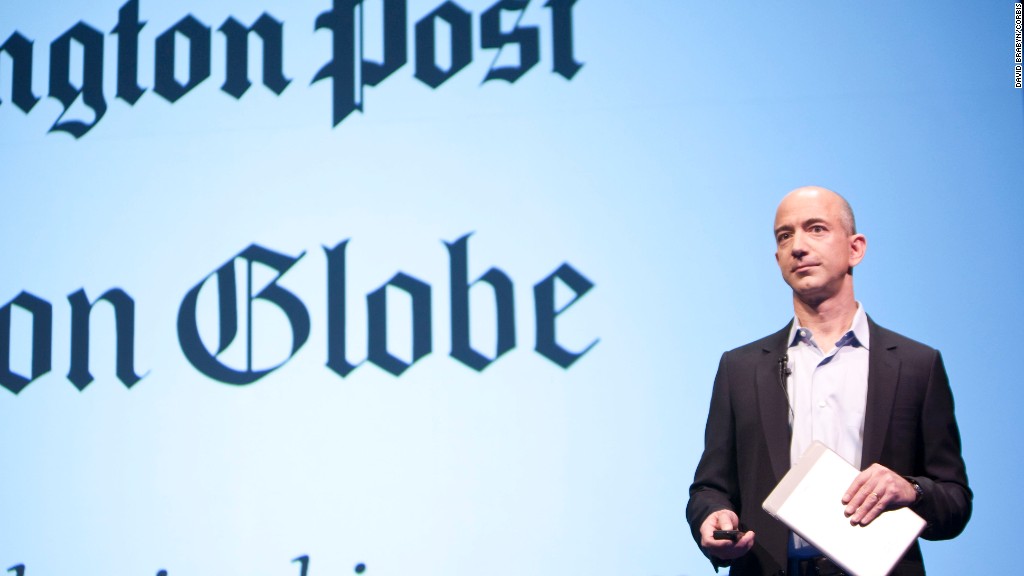 But the out-of-left-field purchase didn't shock anyone who has followed the mogul's long history of strange investments.
Exhibit A: clocks.
Bezos has poured at least $42 million into a project called "The 10,000 Year Clock," which will be built into a mountain on his West Texas property and tick once every year. A cuckoo will come out every millennium.
"It's a special clock, designed to be a symbol, an icon for long-term thinking," said Bezos, in a letter on the project's website.
Bezos also has an obsession with outer space. He has invested in Blue Origin, a SpaceX competitor that aims to lower the cost of space travel. He also financed a deep-sea expedition to recover the remnants of F-1 rocket engines that plunged into the Atlantic Ocean after lifting the Apollo 11 astronauts to the moon in 1969.
Related link: Bezos buys Washington Post for $250 million
The Amazon (AMZN) CEO has made several investments in controversial Silicon Valley startups.
He helped lead a $37 million round of financing for Uber, the mobile app that connects customers to luxury drivers. Uber has bickered with taxi regulators in major cities, including Washington. He has also invested in Airbnb, the short-term vacation rental site that's also run afoul with several cities' regulators.
Though not every investment is off-the-wall, Bezos isn't afraid to use his money to take a political stand: He donated $2.5 million to Seattle-based Washington United for Marriage, which is one of the biggest contributions to the cause of legalizing same-sex marriage.
Bezos has not said much publicly about the desire to go into the newspaper business, but he is not new to media investments. He pumped $5 million into the news website Business Insider in April. Bezos was also an early investor in Twitter.
So for those skeptical of what kind of owner Bezos will be for the Washington Post, his past investments (particularly the clock) may offer some insight about his philosophy: forgoing immediate returns in hopes of building sustainable quality.