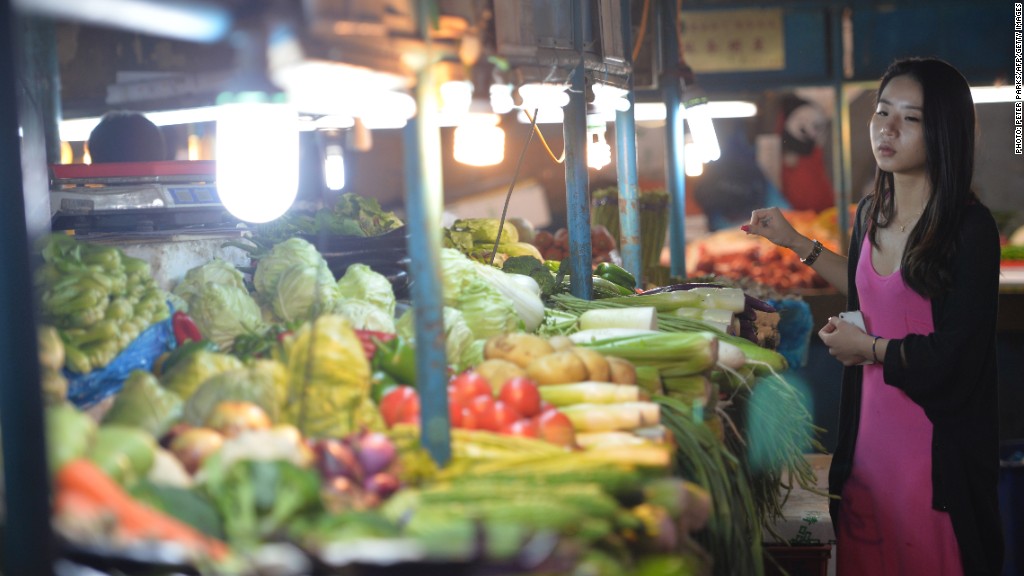 Inflation remained subdued in China last month and well below the government's official target, clearing the way for policymakers to pursue any new stimulus measures.
Consumers paid 2.7% more for goods and services in July than they did a year ago, the government's National Bureau of Statistics reported on Friday. Inflation this year has been very moderate in China, removing at least one worry for officials in Beijing as the world's second largest economy slows.
A separate report on China's industrial output was better-than-expected, rising 9.7% from a year earlier, adding to signs the economy may be stabilizing.
Stocks in China advanced after the data were released. The Shanghai Composite Index rose 0.4% and the Hang Seng Index gained 0.5% at market close.
In March, the government said it aimed to keep the annual inflation rate at 3.5% or lower. If price gains stay in the moderate range, the government should have more room to pursue stimulus measures.
"There remains more than sufficient room for Beijing to step up fine-tuning measures as and when needed," economists at HSBC noted.
Related story: China fines six companies for baby formula price fixing
But the government must also consider the politically touchy issue of food prices -- the most important gauge of cost of living expenses in China.
It accounts for more than a third of the country's inflation calculation, and for rural families, it makes up the bulk of expenses.
The rising cost of food continues to be the major driver of inflation, led by climbing pork prices, Capital Economics analyst Qinwei Wang wrote in a statement before the data was released.
In July, overall food prices rose 5% over last year, while pork prices increased 1.7% compared to the previous month. Vegetable prices jumped 2.2% from June, an increase likely caused by a drought in southern China.
Nomura economist Zhiwei Zhang said he expects CPI to remain stable at around 2.7% in the third quarter of this year. For the fourth quarter, he estimates the annual inflation rate will spike above 3% due to a seasonal increase in prices.